Northern Summer 2022

Greetings. This page gives images and anecdotes from my travels in the northern hemisphere during June/July/August/September 2022. Most of the images are displayed at a resolution of 512x384 but are actually 1024x768. So, with a right click and "open image in a new tab" you can see the larger version. Encouraged. No effort has been made to cater for smaller screens.
If you have been here before and want to skip forward, you can jump to Yellowstone or Arctic or East Coast Visits or Southwest Tour

As of September 25, 2022 - This page is now finished as I wrap it up from the Koru lounge at LAX. I put these pages together with the future me in mind - and I enjoy taking the photos, so what else would I do with them? Still, friends tell me they like share, so I hope that you enjoy/enjoyed the ride. It has been a busy summer. I have done plenty - as shown here. Still, I feel that, as usual, the editor has been far too lenient.

Visiting old friends
I started my trip by working my way north along the Pacific coast making 14 stops to rendezvous with 35 old friends (and several new ones). It was super fun, and I was spoiled all the way with: Bridge lessons; a walk along the strand; a backyard dip; golf cart frolics; energetic dogs (exuberant even); fraidy cats; wildflowers; hummingbirds and woodpeckers; fireworks; a Tommy's burger; a date omelette; a portobello mushroom burger; watermelon; salmon; pulled pork; BBQ; Mexican; Thai; cookies; edibles and other high times; coffee; wine; beer; Laphroaig; countless wonderful chats to catch up on our news; innumerable laughs; and almost enough hugs. Peter is standing in and smiling for all the rest.

A walk in the Redwoods - Crescent City, California

I broke the drive north at the Redwoods and had a couple of nice walks. Here are 2 views taken at the same place at nearly the same time - one at full telephoto the other at full wide angle, then some details of burls, bark, trunks, ferns and a chipmunk (the jays were too elusive).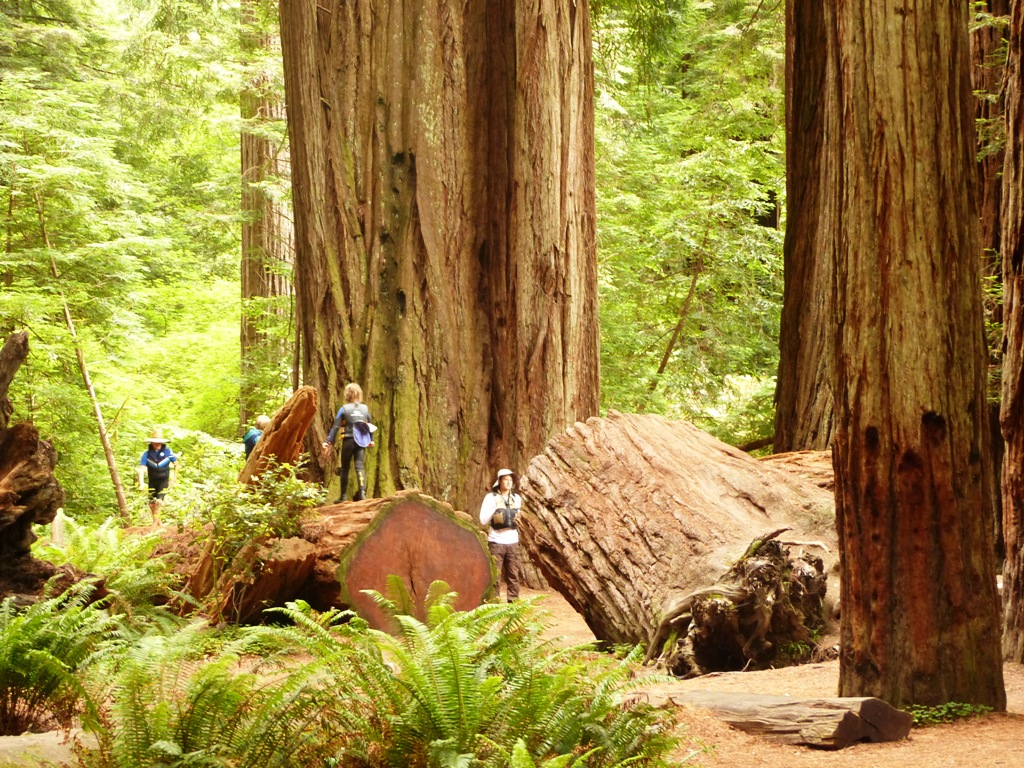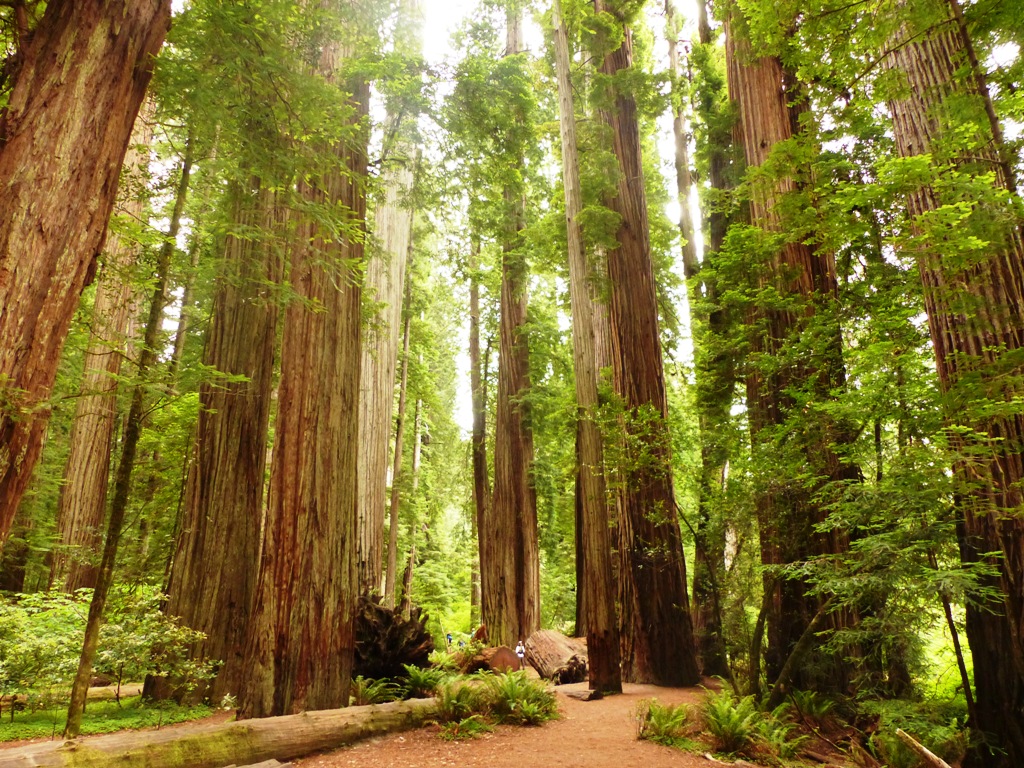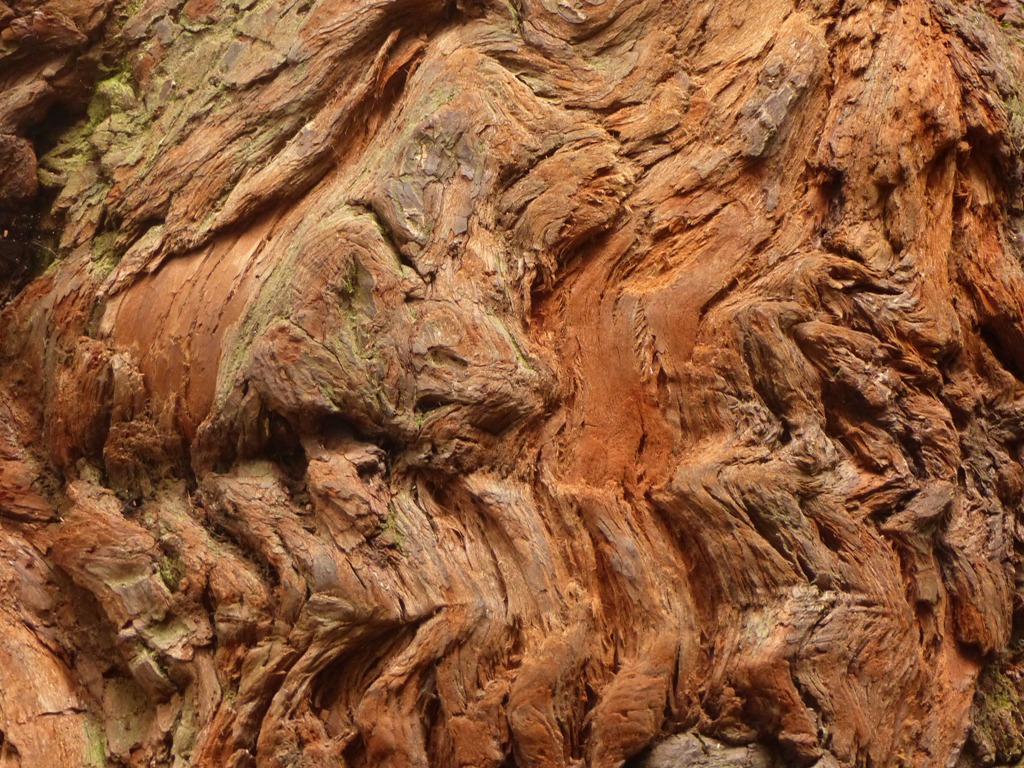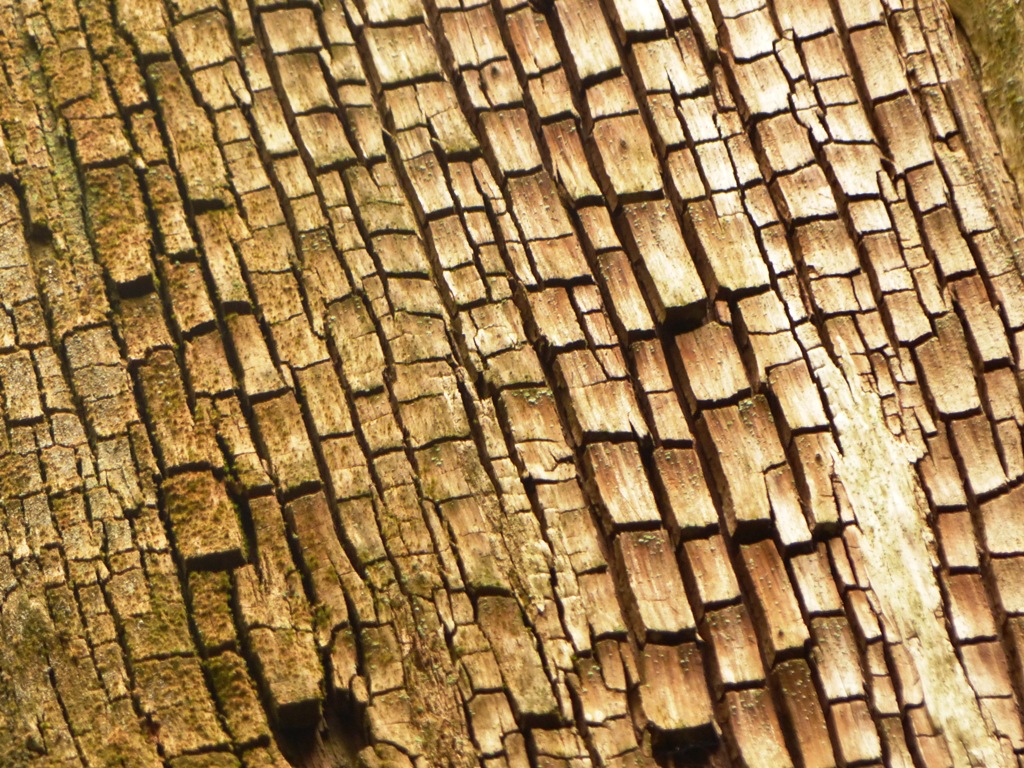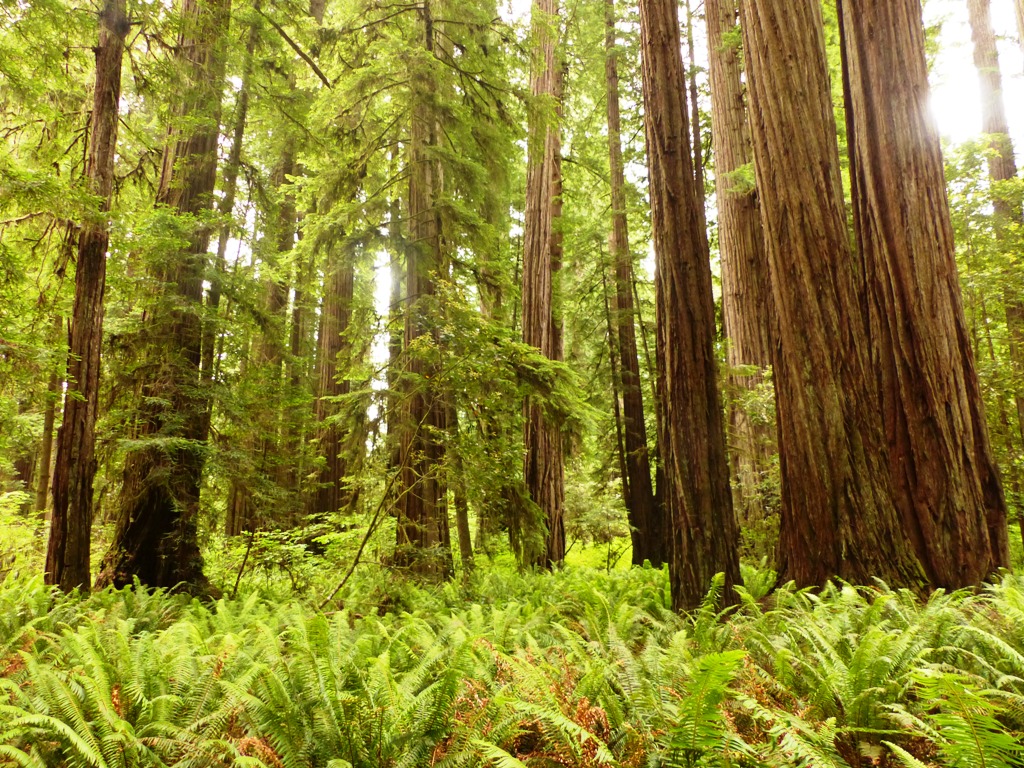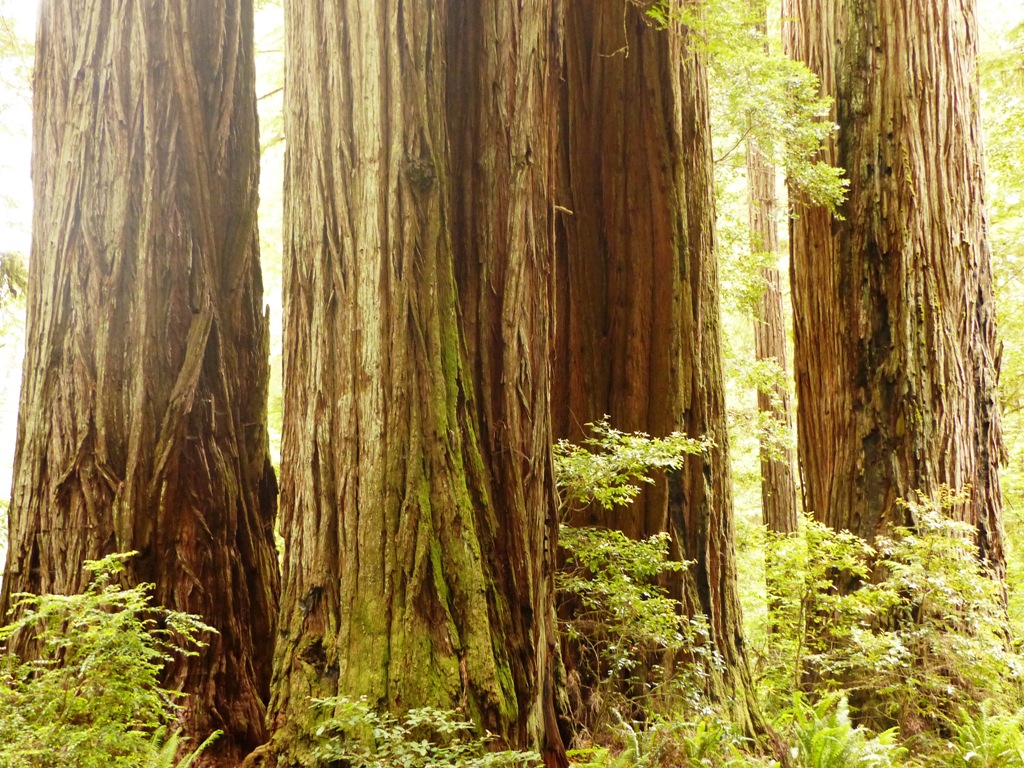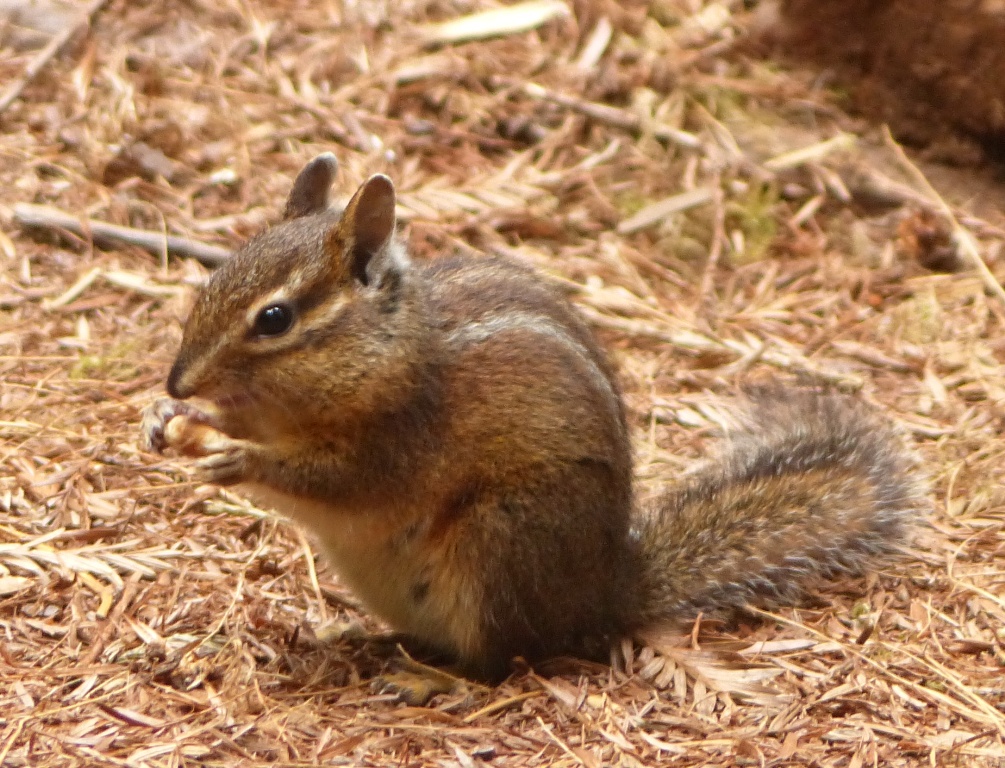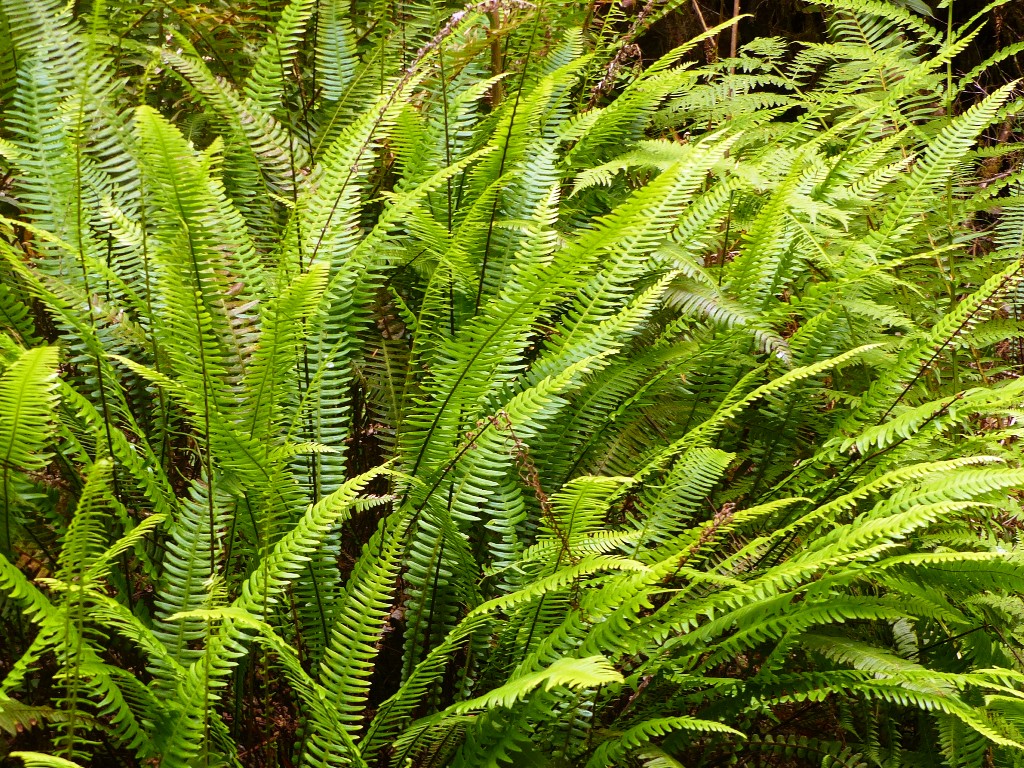 Montana

Montana is big - big sky, big pickup trucks, big speed, and for me Tom Robbins' Tibetan Peach Pie audiobook to set the rhythm.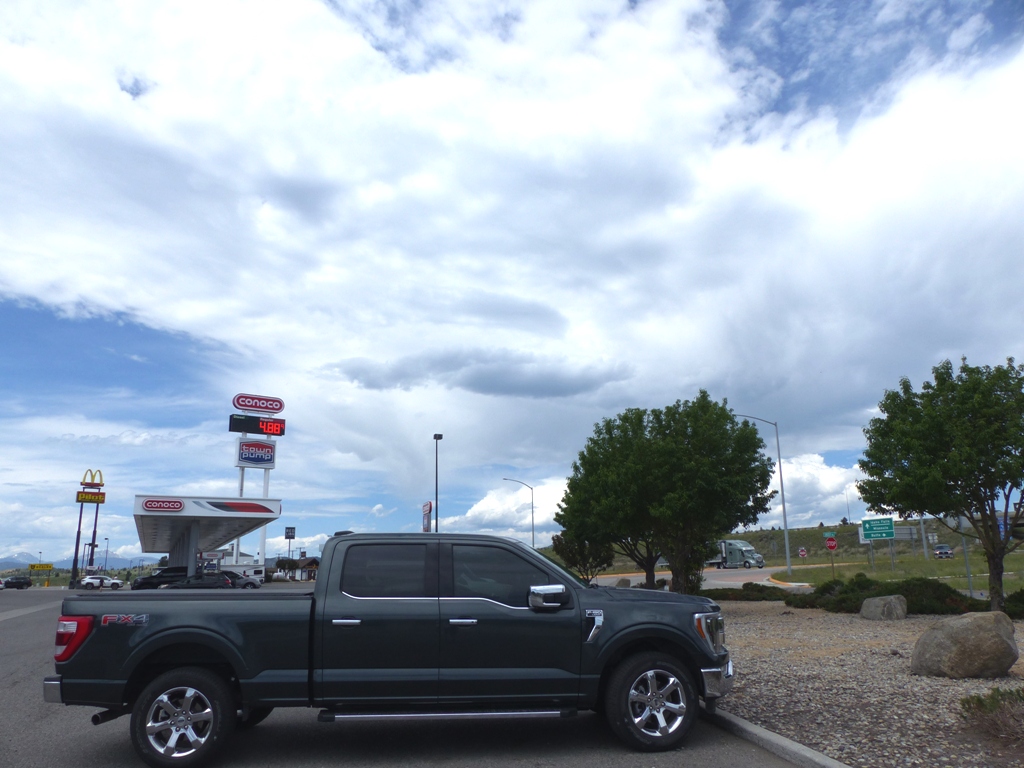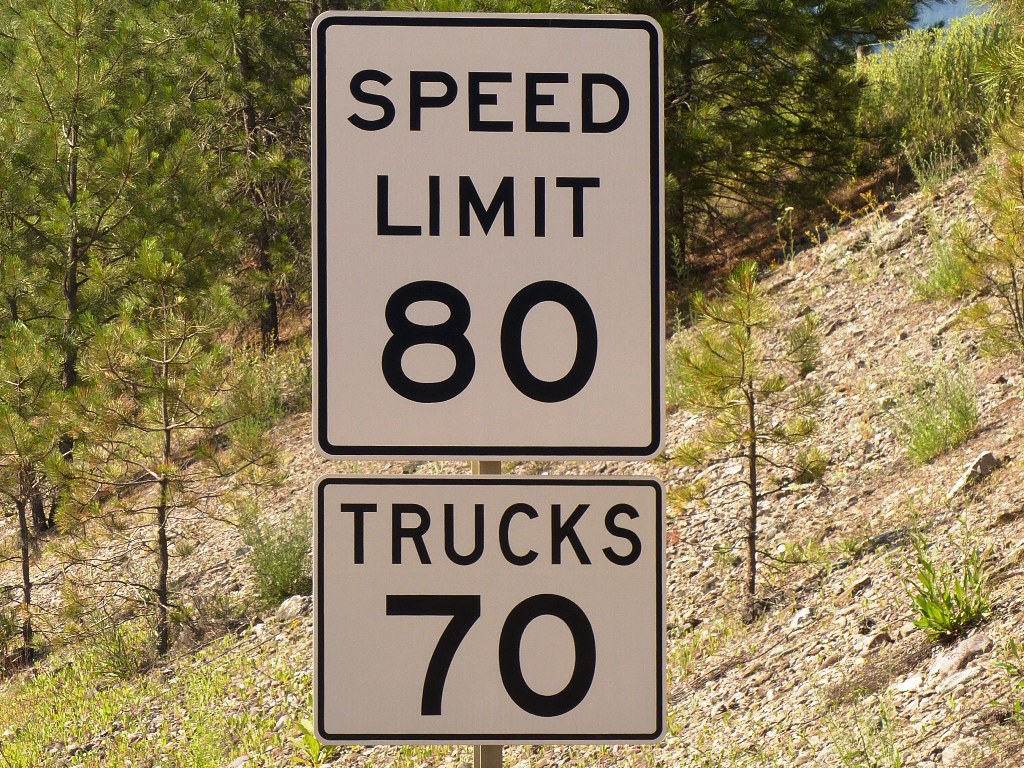 Yellowstone
Only a little bit of Yellowstone National Park is in Montana, but it is big too. Day one was Mammoth Hot Spring, the Grand Canyon of the Yellowstone with Yellowstone Falls, a distant encounter with a buffalo/bison, and a wonderful close encounter with an elk buck.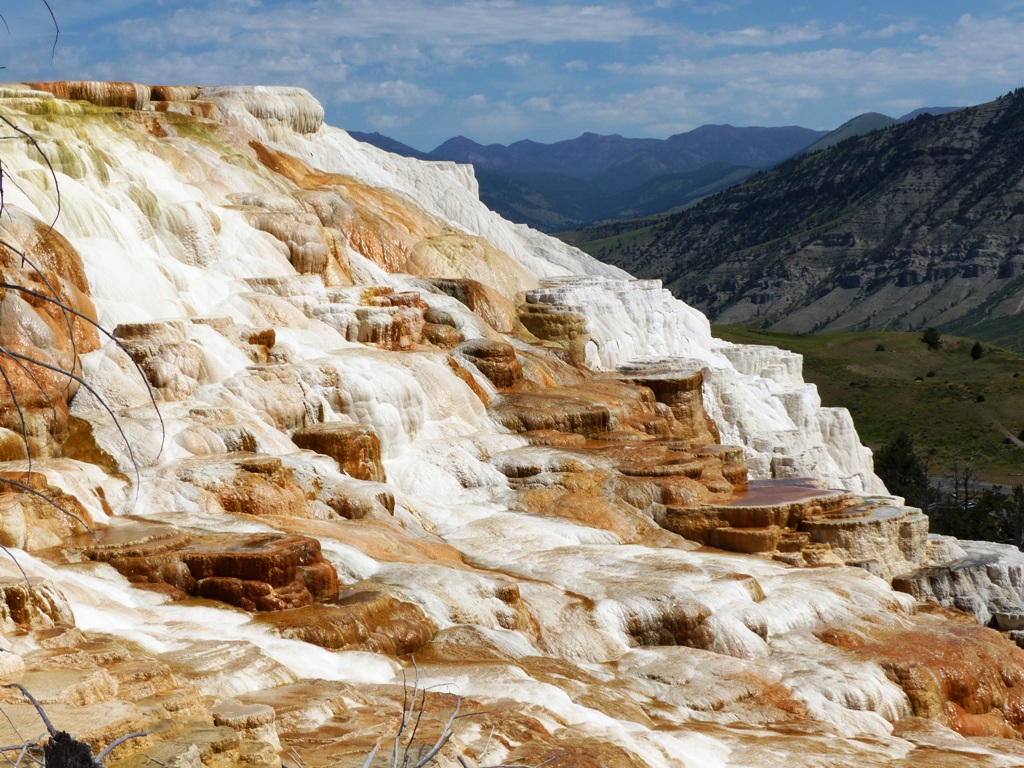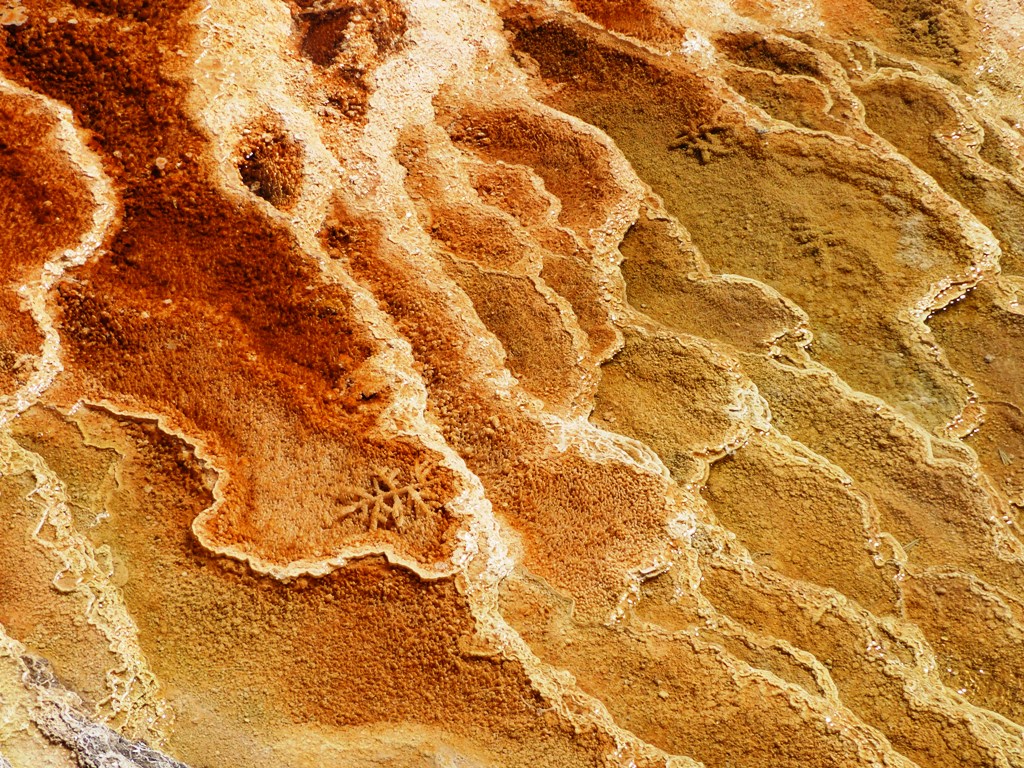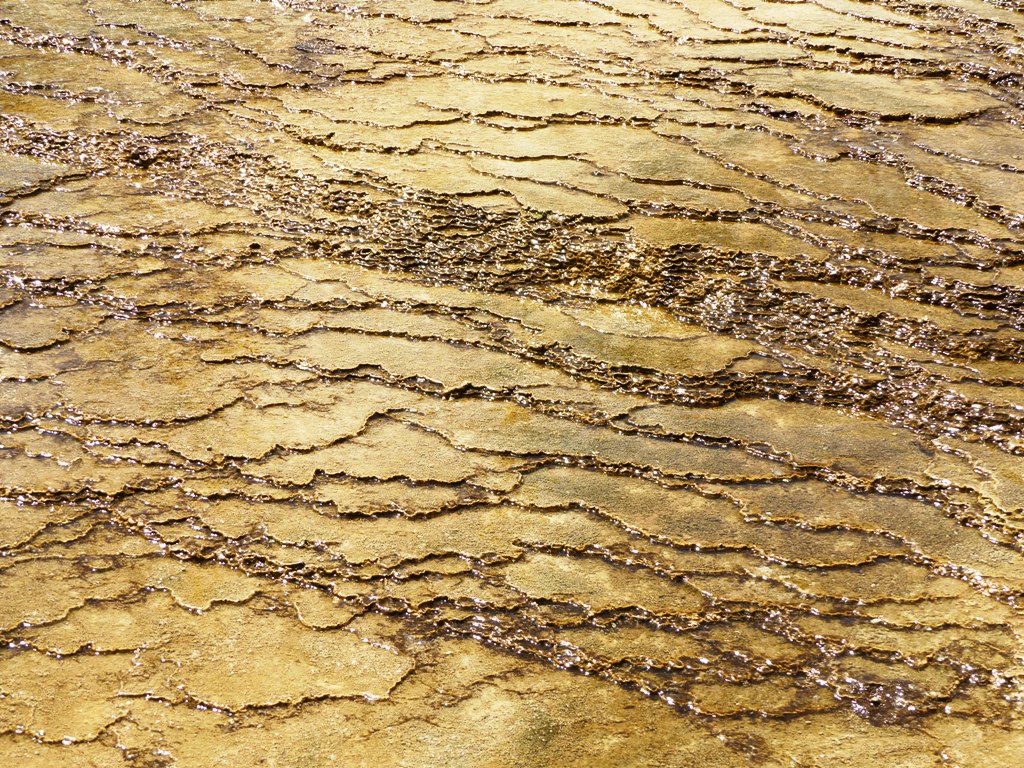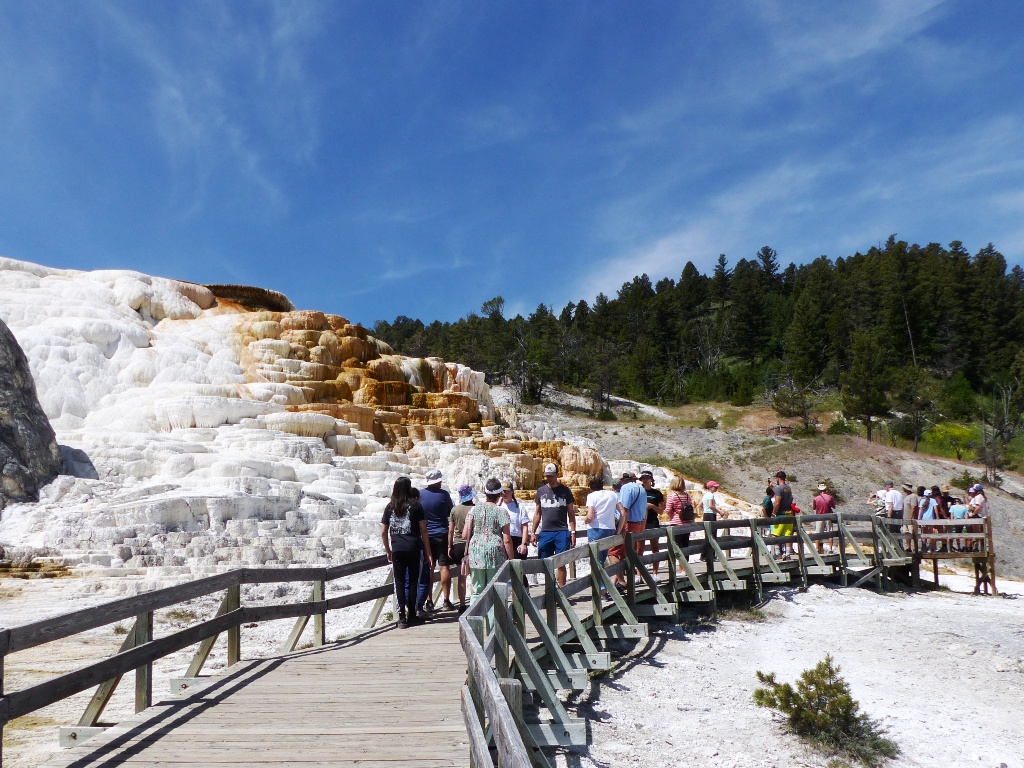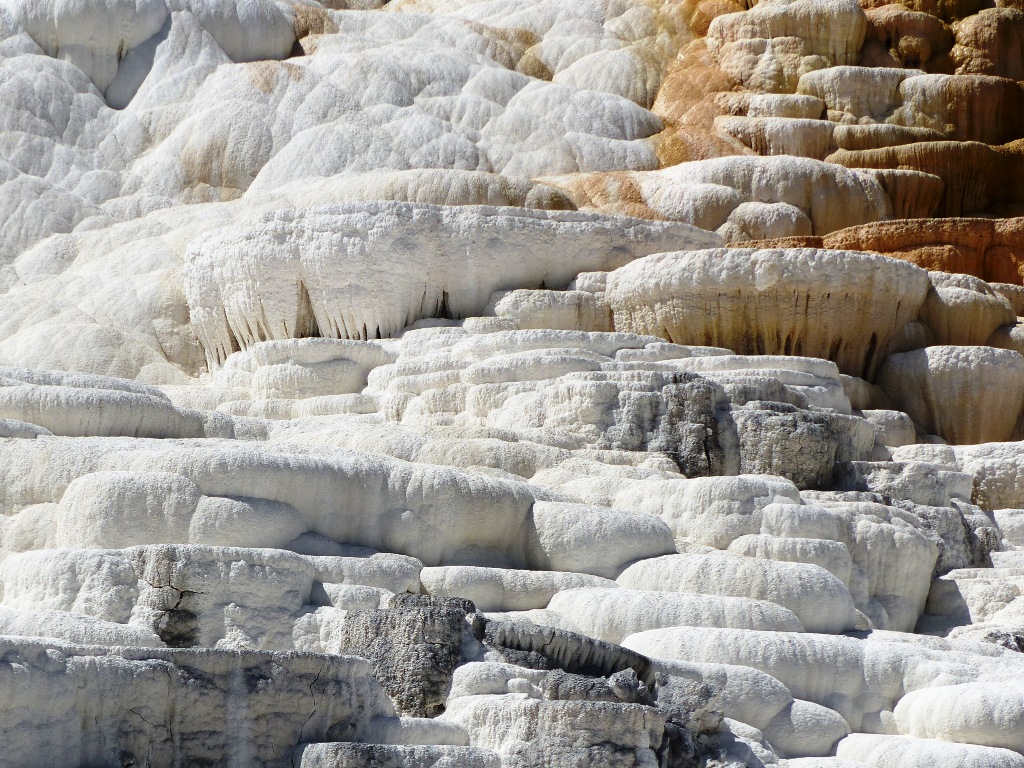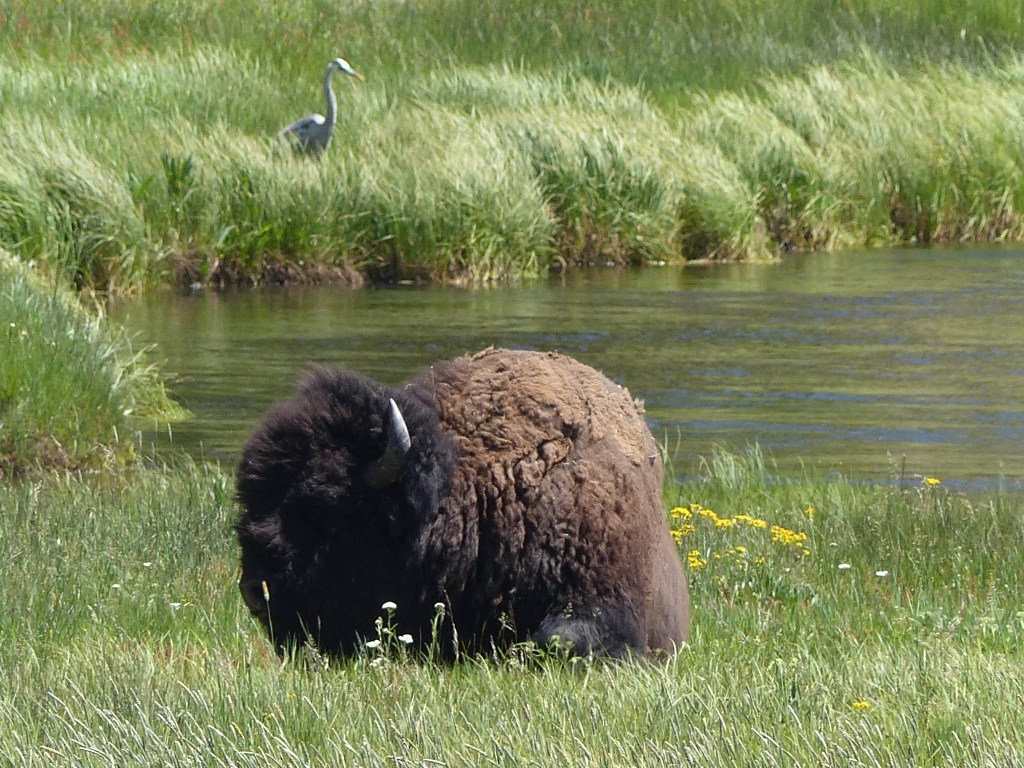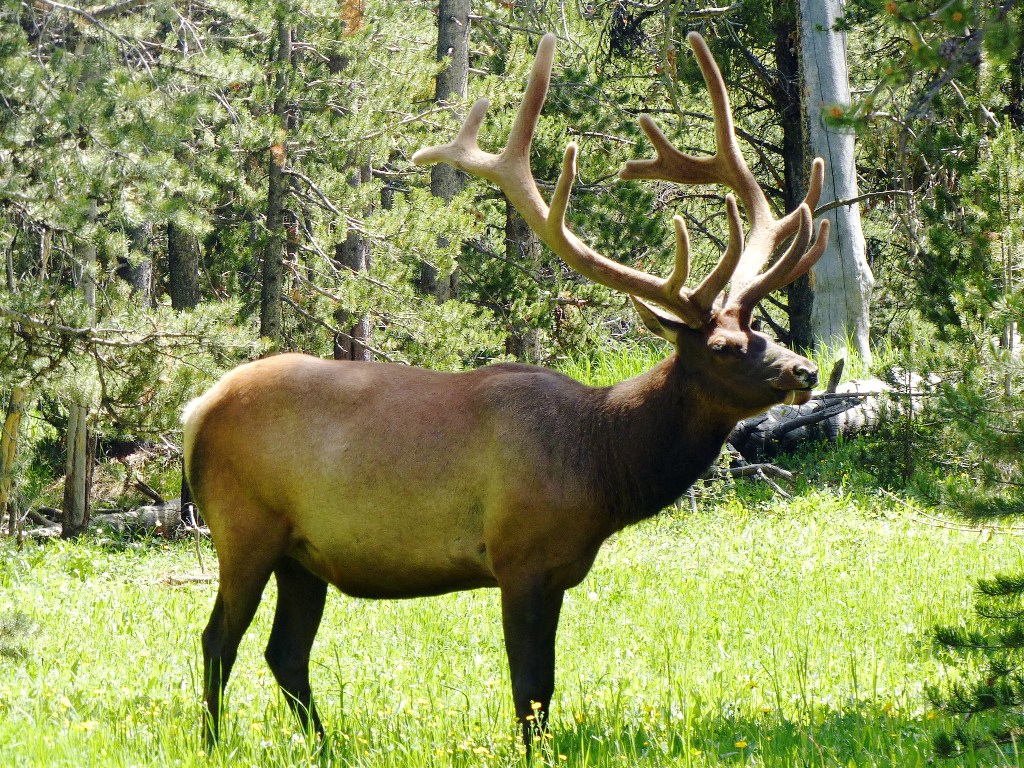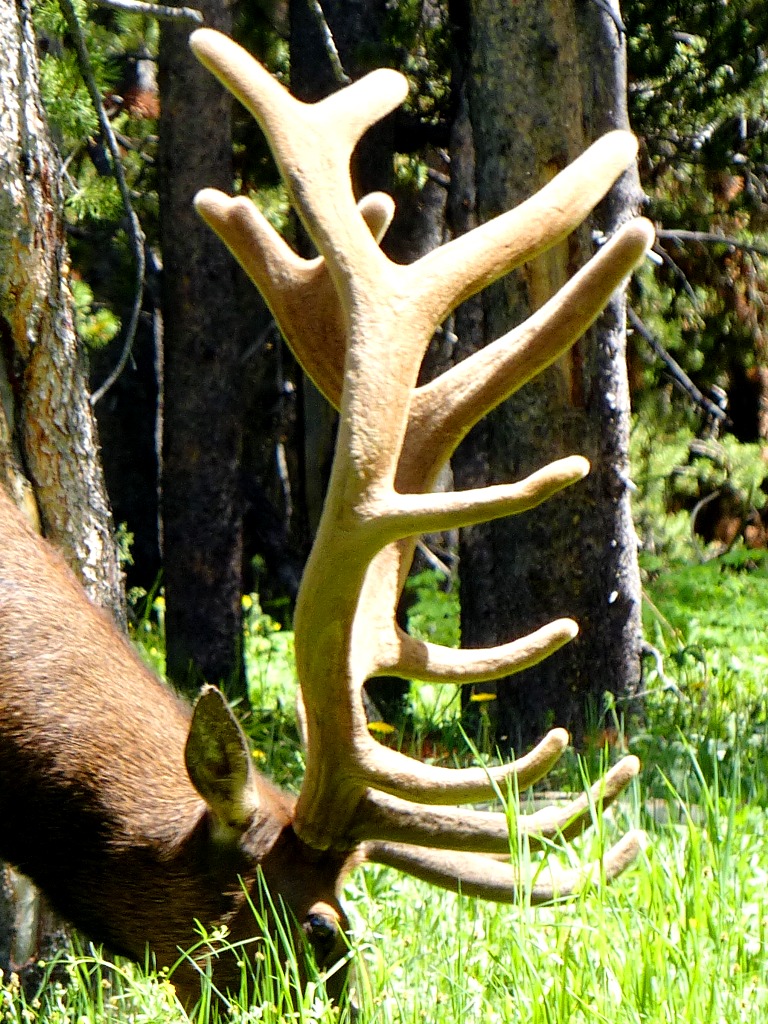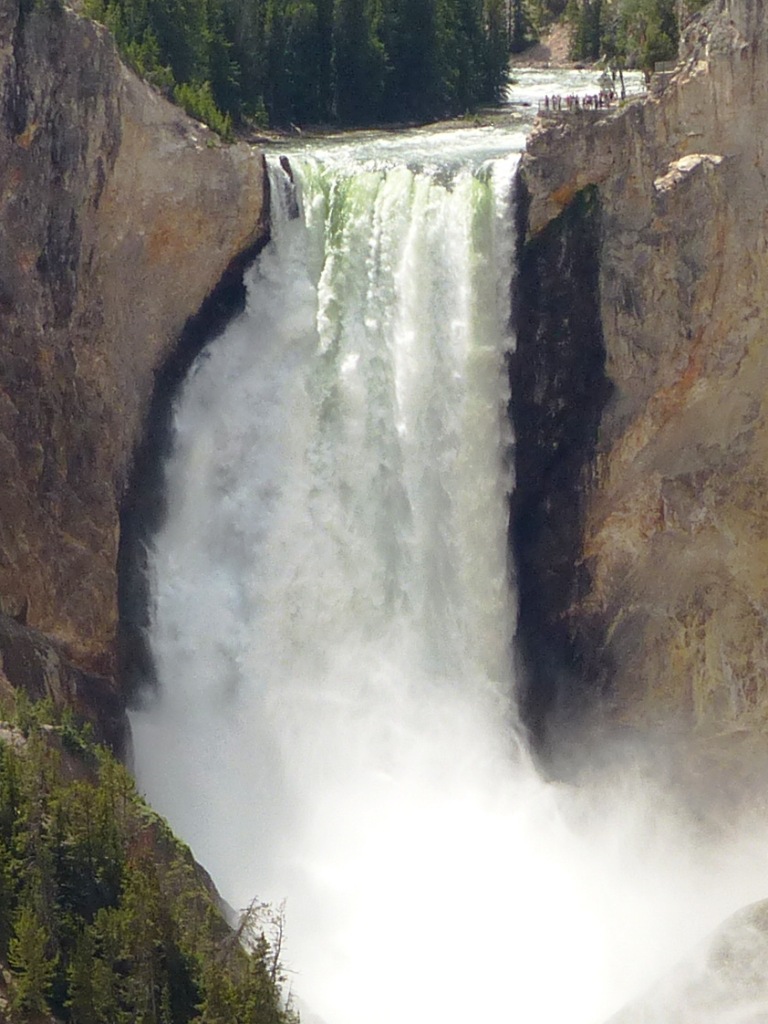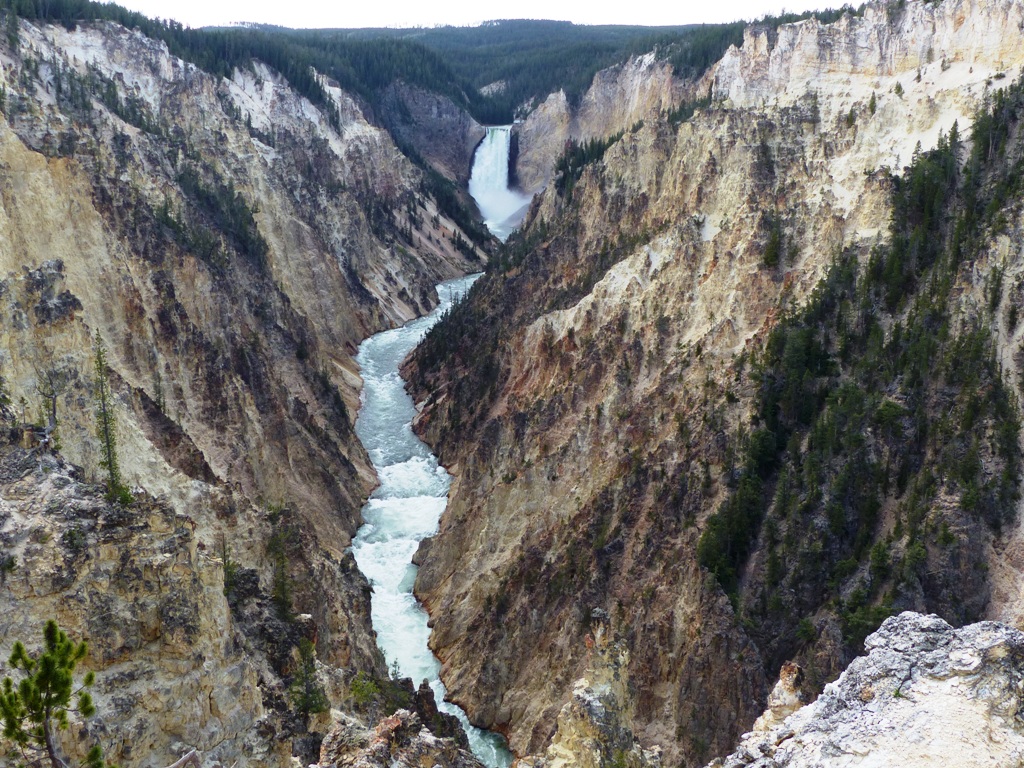 Day two started with a classic roadside bison encounter and a nice drive along the river to the Norris geyser basin.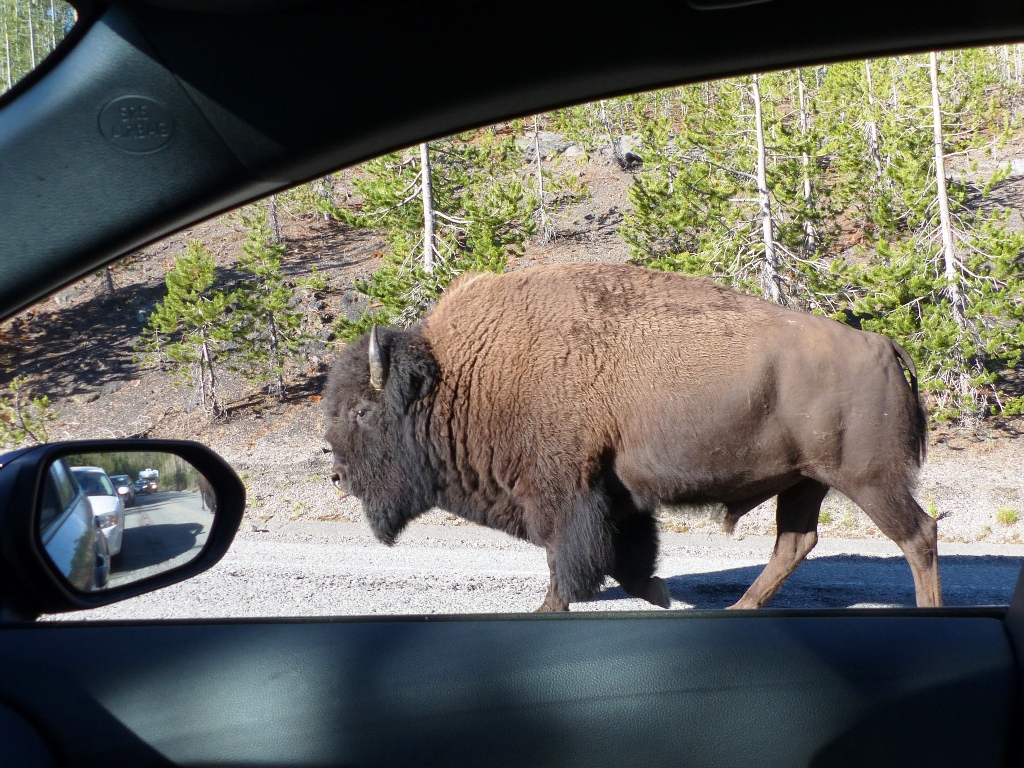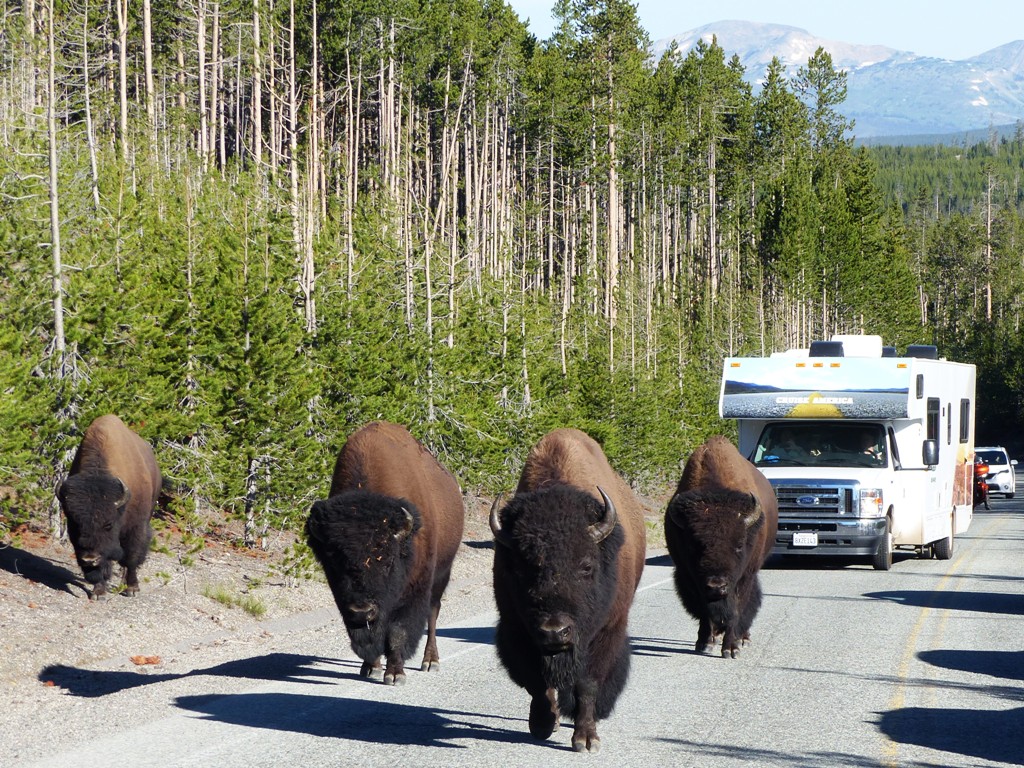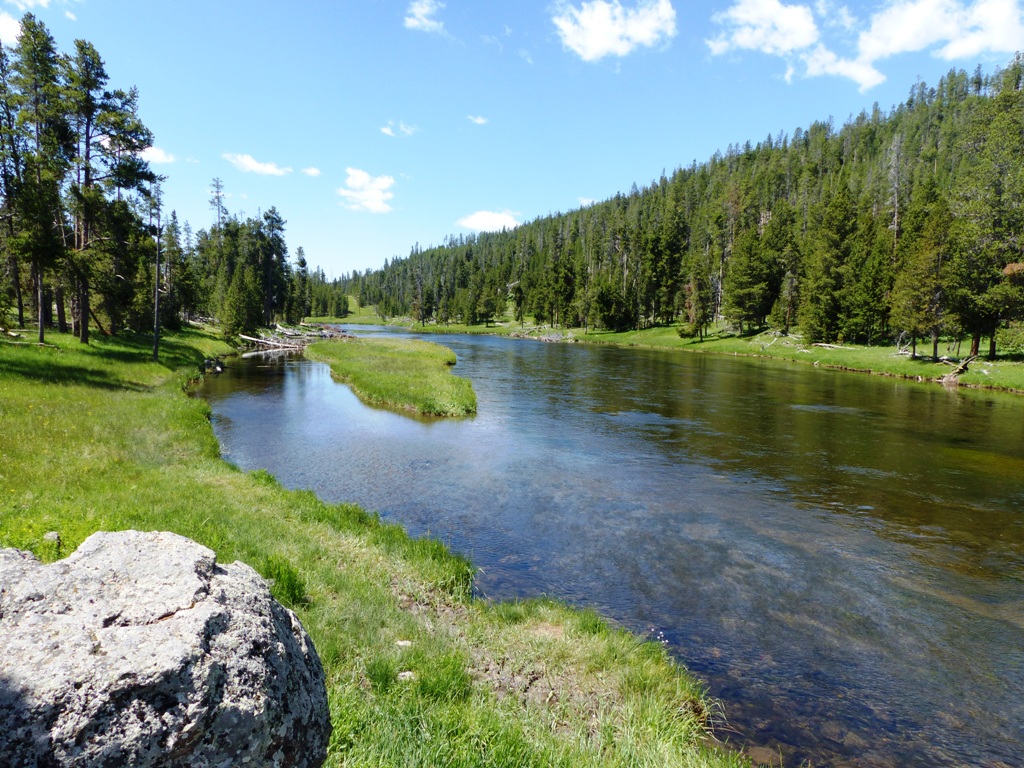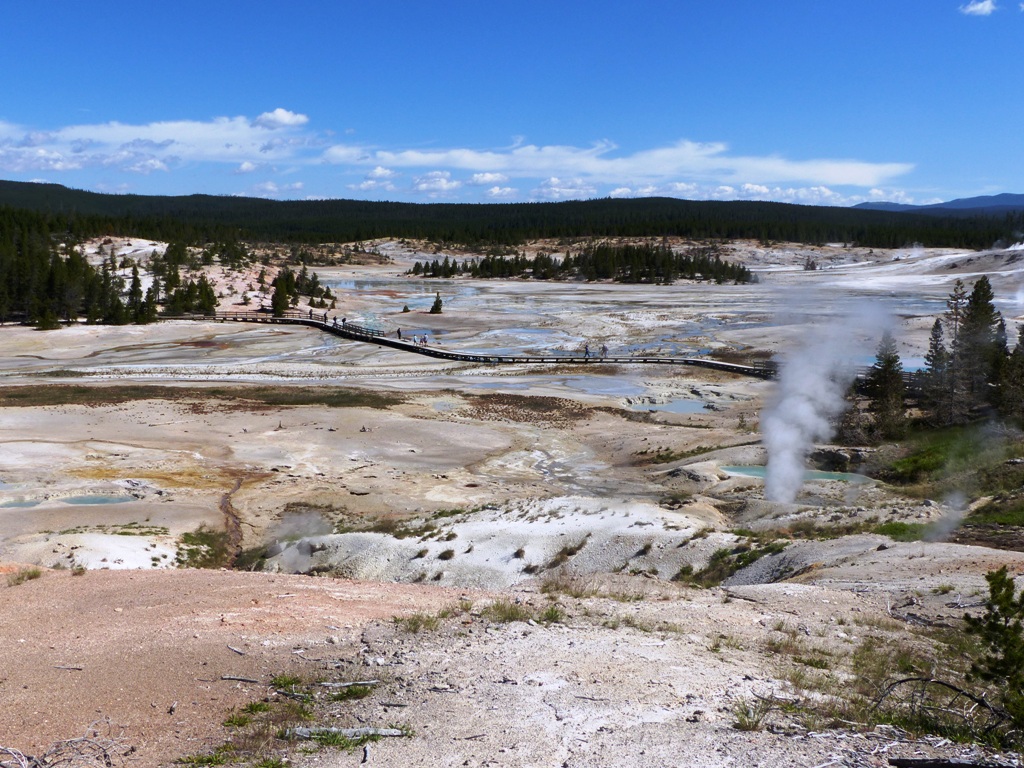 Then it was all about Old Faithful (with eagerly awaiting throng, and the show they came to see), and the many surrounding thermal areas.

Other than Old Faithful, you need luck to see a geyser erupt, but the bubbling spring and pools are also cool hot features. The most amazing pool is the Grand Prismatic Spring (also shown here in a copyright aerial photo). The mud pots are a favorite of mine.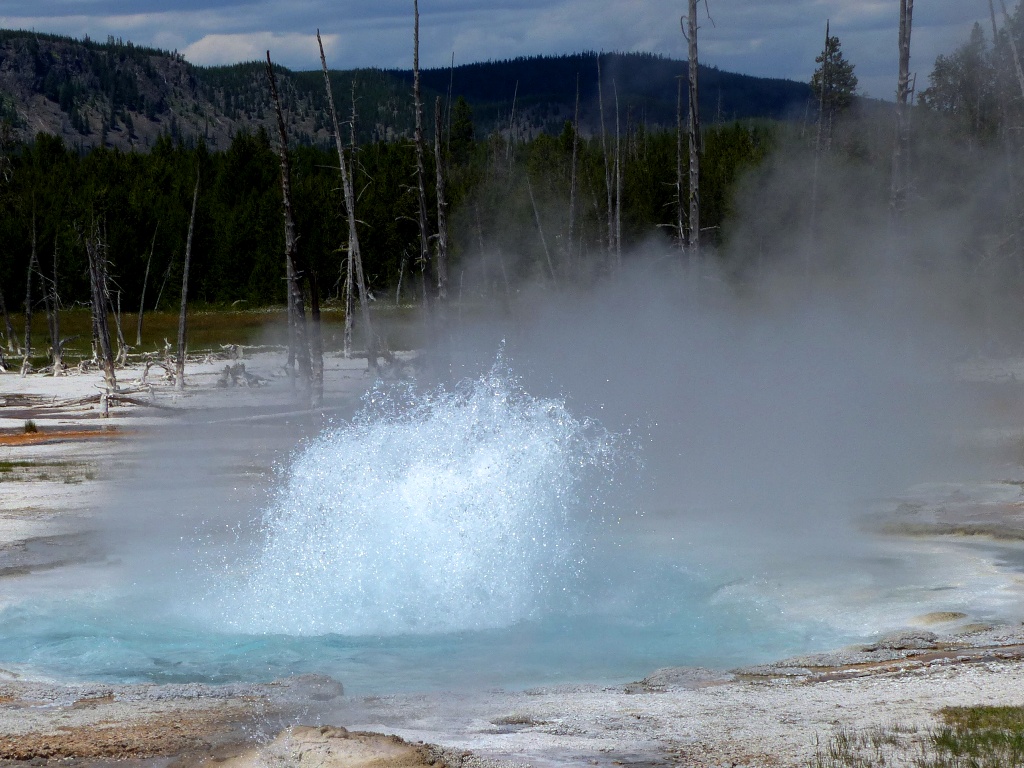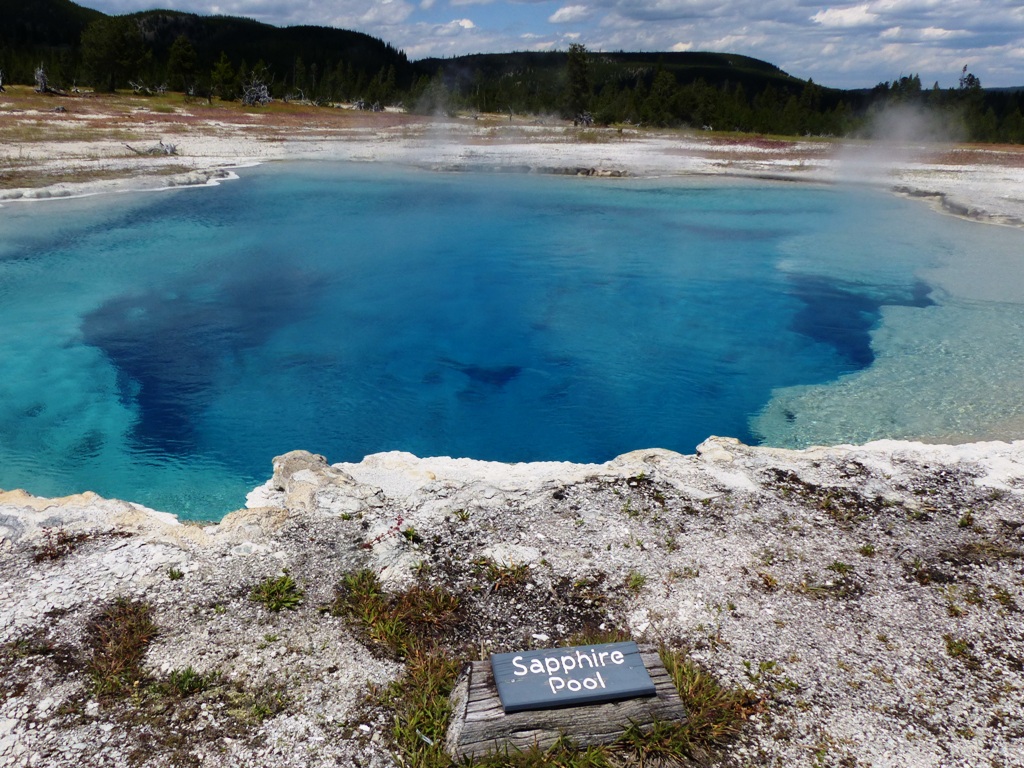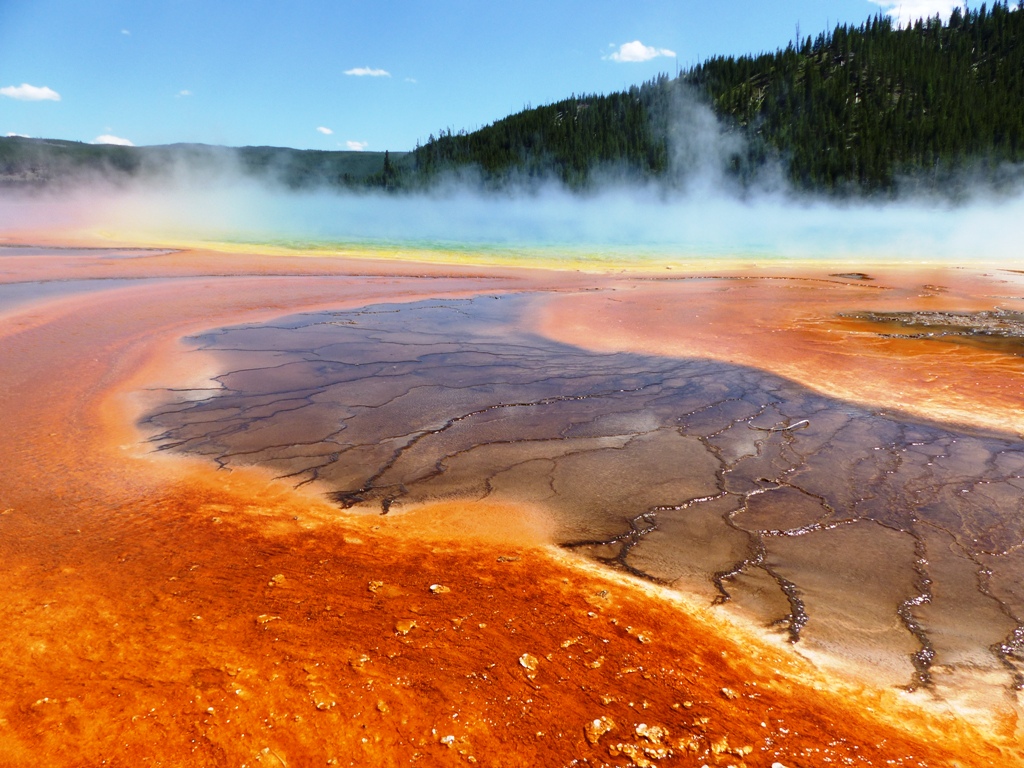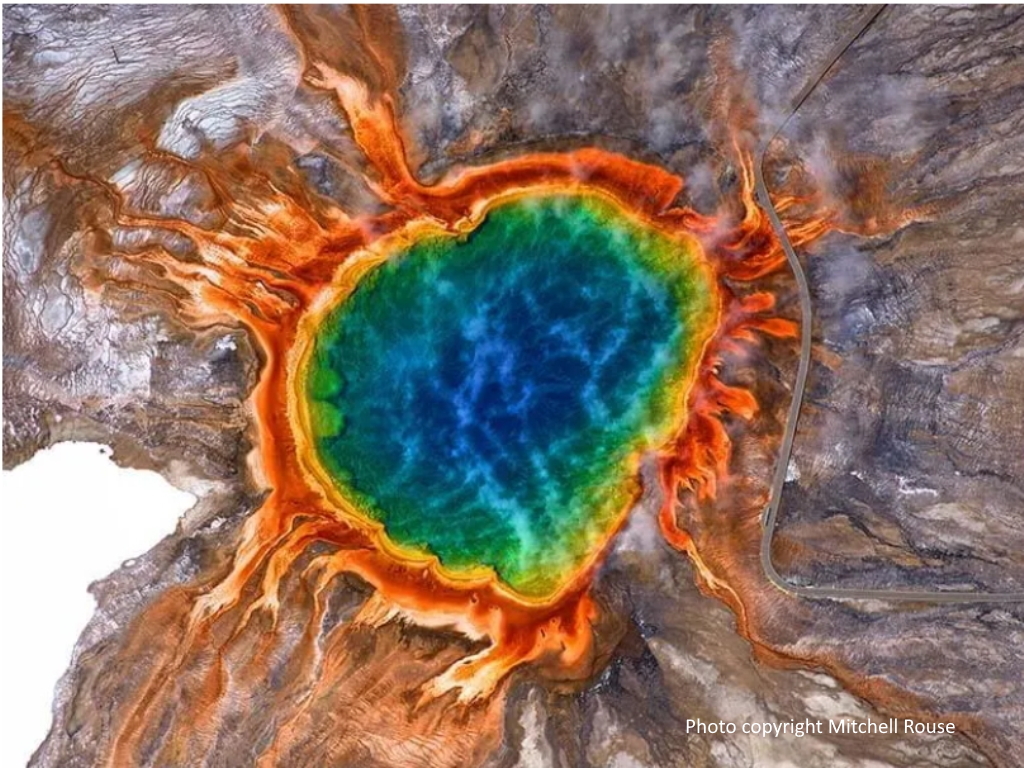 Day three was a quick stop by the thermal area bordering Yellowstone Lake and driving south.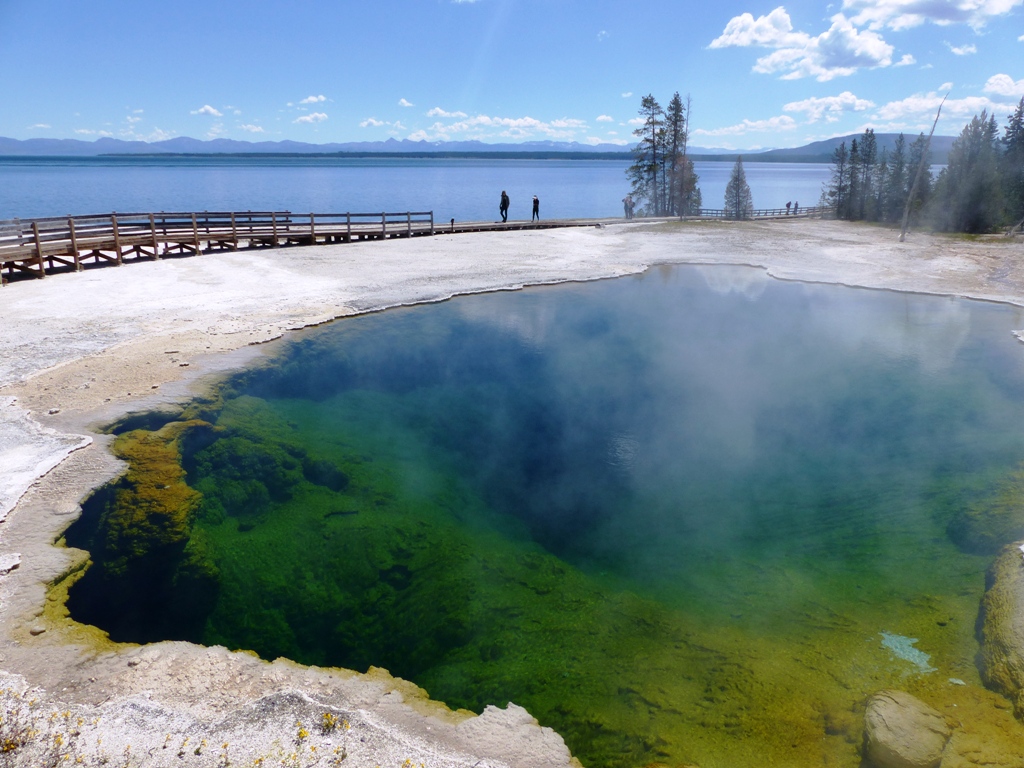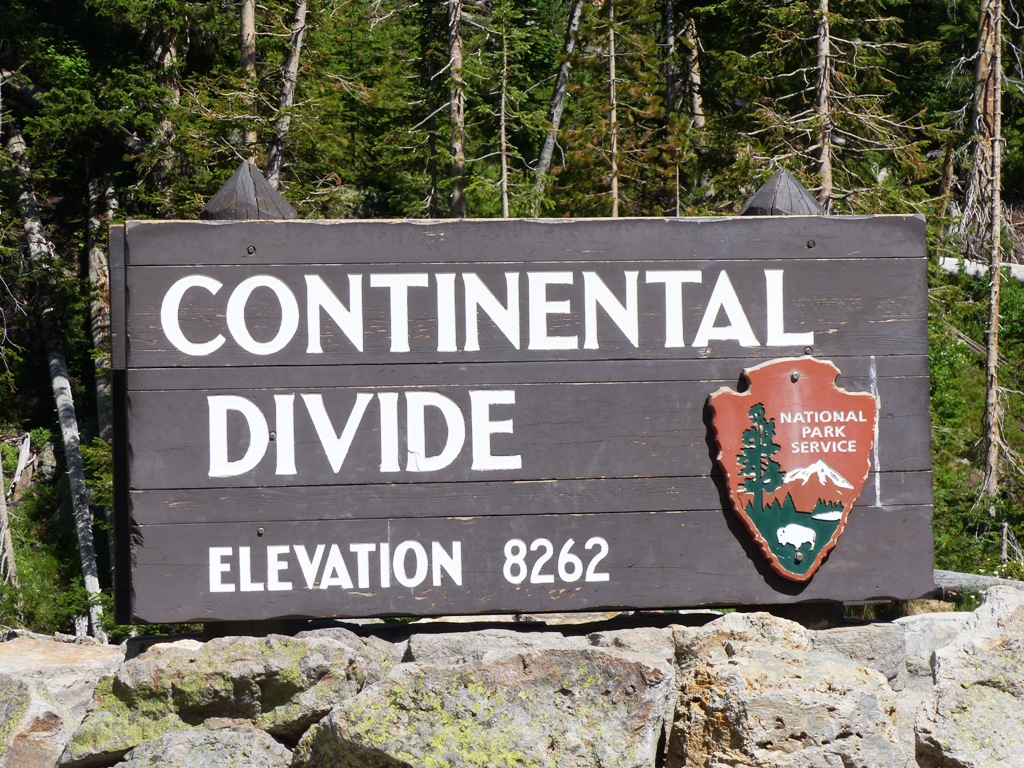 My time in Yellowstone was great. I had wonderful weather, and, with the exception of the Old Faithful area, the crowds were manageable. The cherry-on-top was certainly Ice Lake.
Months before my visit, while working ahead from NZ, I discovered that all the drive-on campgrounds were completely booked. So, reserved a back-country campground at Ice Lake. This worked out really well. My campground was only a very short walk from the trail head. Ice Lake was approximately one million percent better than being squeezed among the RVs (albeit that I was really happy to have my REI Jungle Juice bug repellent). I had the place entirely to myself 2 of 3 evenings and shared the other night with a bouncing Czech family (sorry for the truly horrible pun but they were high energy, and the kids were literally bouncing on the sagging tree limbs). I had several visitors each evening including trumpeter swans, river otter, scaup, and crow/raven.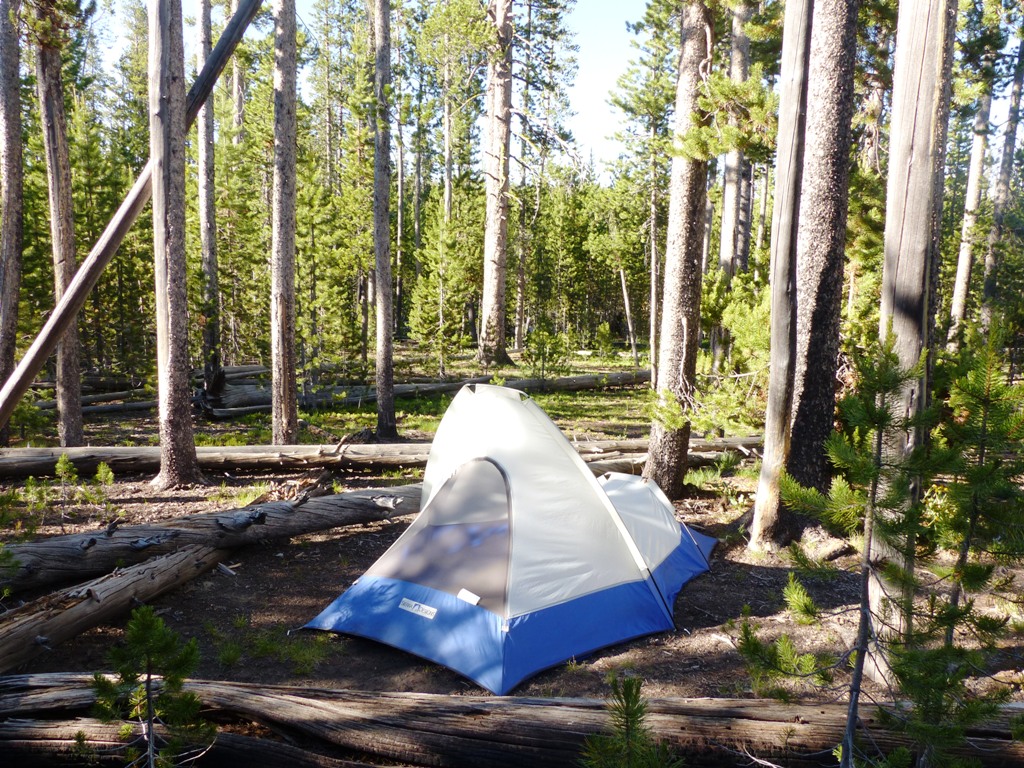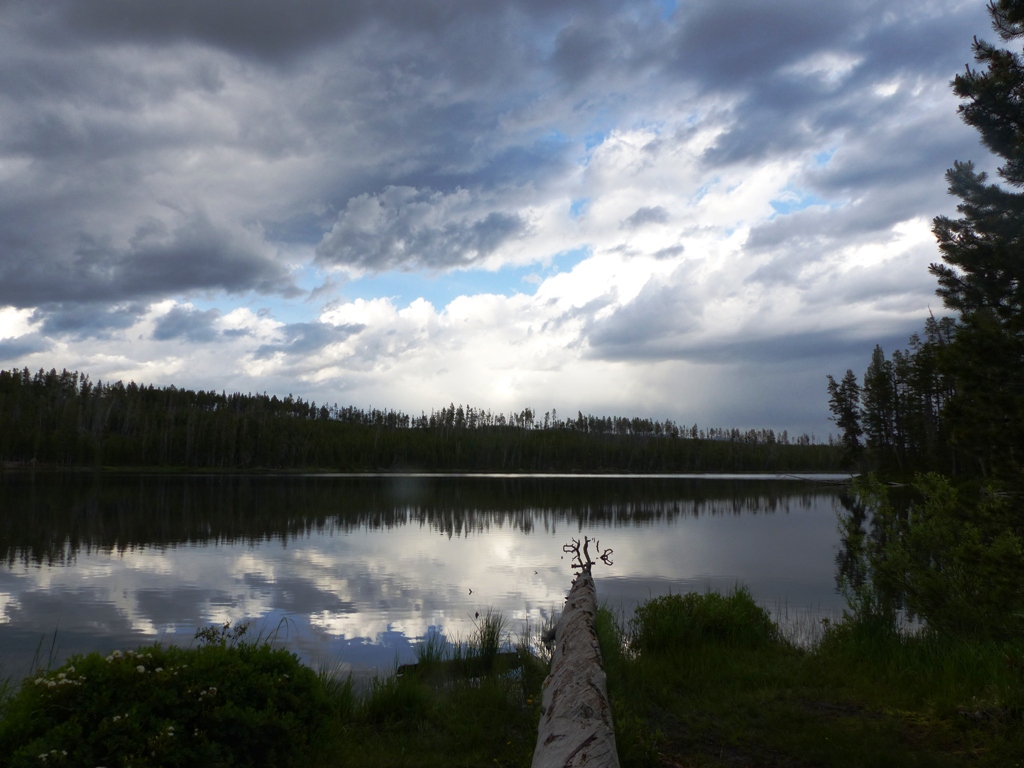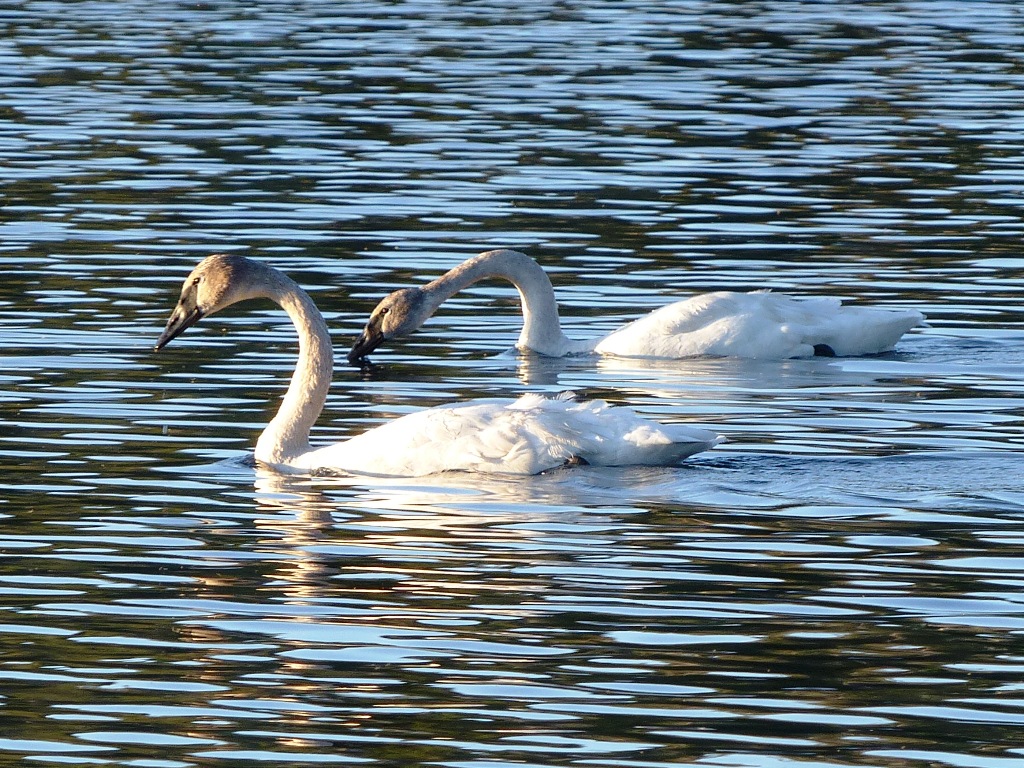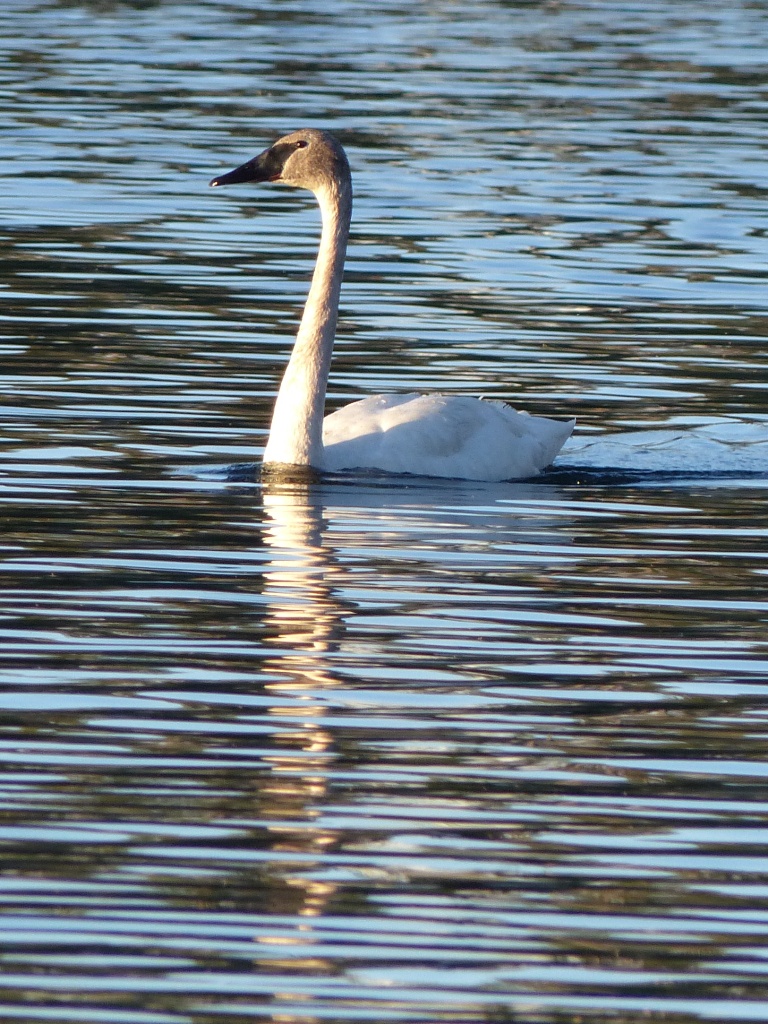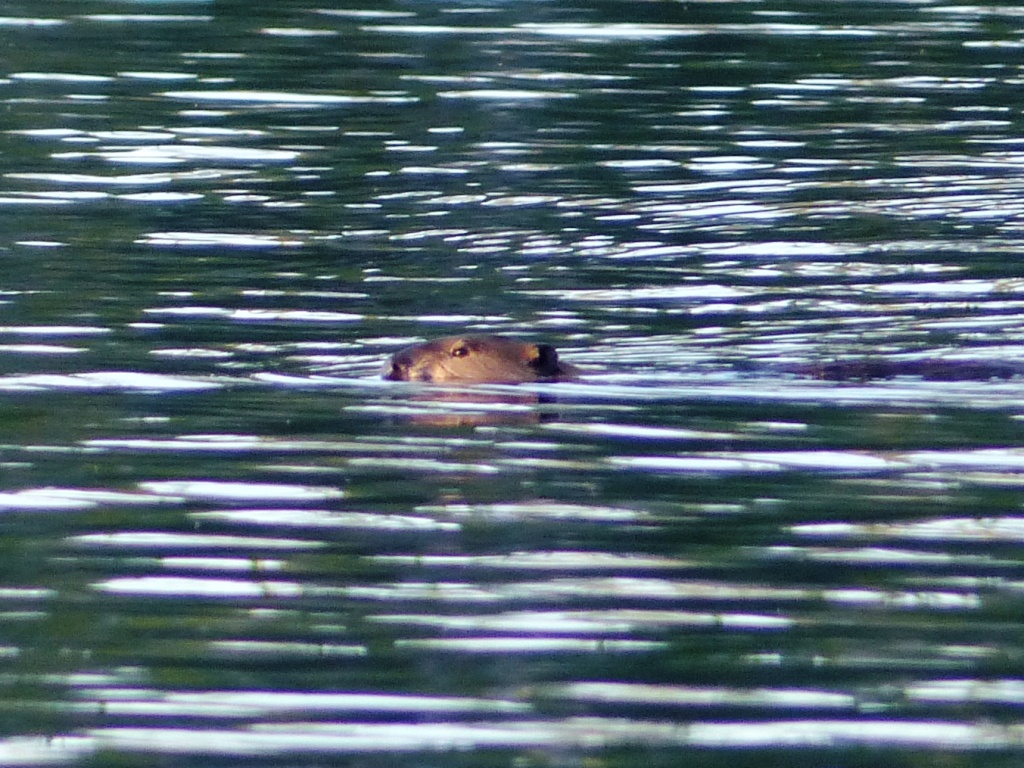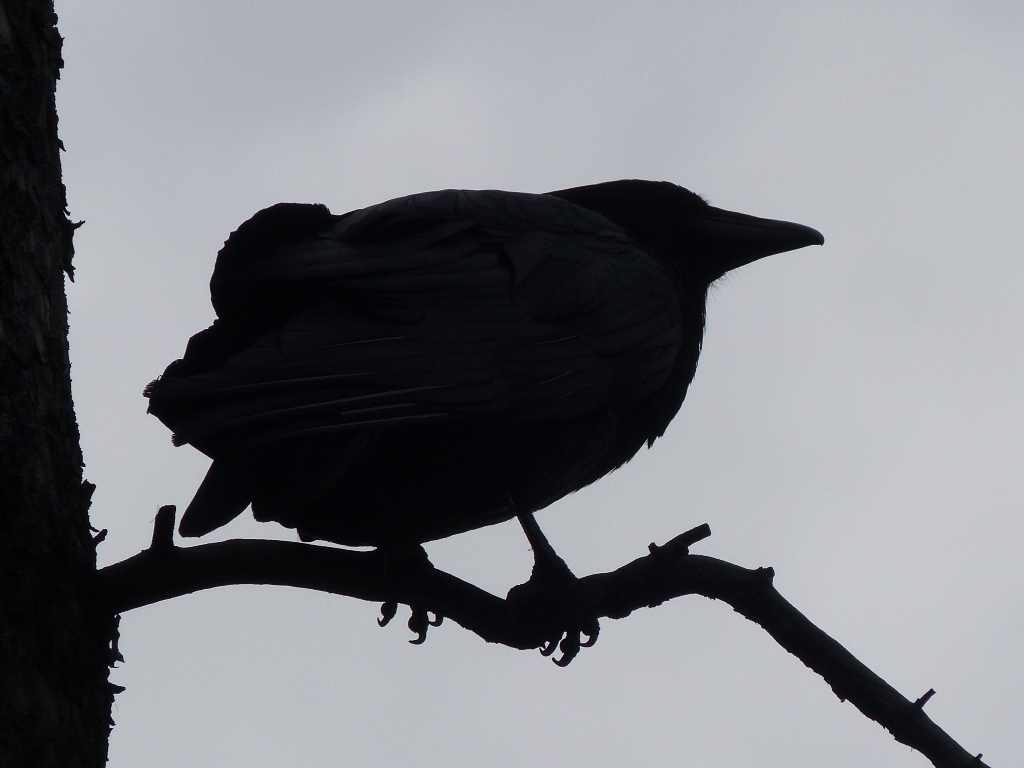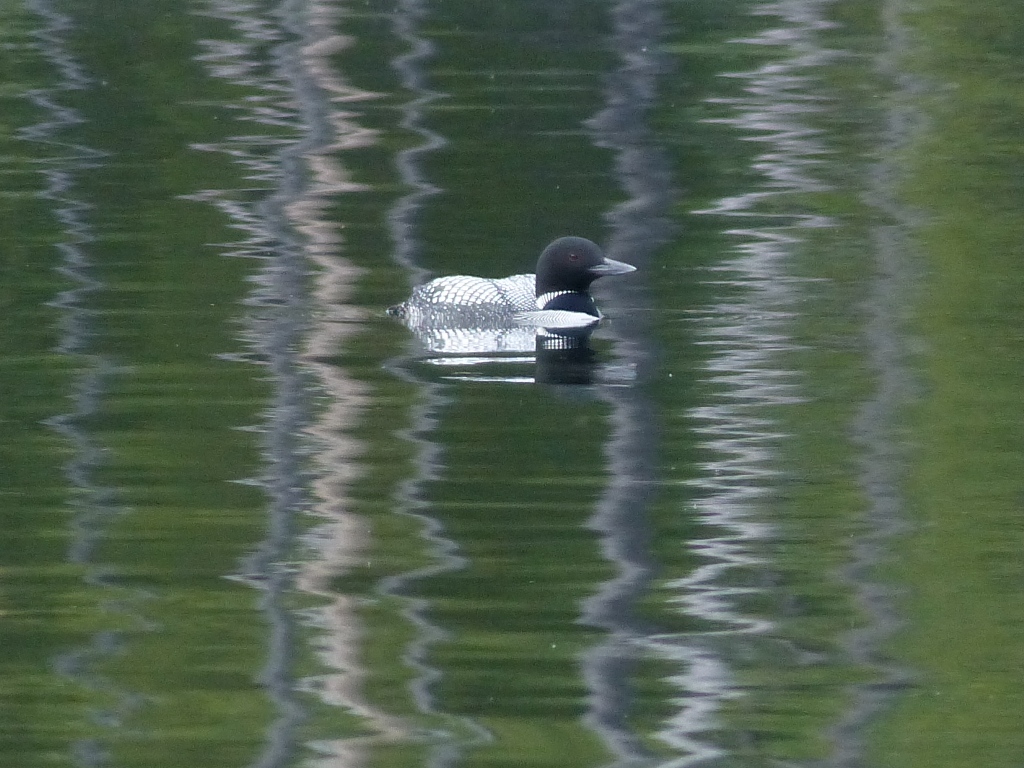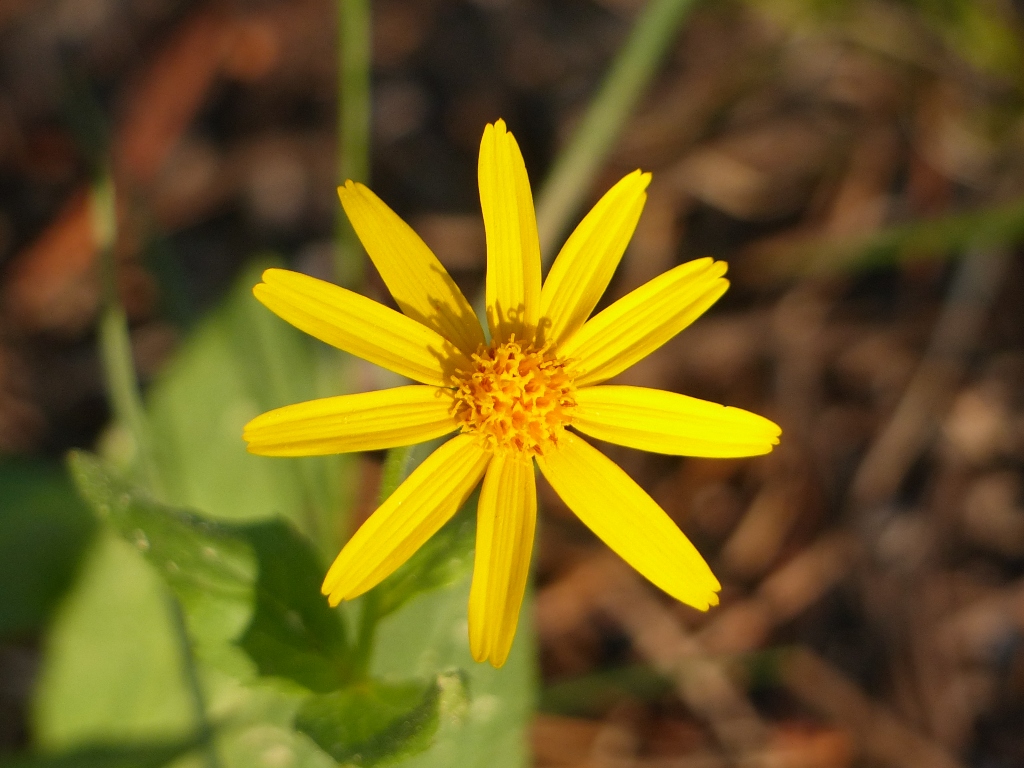 In addition to the wildlife, I was captured by the evening ripples on the lake surface.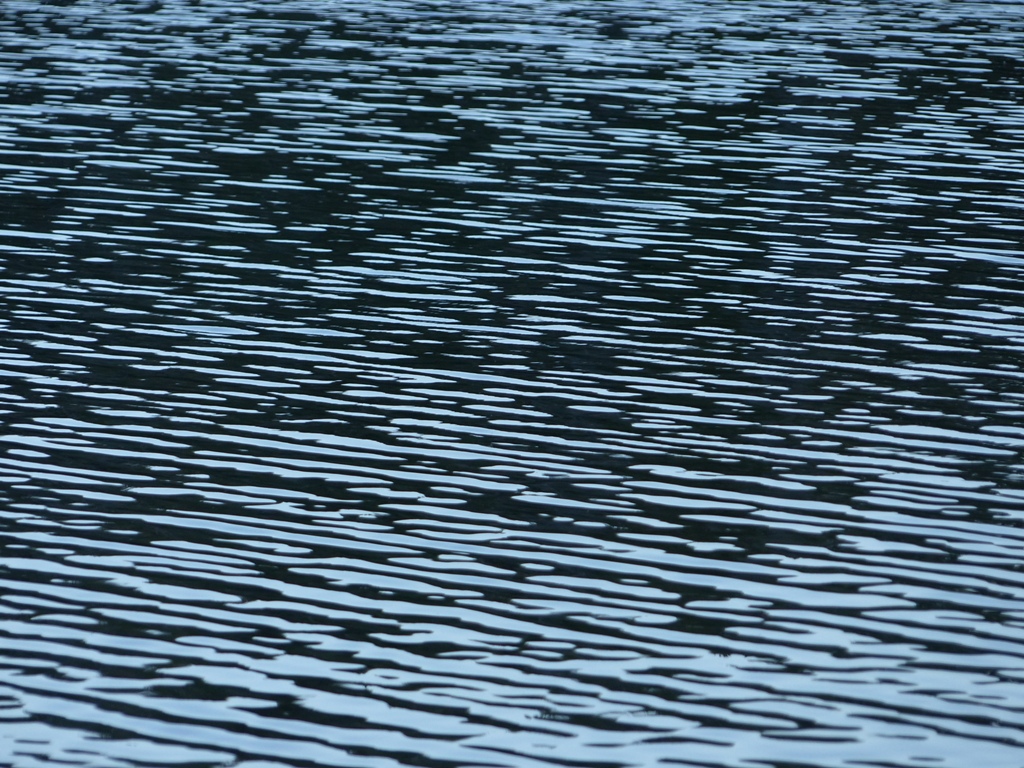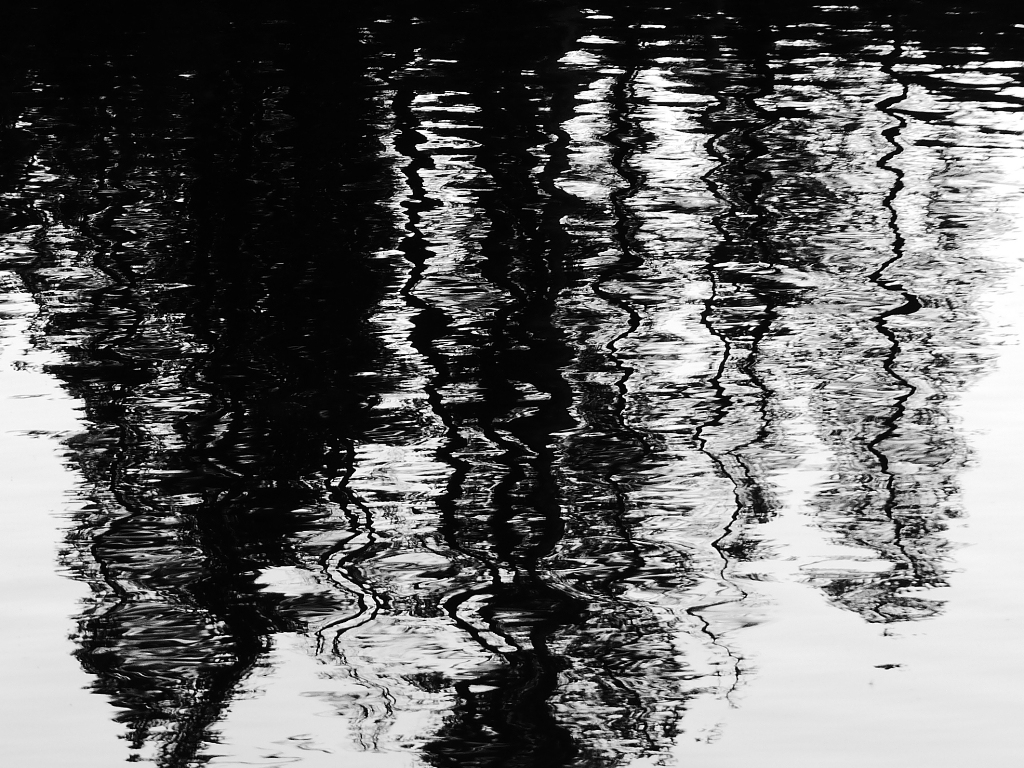 Grand Teton

A sign at a roadside turnout explained the naming of the park. If seems that the early french trappers called the three prominent peaks Les Trois Teton - in English The Three Breasts.
Hmm - really? I can only think that those guys must have been deprived of female companionship for a very long time (and what is with le teton being a masculine word in French?).

I expect that very few of the park's visitors know that they are visiting "Big Breast National Park"!

I had a very nice day in the park with 2 moderate day walks and far too many pictures of the mountains. Luckily the wildflowers had not yet completely finished.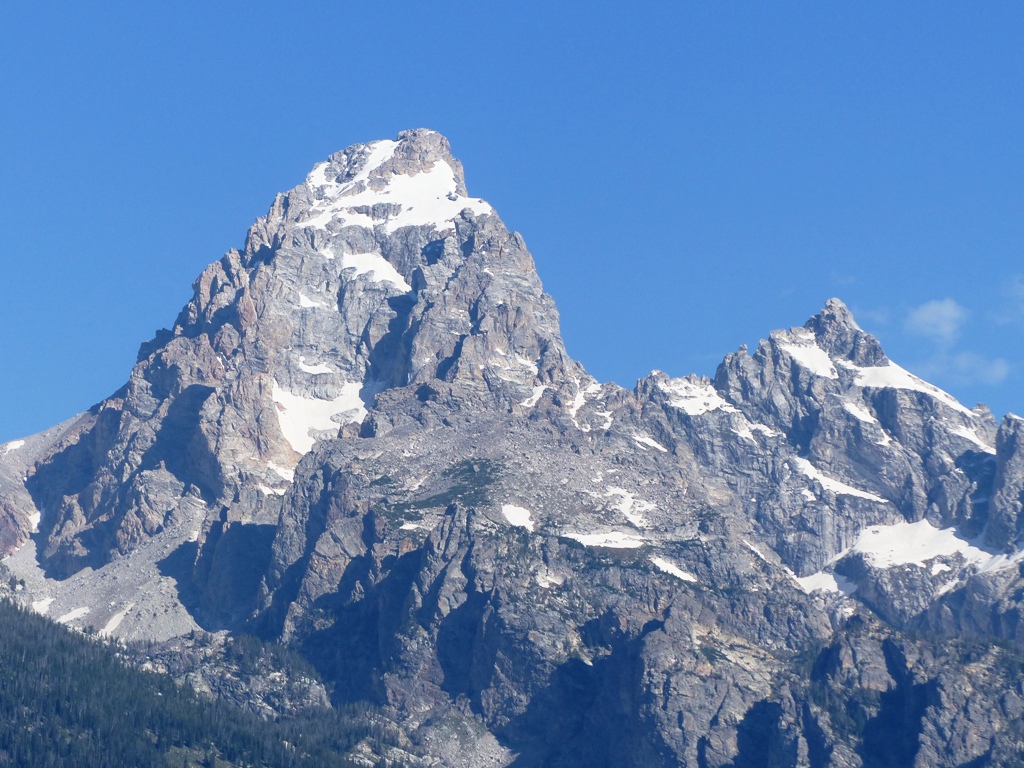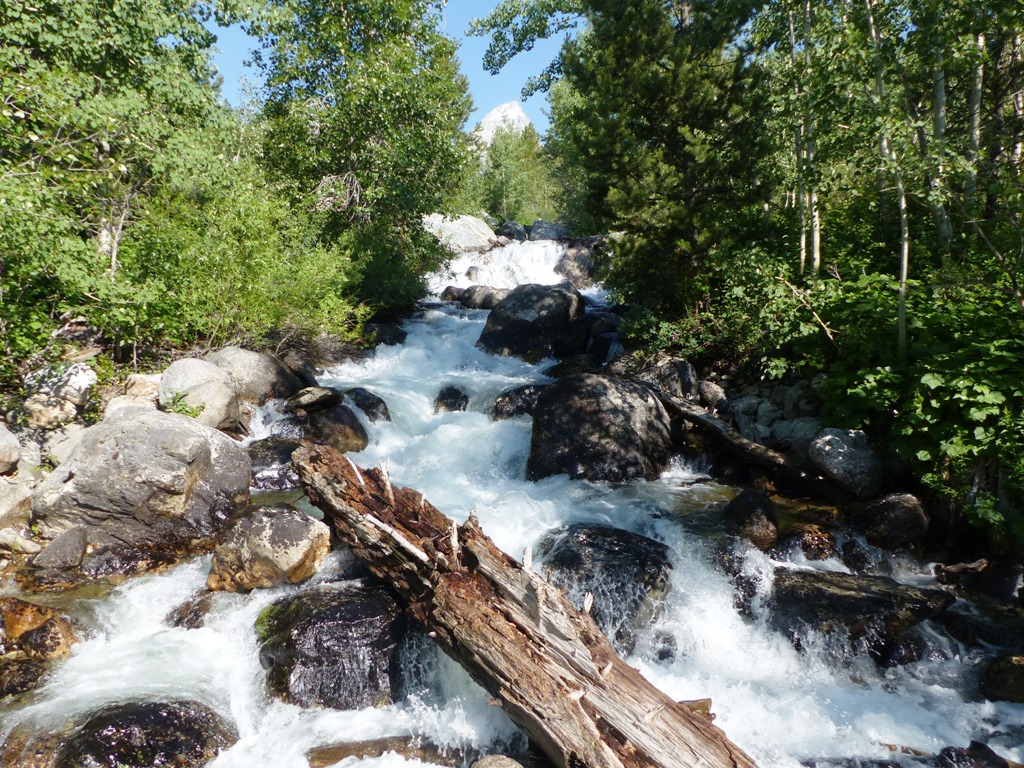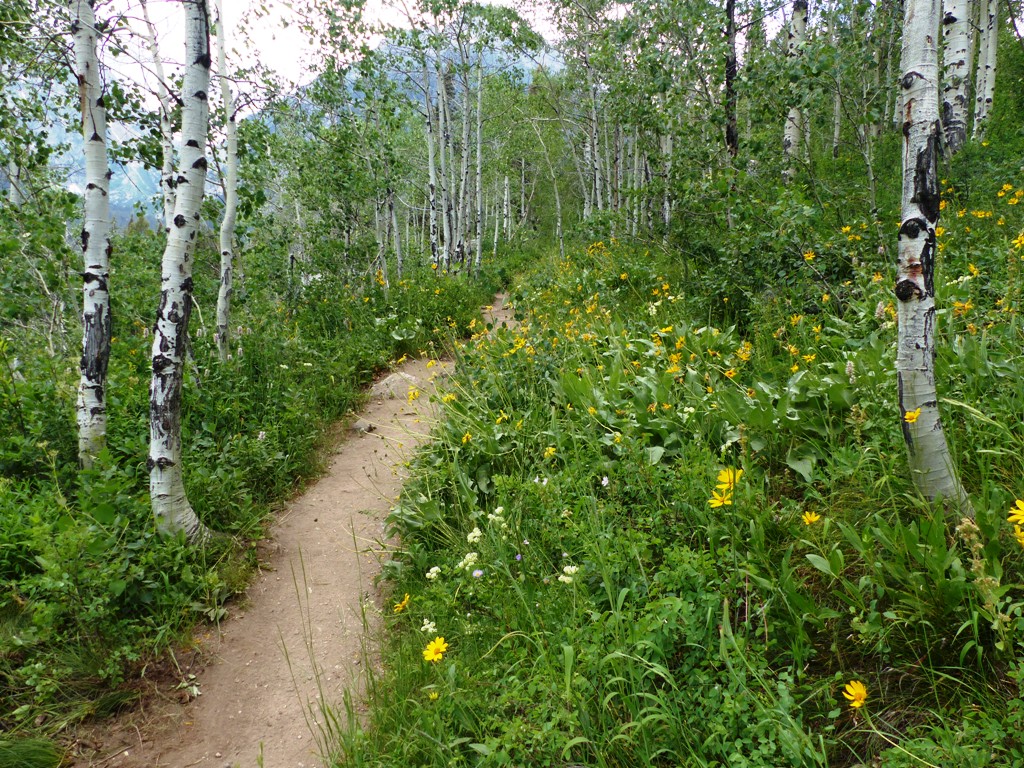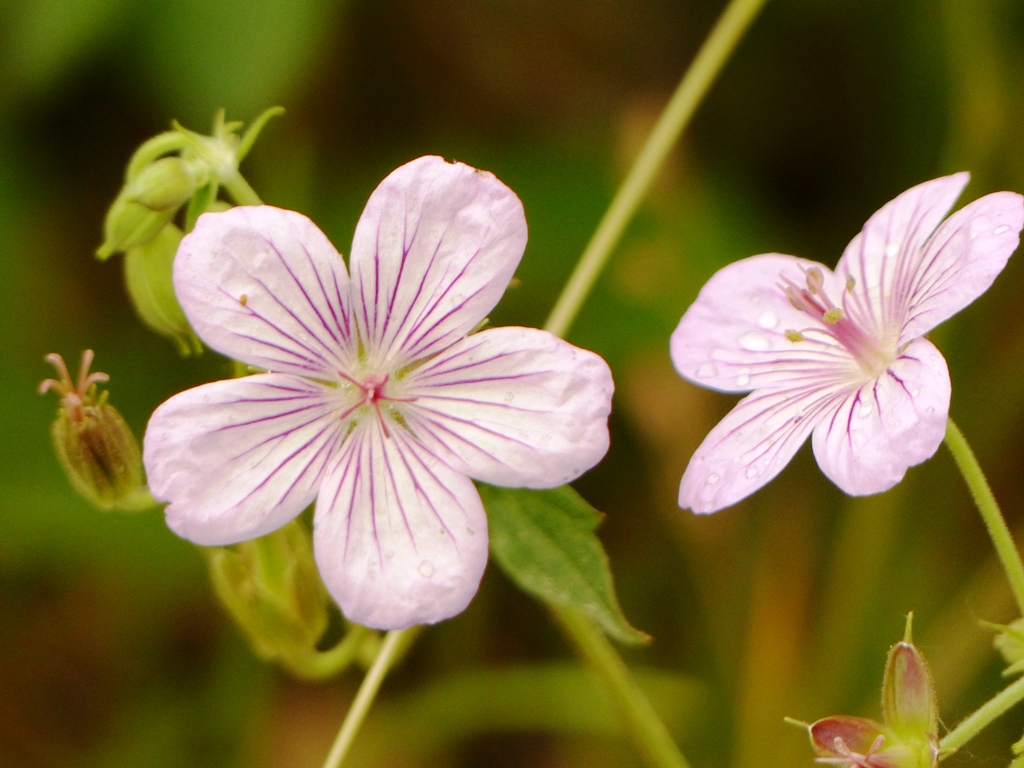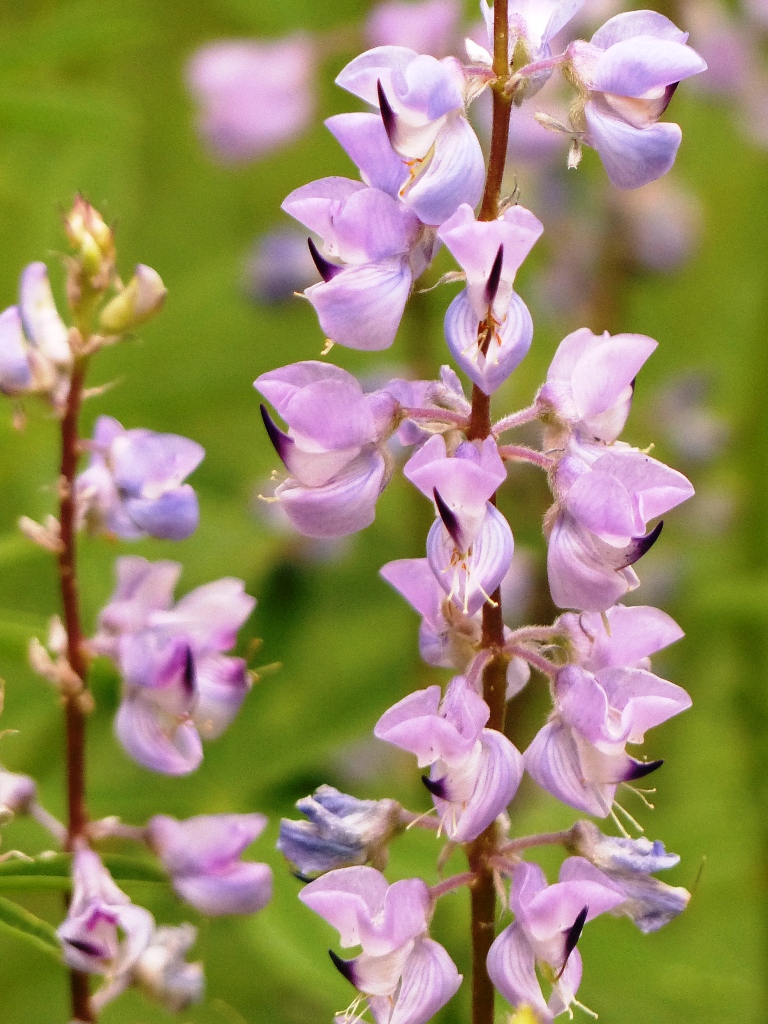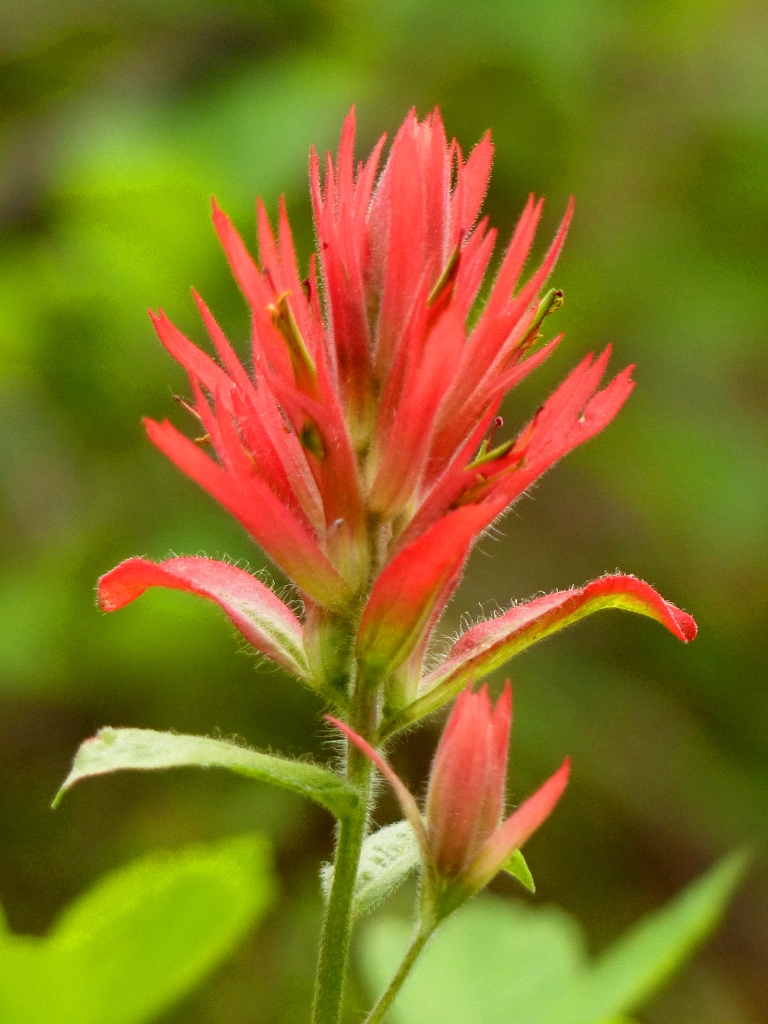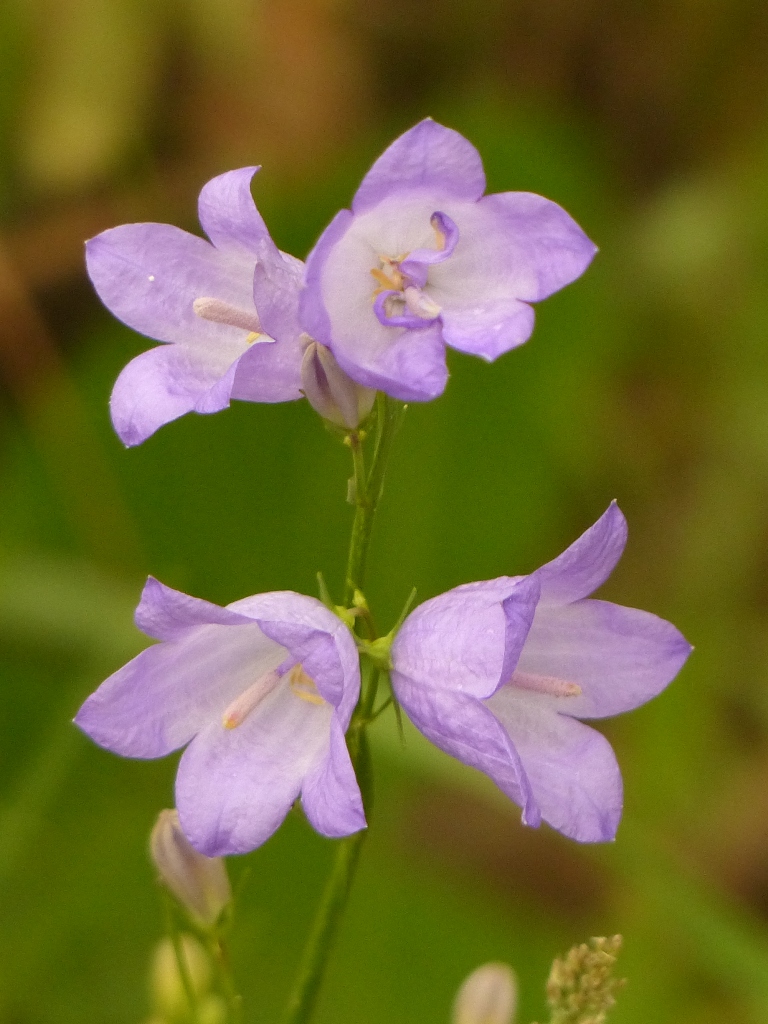 From the Tetons, my plan to continue my tour to visit friends and family was unfortunately curtailed by a positive test for Covid. I managed to semi-self-isolate in hotels while getting Paxlovid, masking and having minor symptoms. I recovered quickly and don't think I infected anyone - though I was dodging it throughout my family visit.

Arctic

From Boston to Longyearbyen via Frankfurt and Oslo was smooth and easy. Along the way I caught up with some old friends from my previous Oceanwide contract. I found Longyearbyen to be an odd mix - small, isolated and minimalist but still with a cosmopolitan/funky feel in the bars, restaurants and hotel; old and historic with a modern overlay. Note the reindeer grazing and the disused coal tram towers in the township.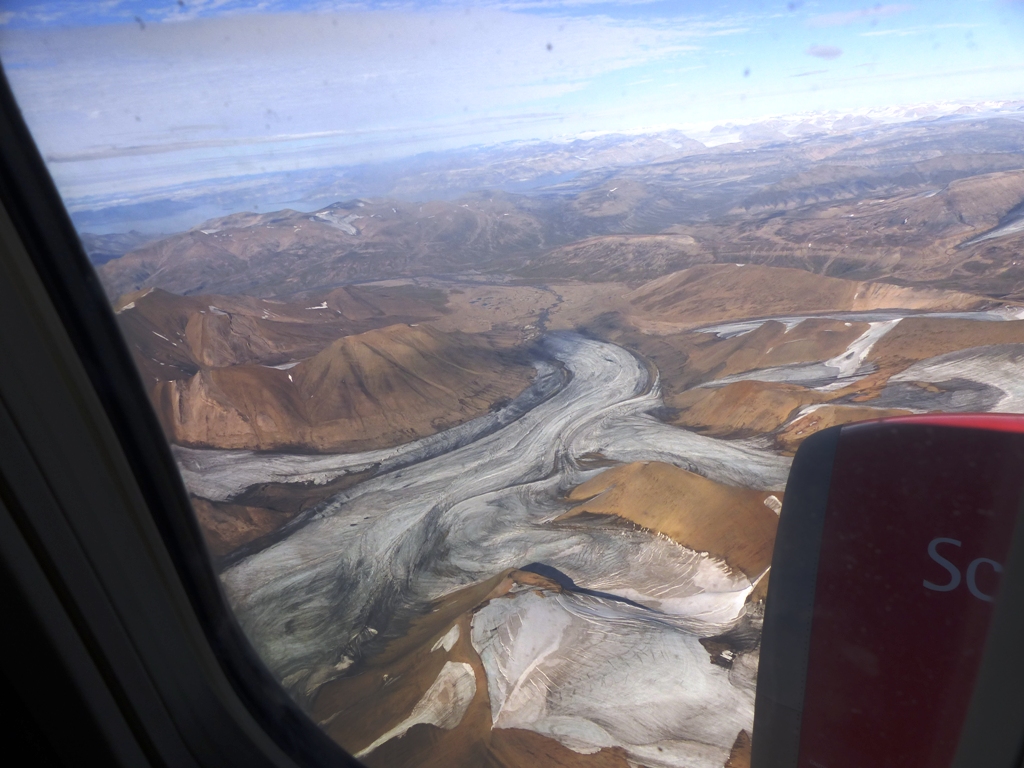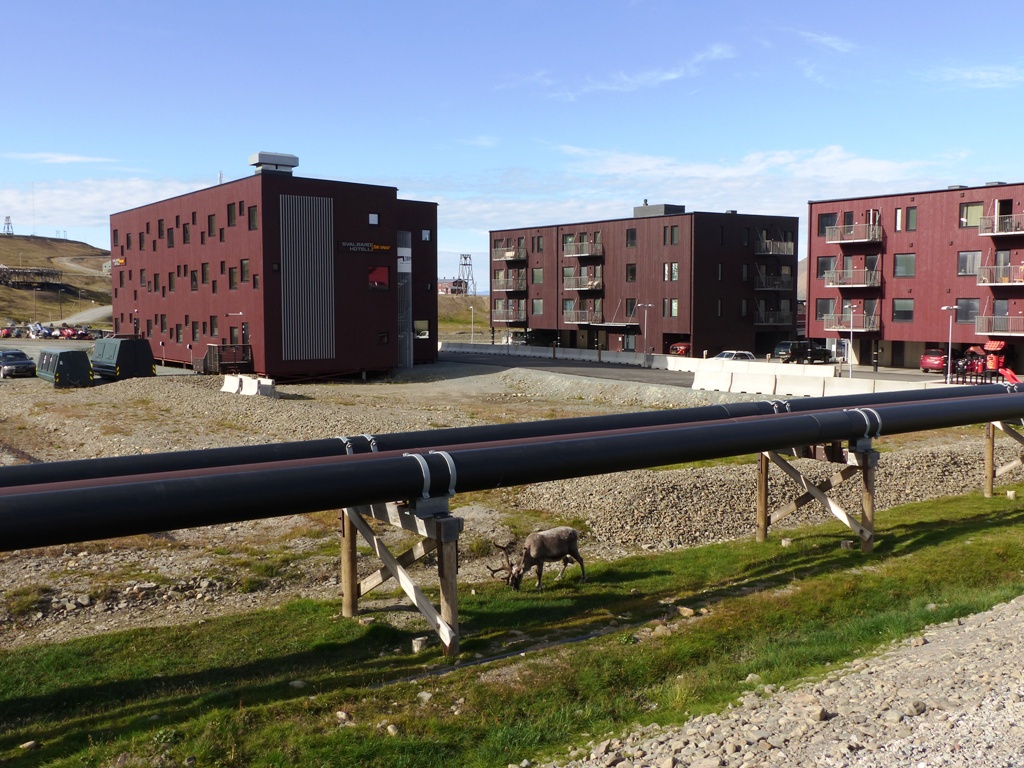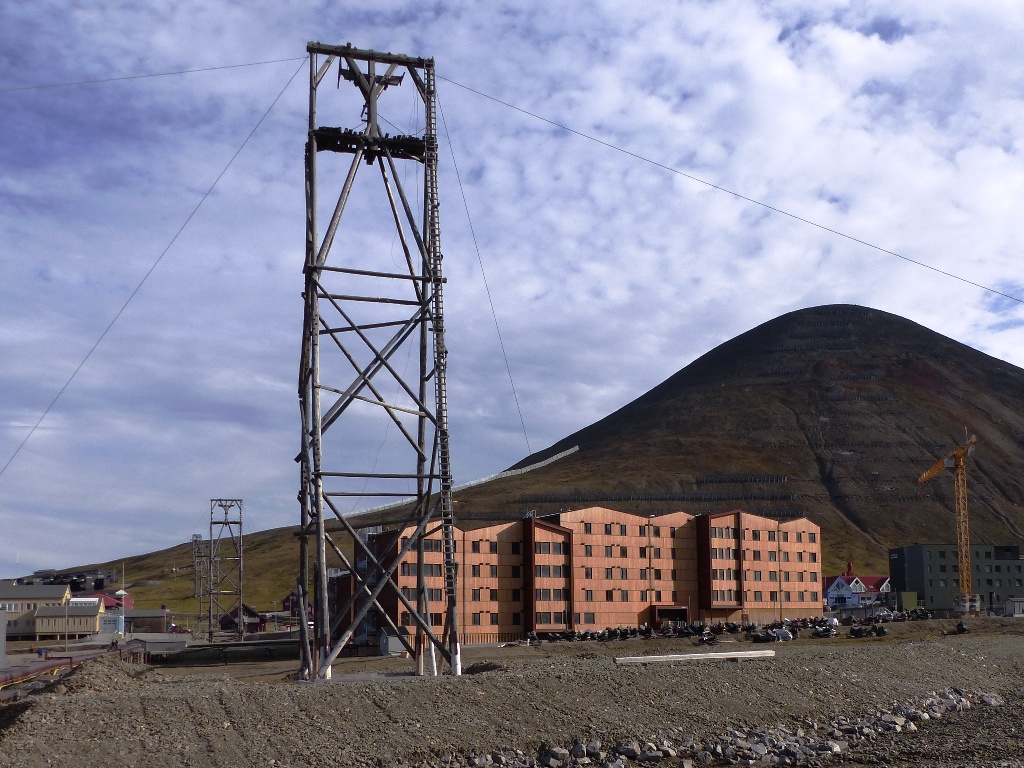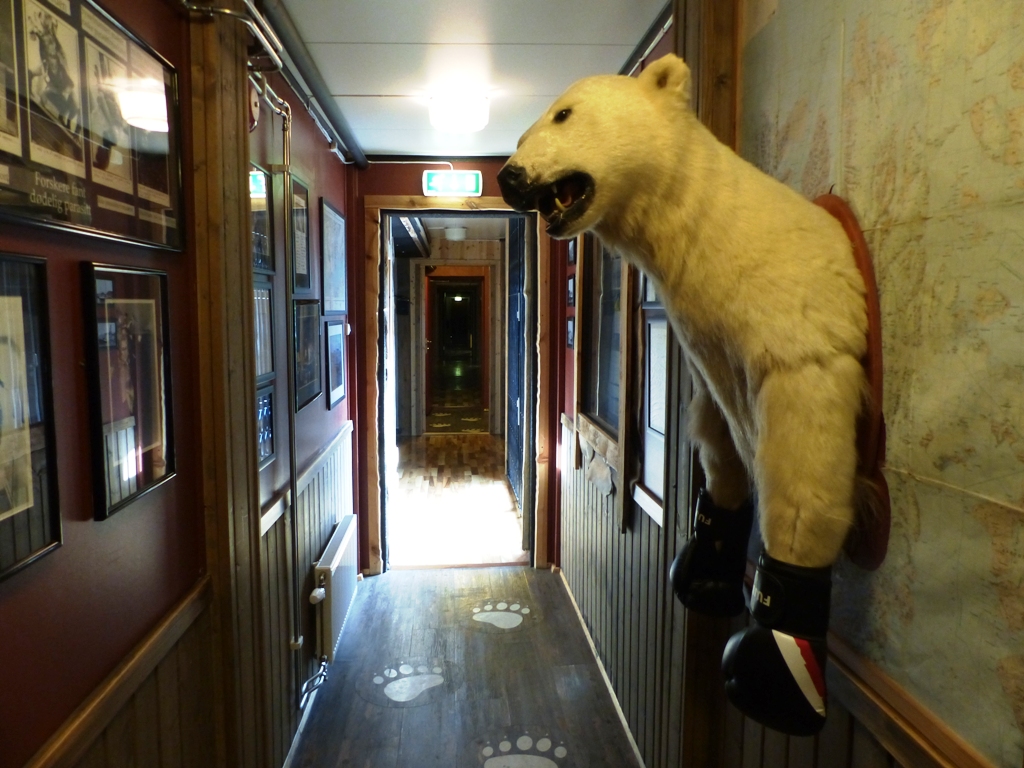 Day 1 of my contract started with a visit to the local rifle range for some welcome training and practice. Then lots of organizing to get signed on, kitted up, moved in and welcomed to the Expedition team. With the PAX boarded and safety drills done, and we sailed at 1800. Day 2 in Svalbard started with a distant view of a Polar Bear mother and cub (my first in the wild), then my re-initiation to zodiac driving. I am happy to report that my repaired wrist worked well. We cruised a glacier front, landed for a beach walk, and spotted fin whales as we headed to Greenland.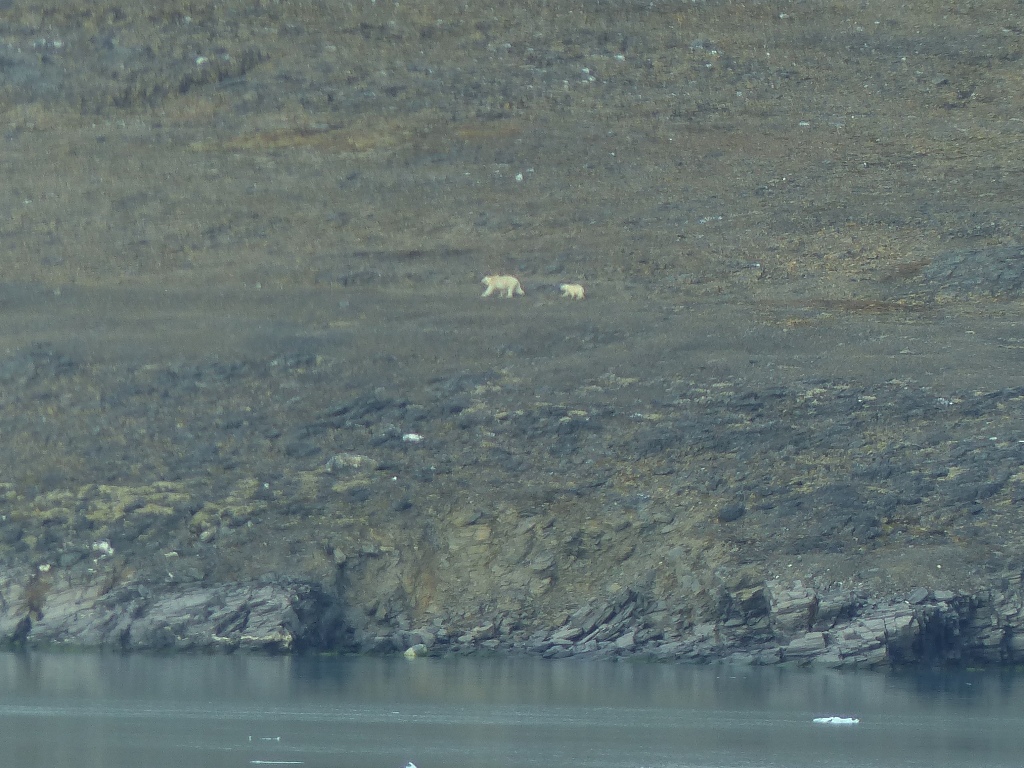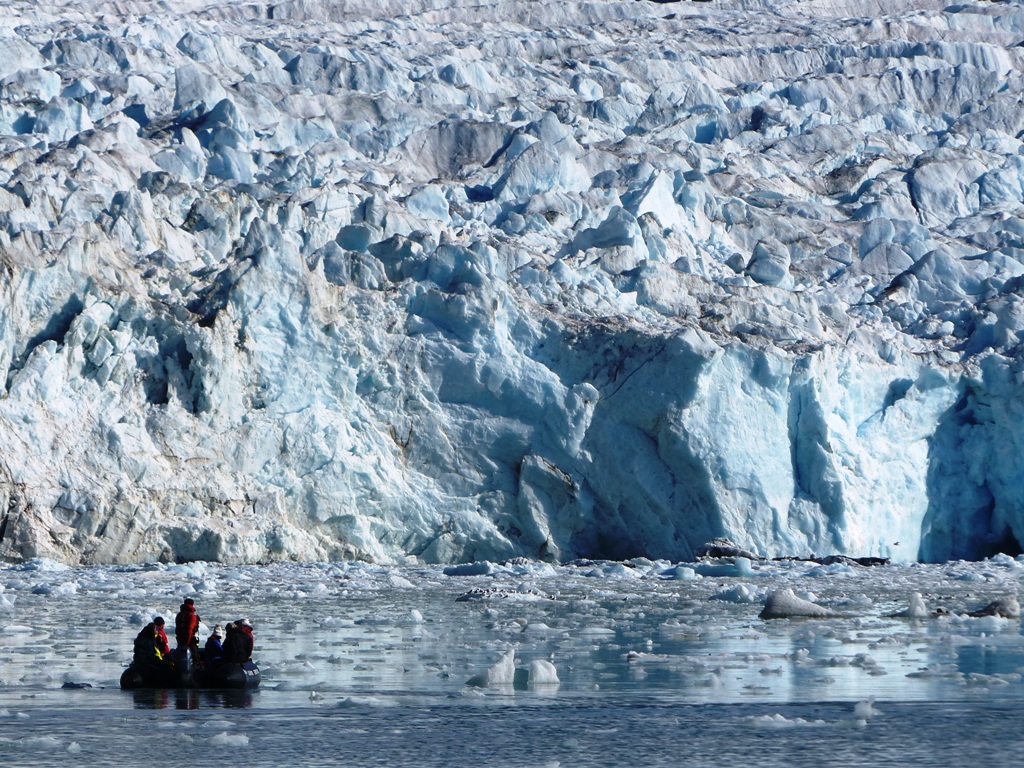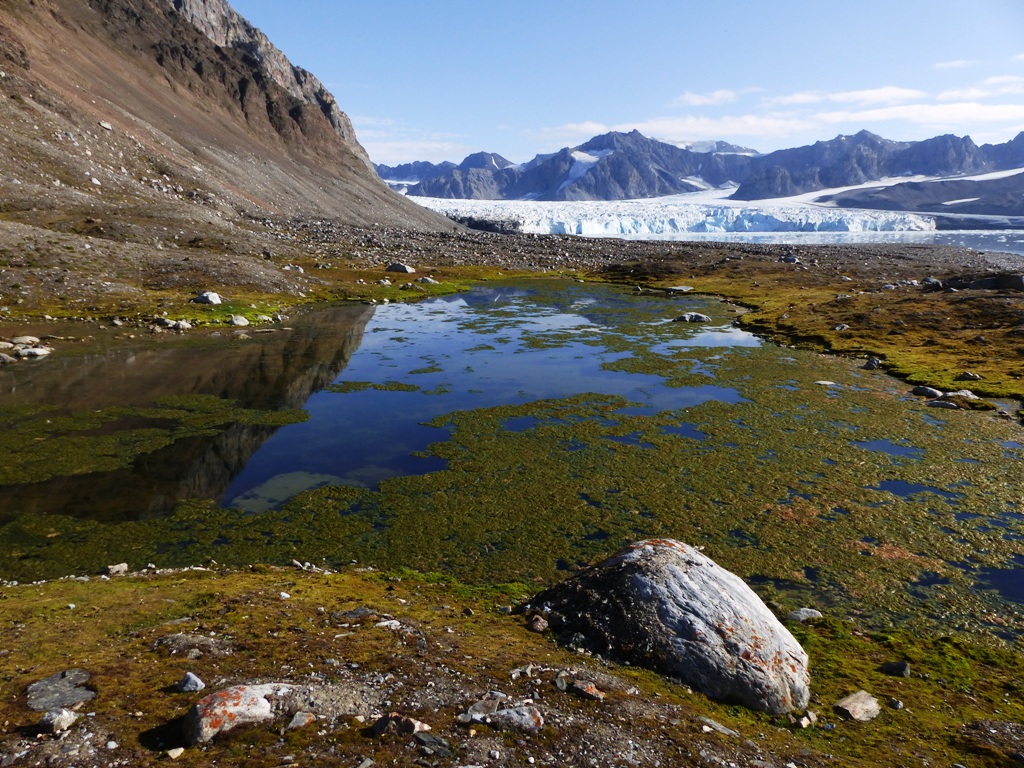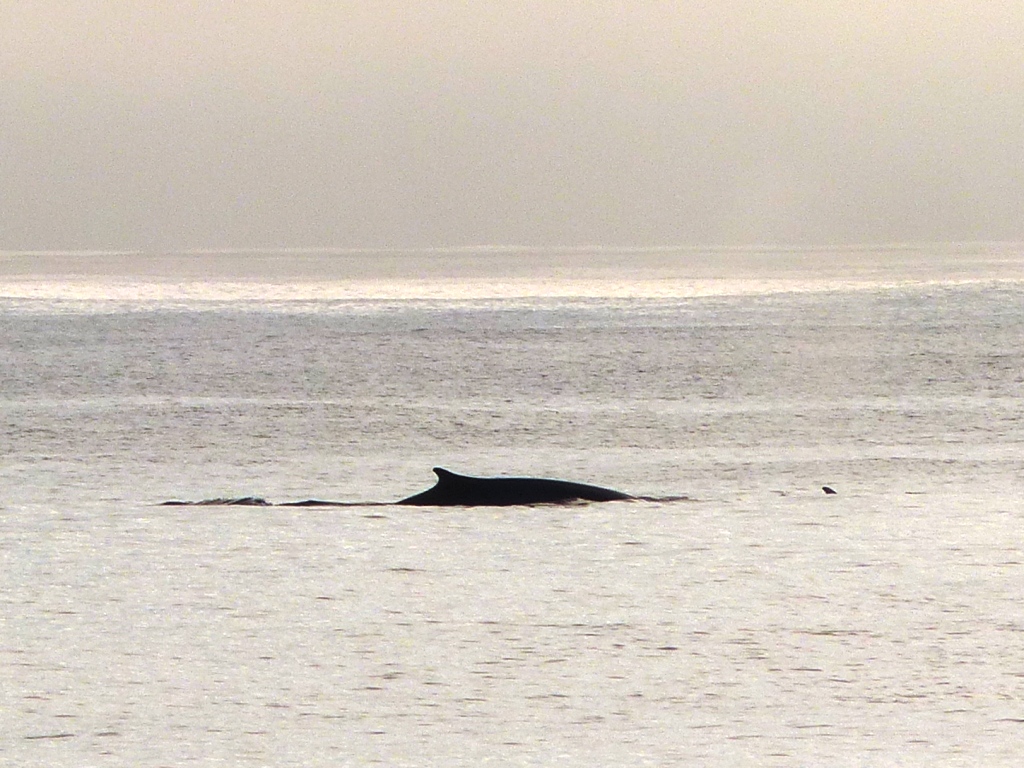 The crossing took 2 days over remarkably smooth seas, then through the pack ice to the fjord entry. The Expedition Leader (EL) announced "Polar Bear in the ice at 3 o'clock" at 4 o'clock - waking us to a a superb first morning in Greenland (I got a good look but no decent photo).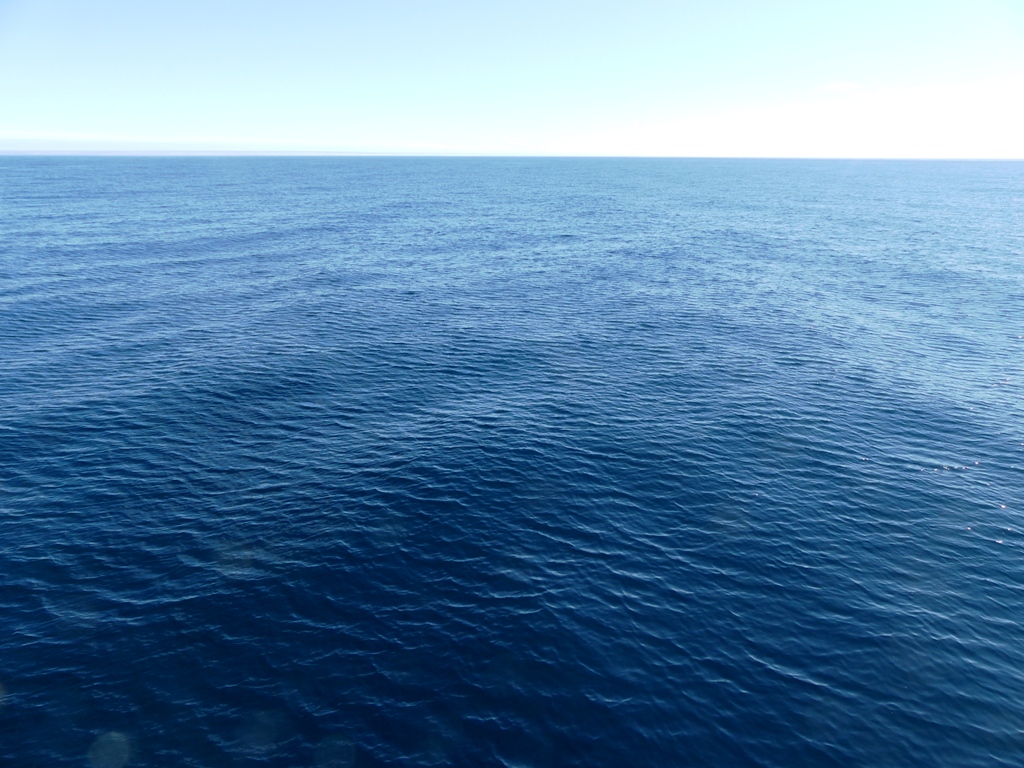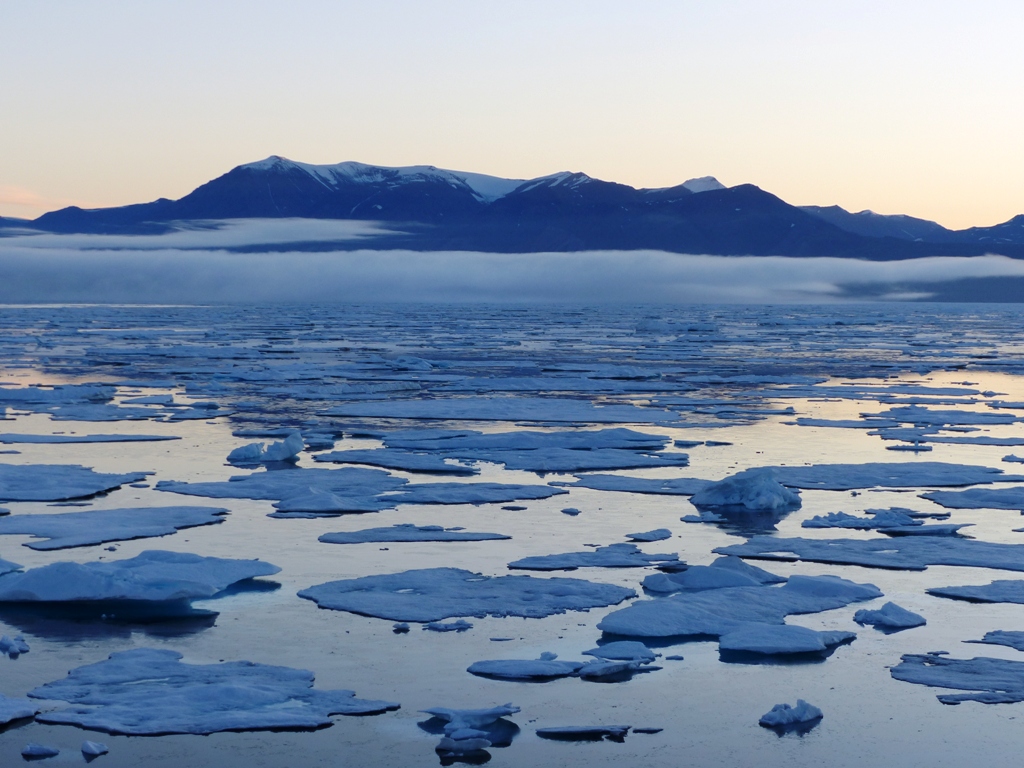 We landed the next morning at a beach with a small cottage used by a couple of local kayakers - to make our first hike over the rugged terrain and admire the wildflowers.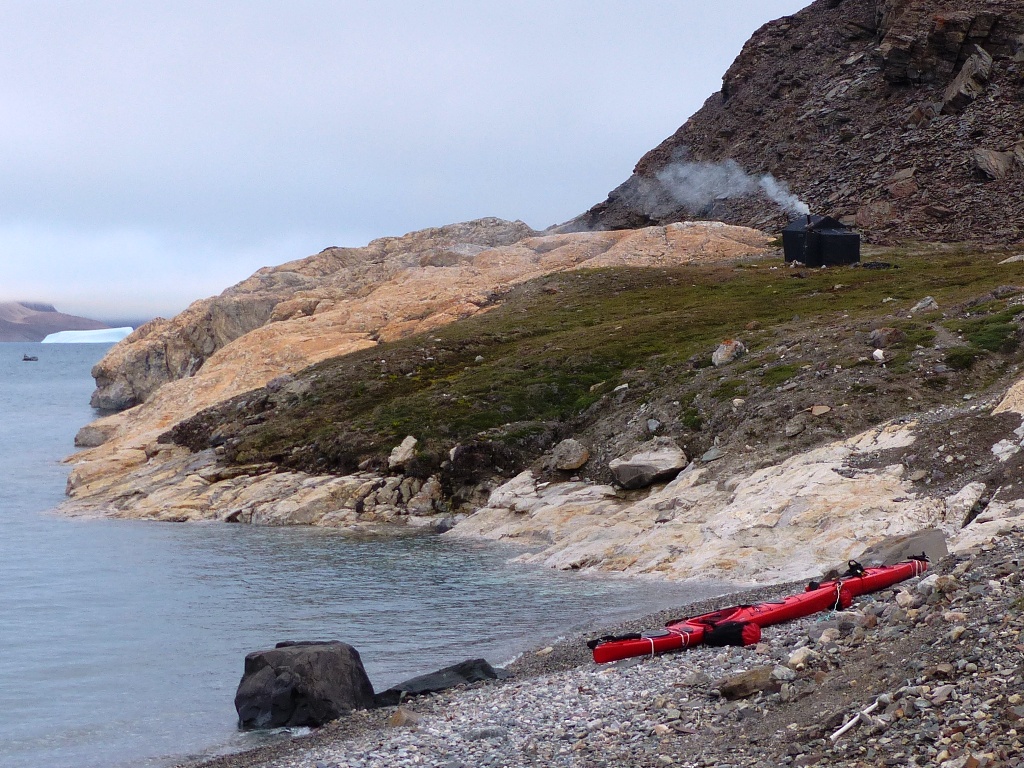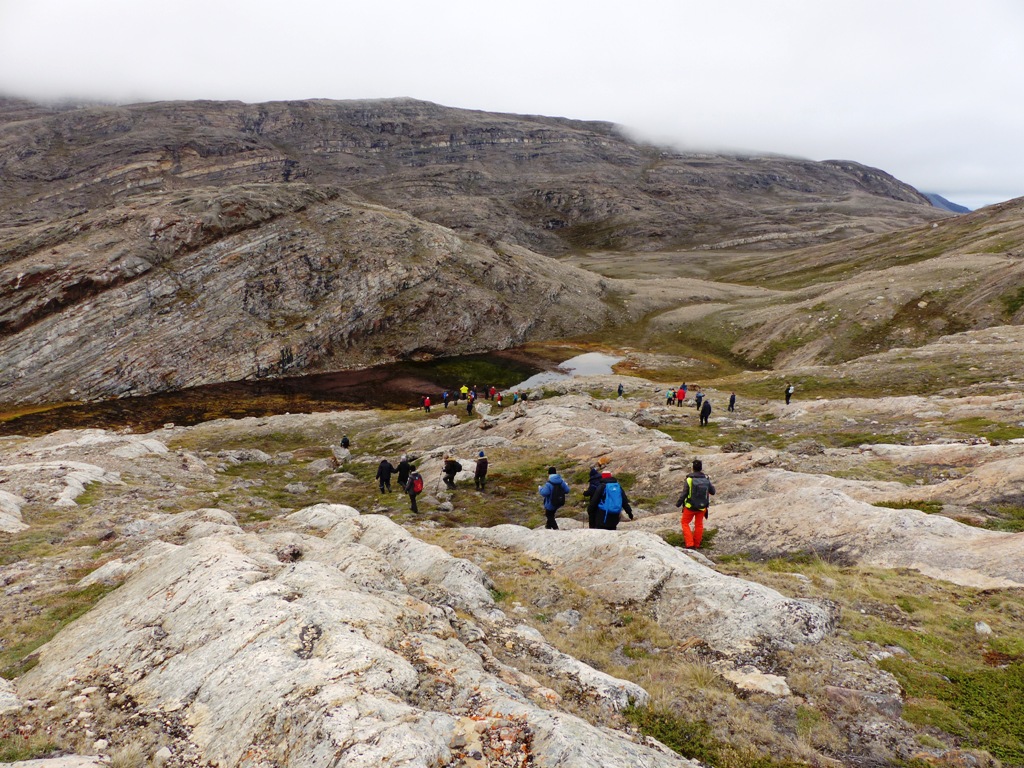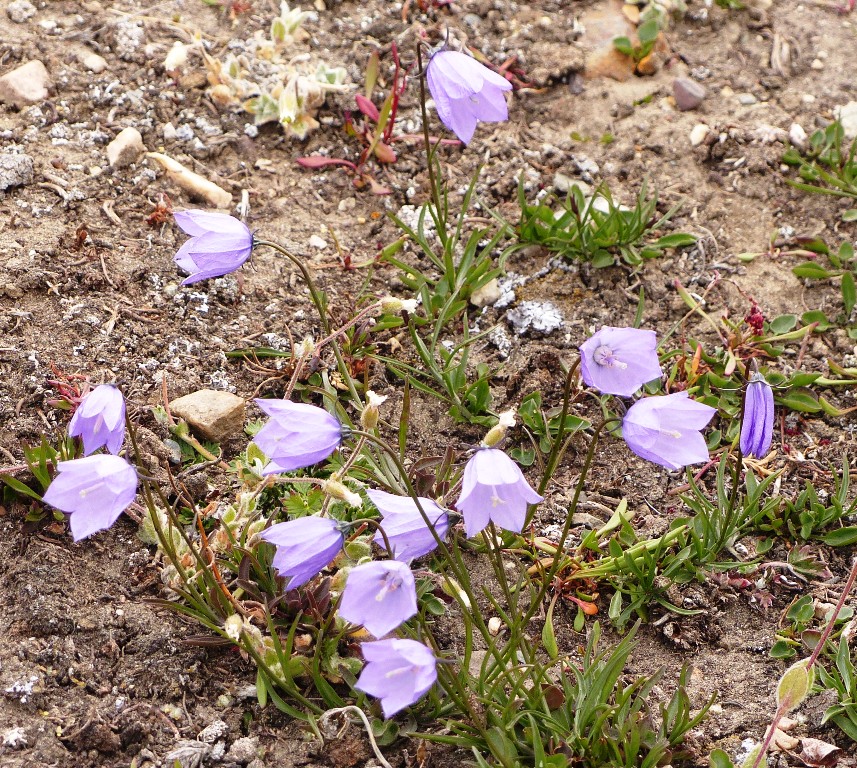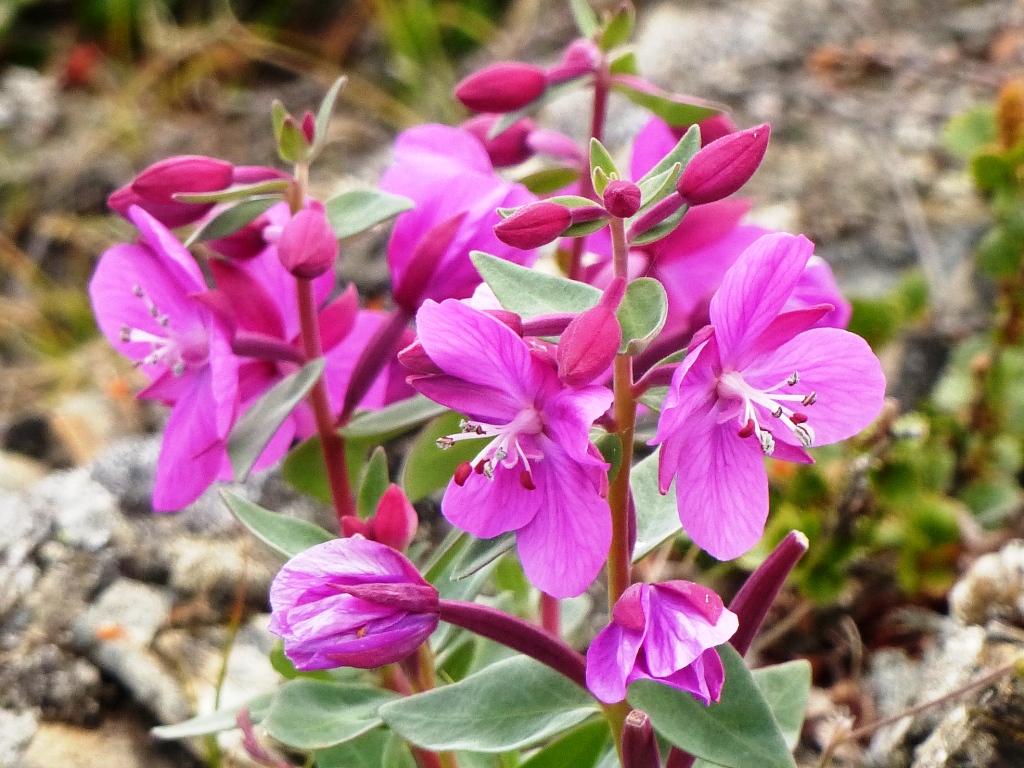 Greenland should really be called Iceland of course, as it is dominated by the ice cap. But, where we are in East Greenland, the mountains are along the coast and the name should be Rockland as the geology is quite dramatic. Especially when it is set off by some ice and fog. As days went on we made zodiac cruises and landing/walks in quite unique sea/ landscapes.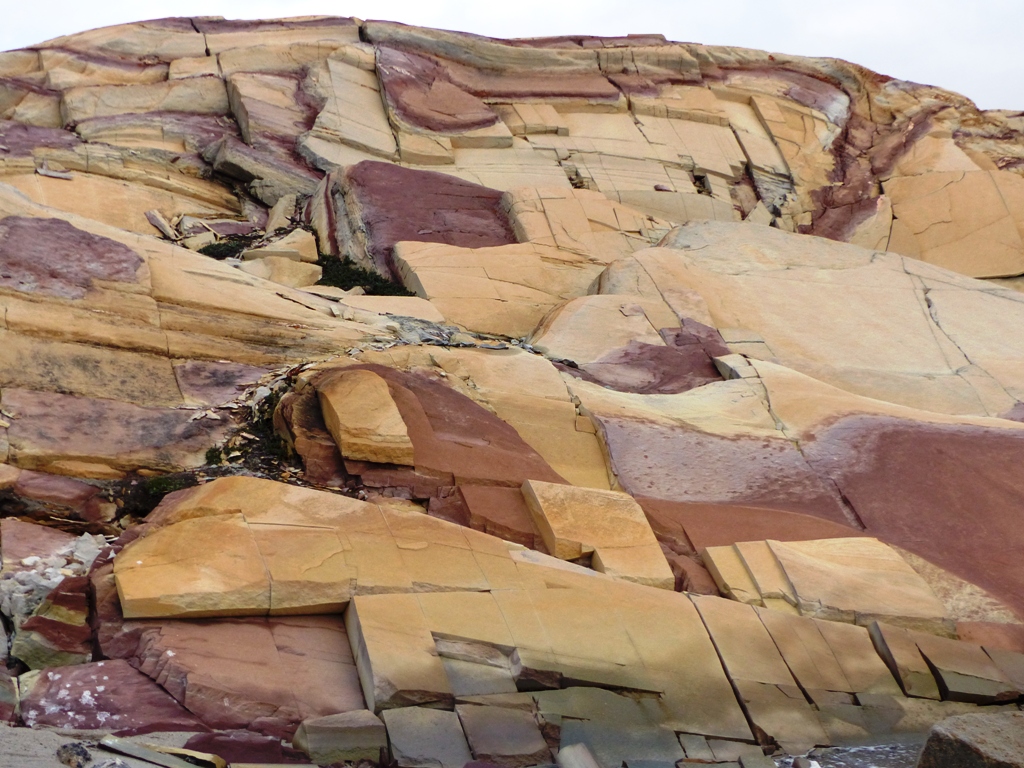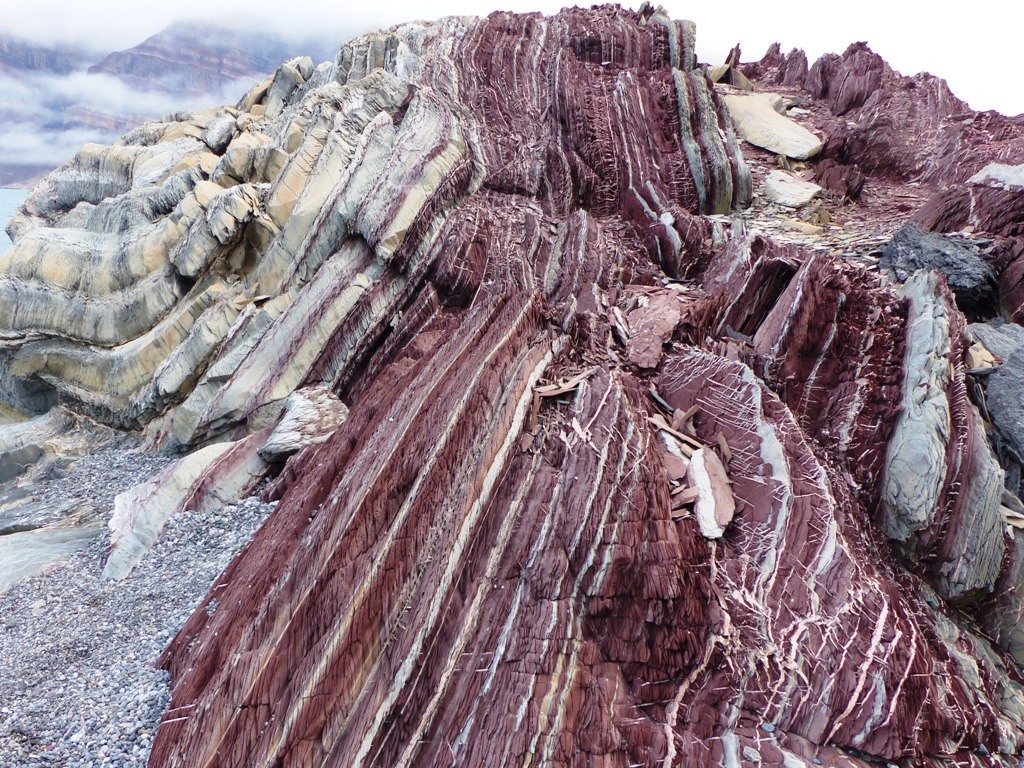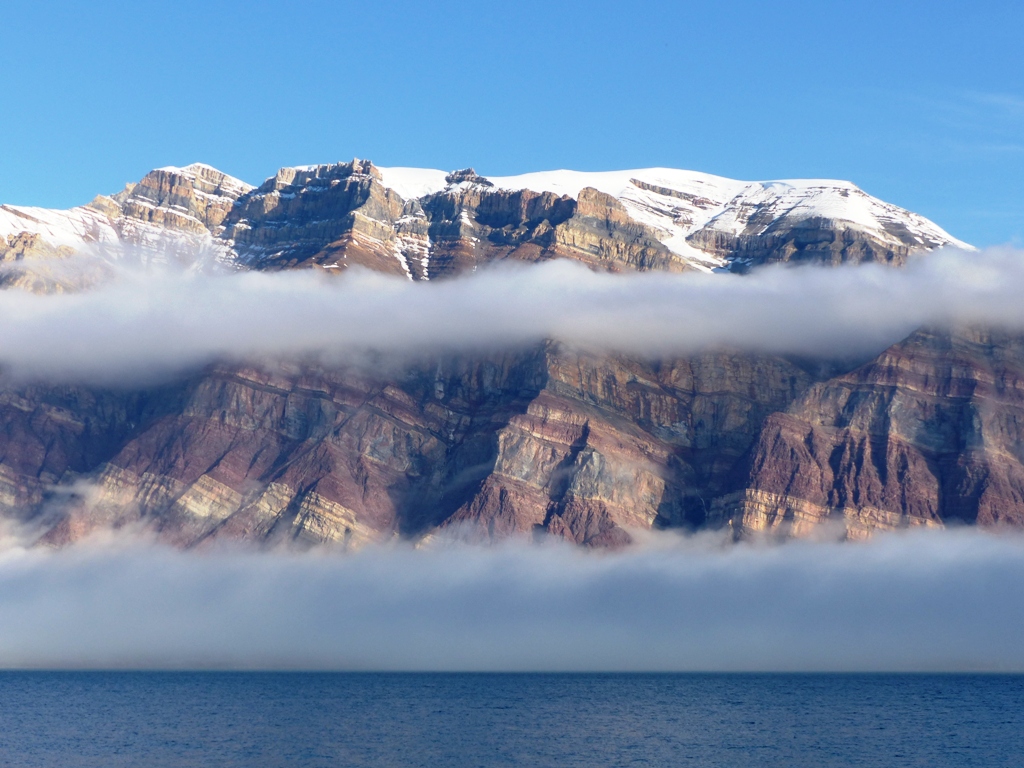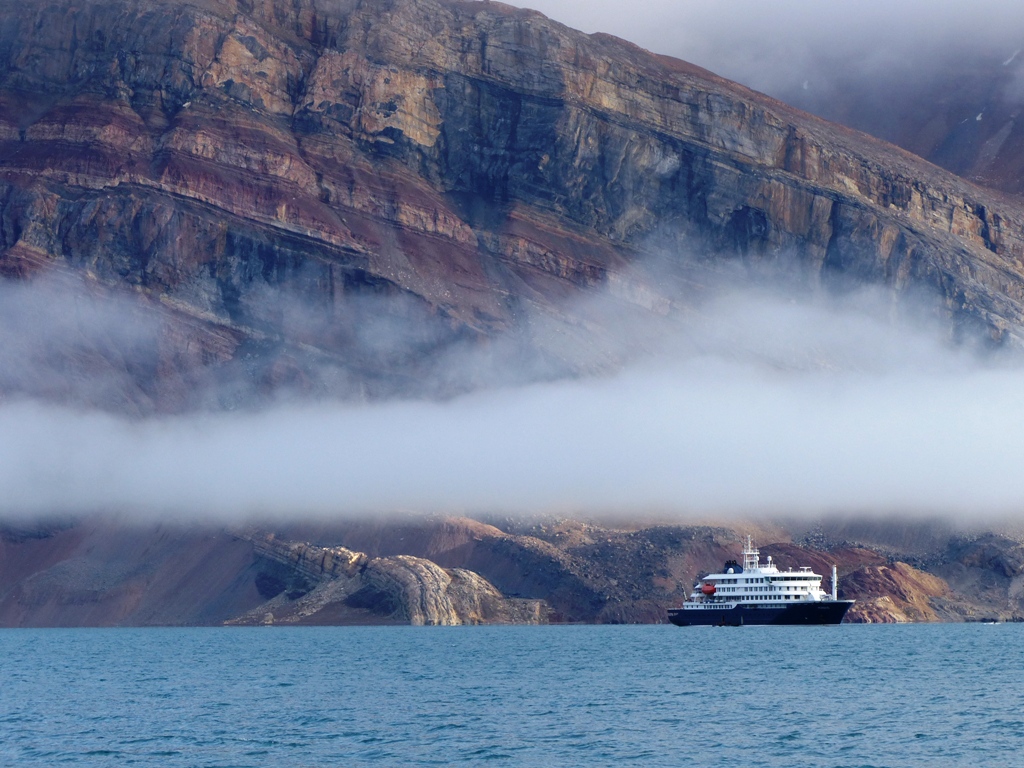 We visited the Inuit village of Ittoqqortoormiit (say Ee-toe-core-tor-mitt and you will be close enough). It was interesting to walk around and see how the locals live - but also odd, as they ignored us almost entirely. No photos of people were allowed, and no interactions initiated. Admitted they were busy as their first supply ship in 10 months had just arrived, and, as they get 30-40 cruise ship visits most years they may feel a bit like zoo animals. For sure, this is a culture in the midst of a radical change. They are allowed to shoot up to 35 Polar Bears per year, and this had been a particularly bad year with many bears invading the village.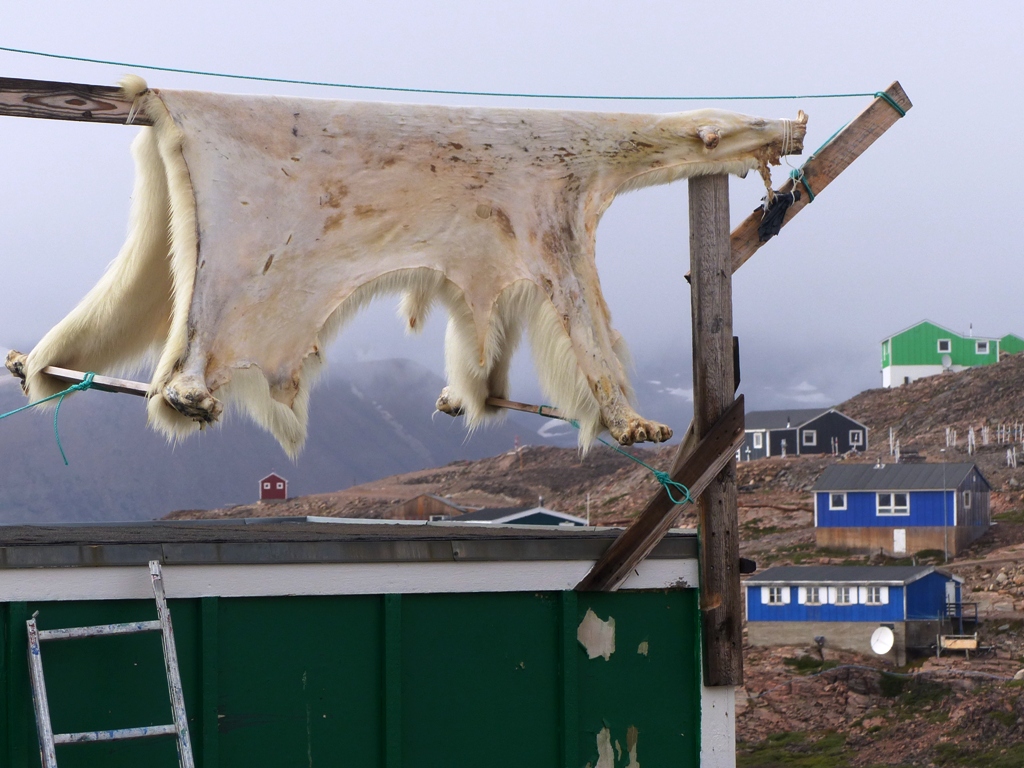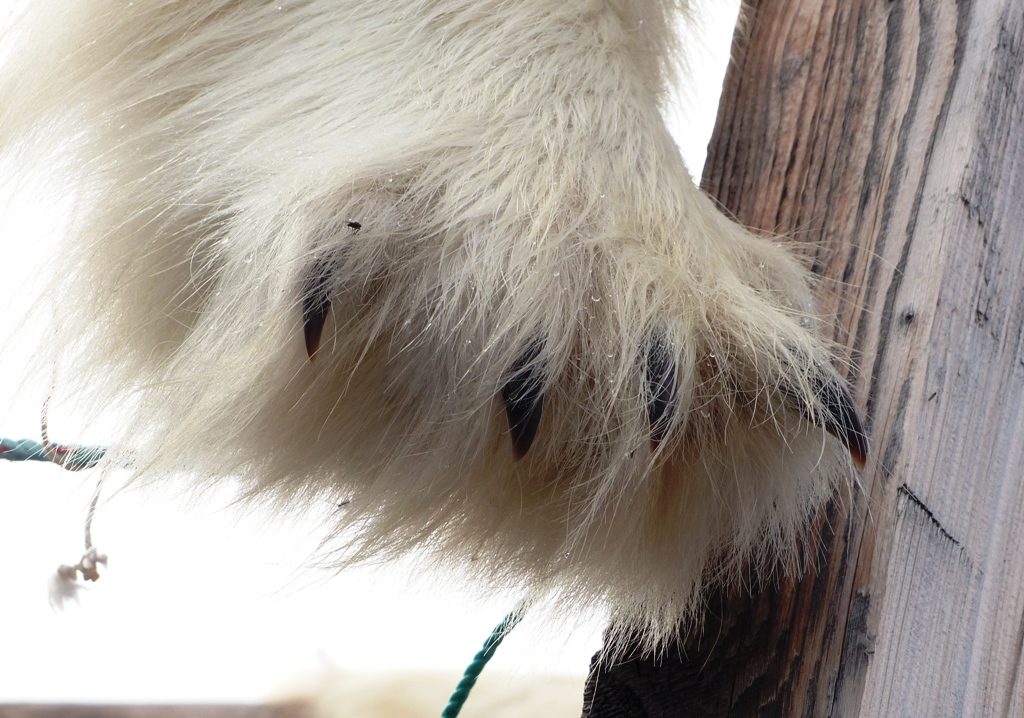 We are in 24 hour daylight, but the light can be flat. There is more color than in the Antarctic, but I still like to play with monochrome sometimes.


My role, speaking about history, means that my assigned post on landings is often near the remains of earlier Thule occupations (Inuit ancestors). They were nomadic - living in excavated houses in the winter, and in skin tents held down by circles of stones in the summer - with stone caches to protect their food from the predators. This abandoned village was surrounded by icebergs.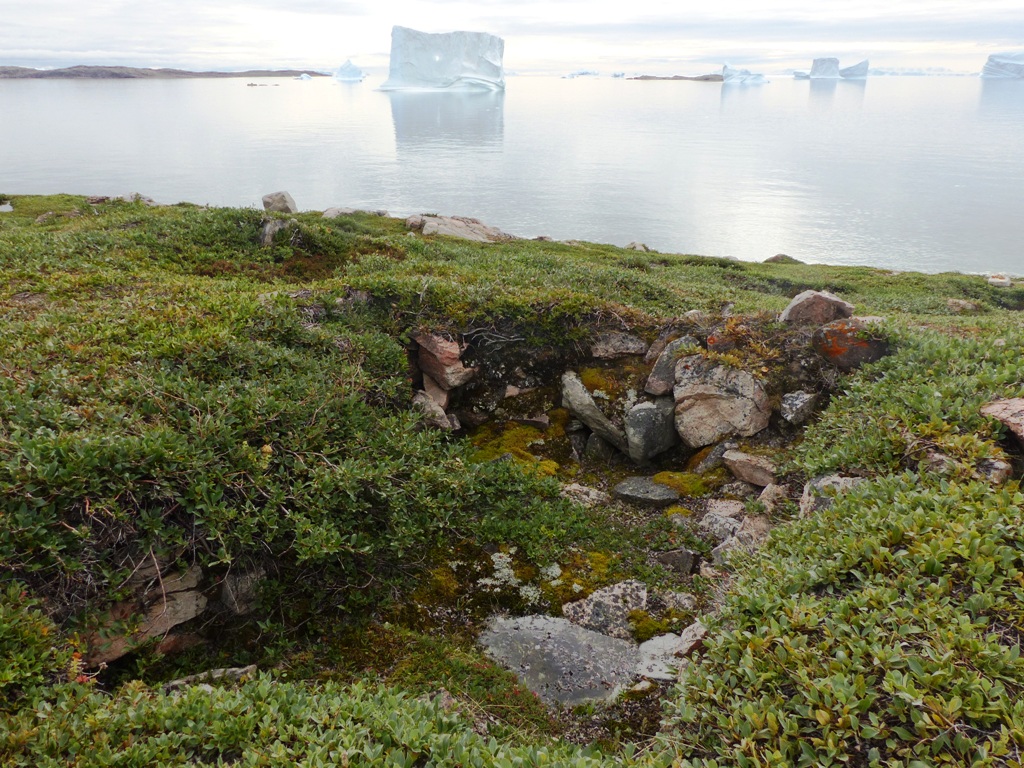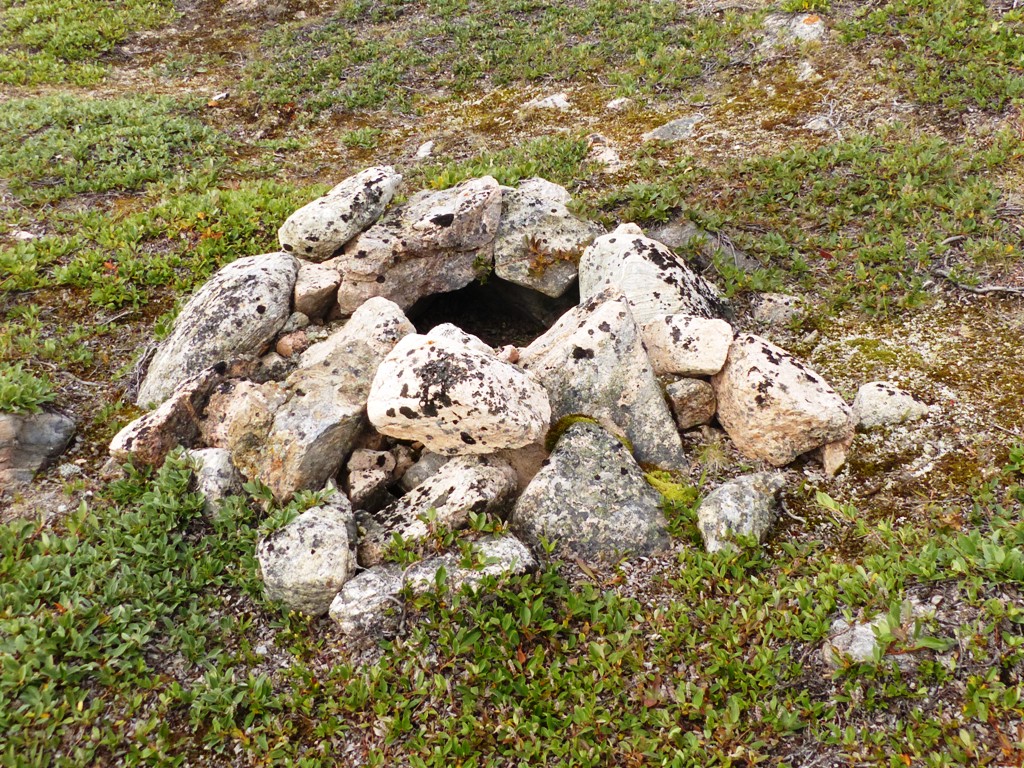 That was the last landing in Greenland - and here is a selfie of the team in the zodiac leaving shore. We do have fun.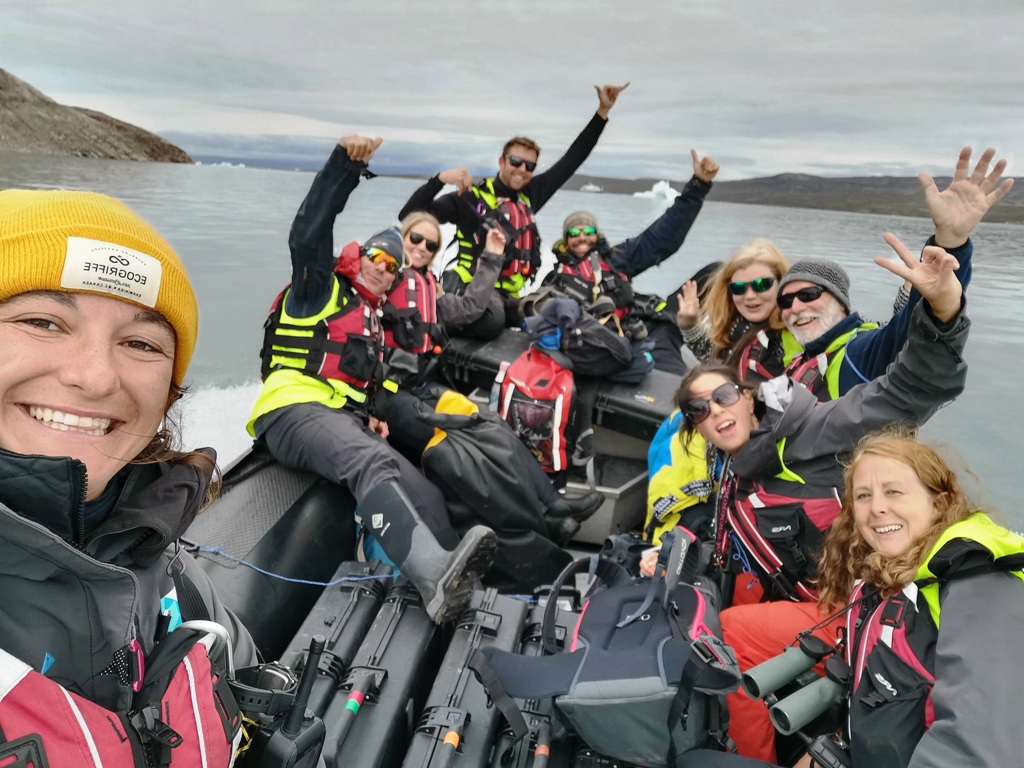 Sea days often mean whale sightings - including Blue Whales (my first) and many humpbacks.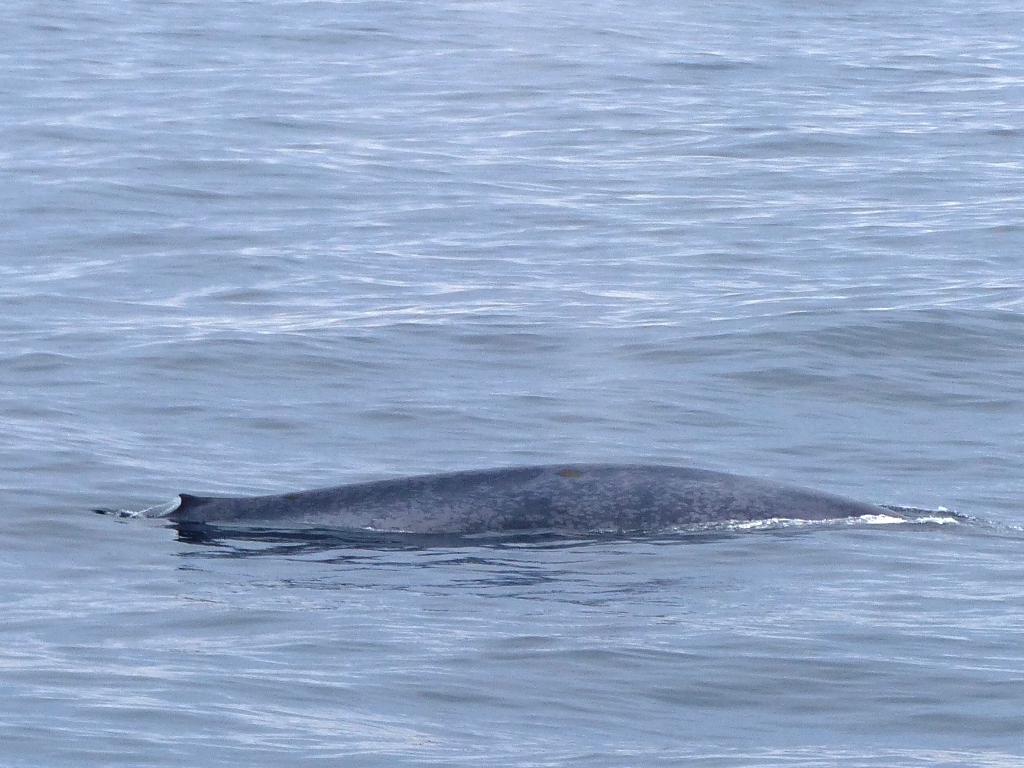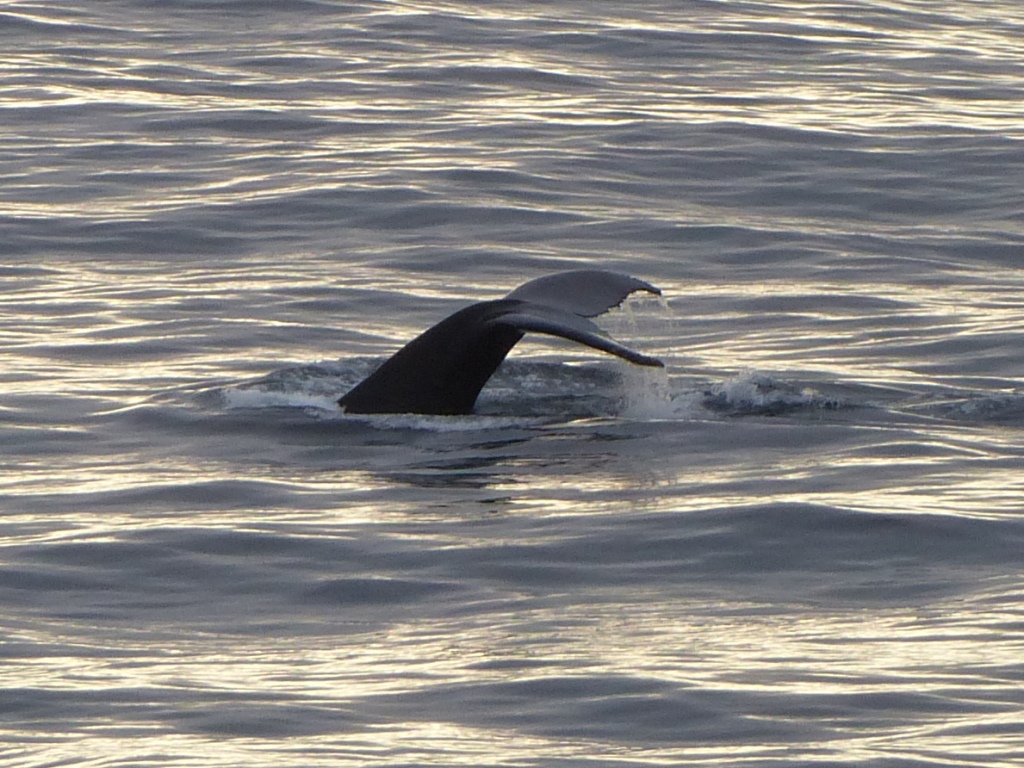 We made a landing at the small volcanic island of Jan Mayen. The volcano was lost in the clouds, but the black beaches were covered in driftwood from Siberia, and the "High-viz" color of the moss on the volcanic cliffs made a dramatic background.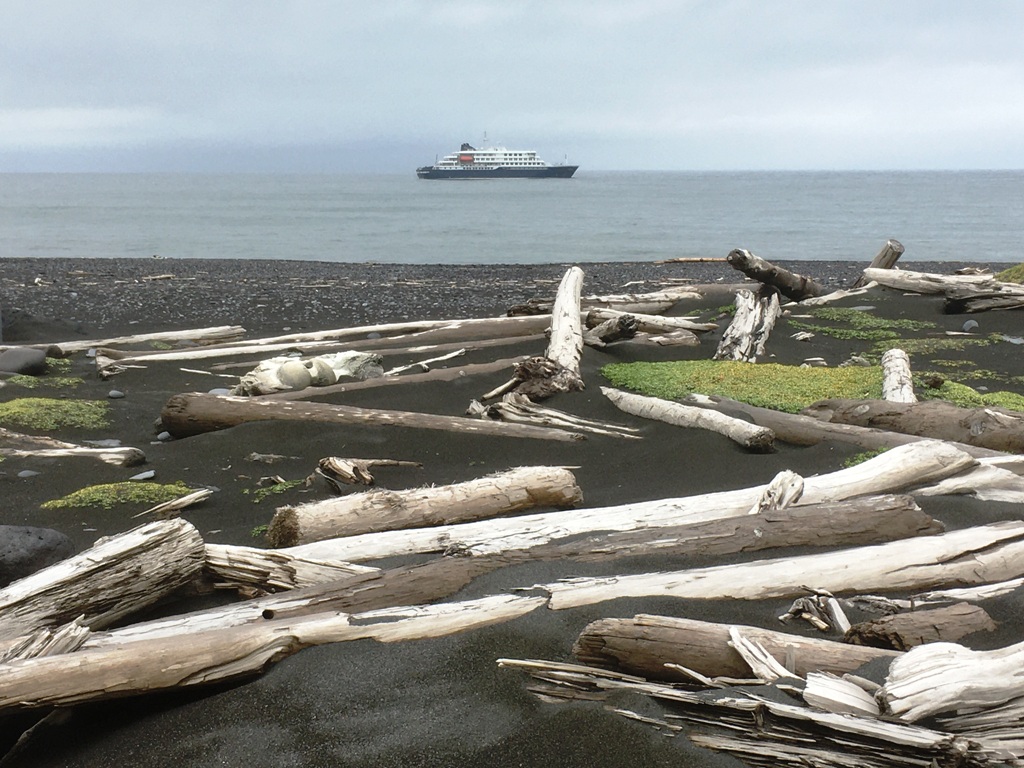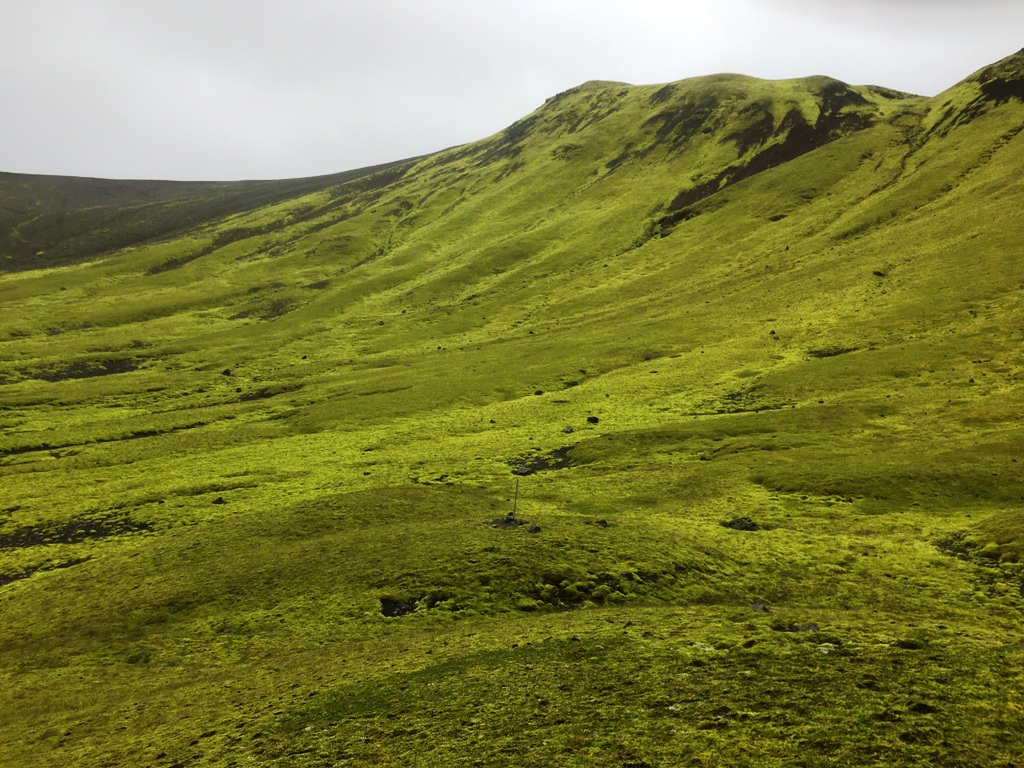 The voyage made one last day of landings in Svalbard before docking in Longyearbyen to offload and load some PAX and crew. These landings include a sleepy walrus huddle, birds, reindeer, and allowed a couple of oddball photos from me.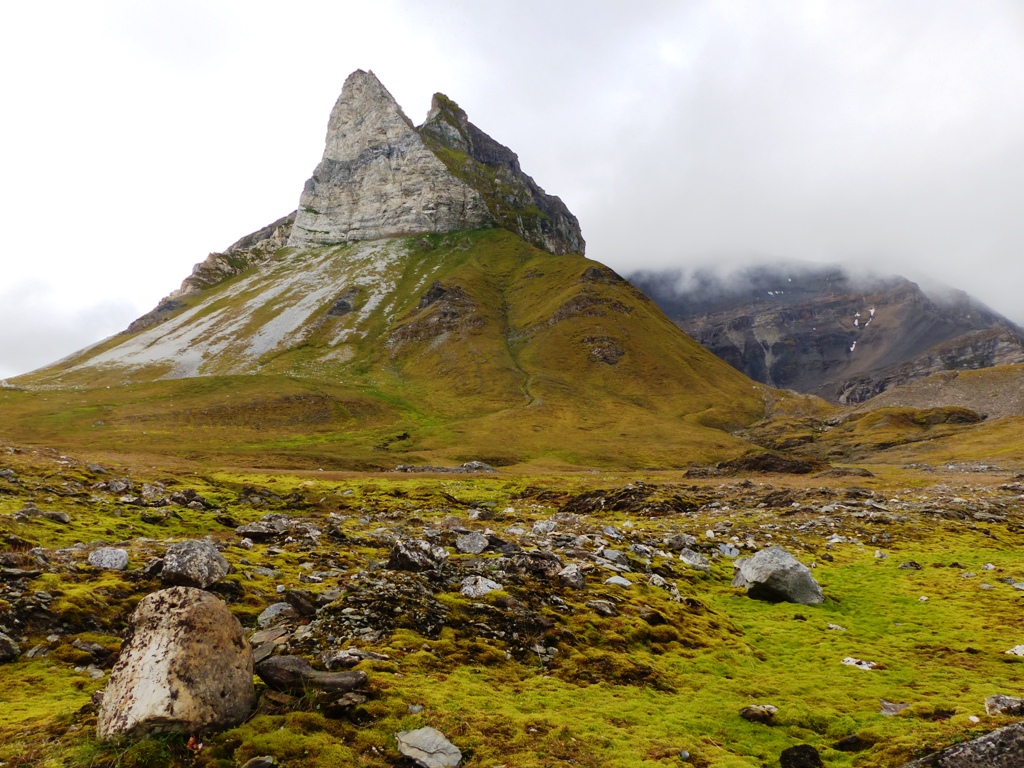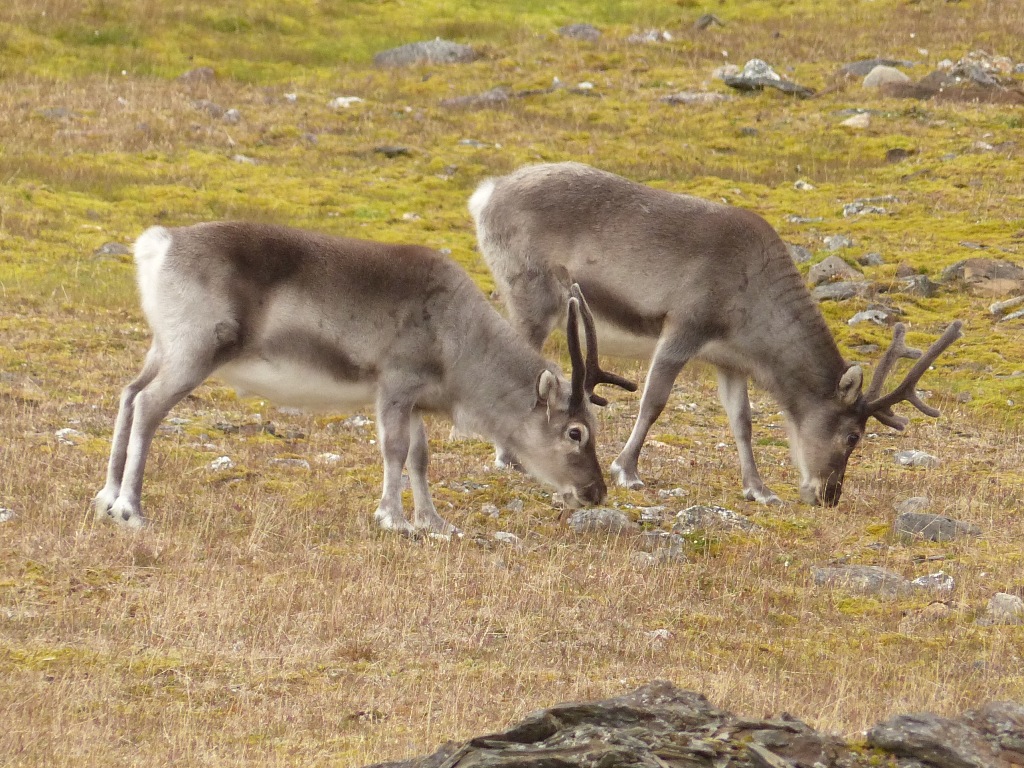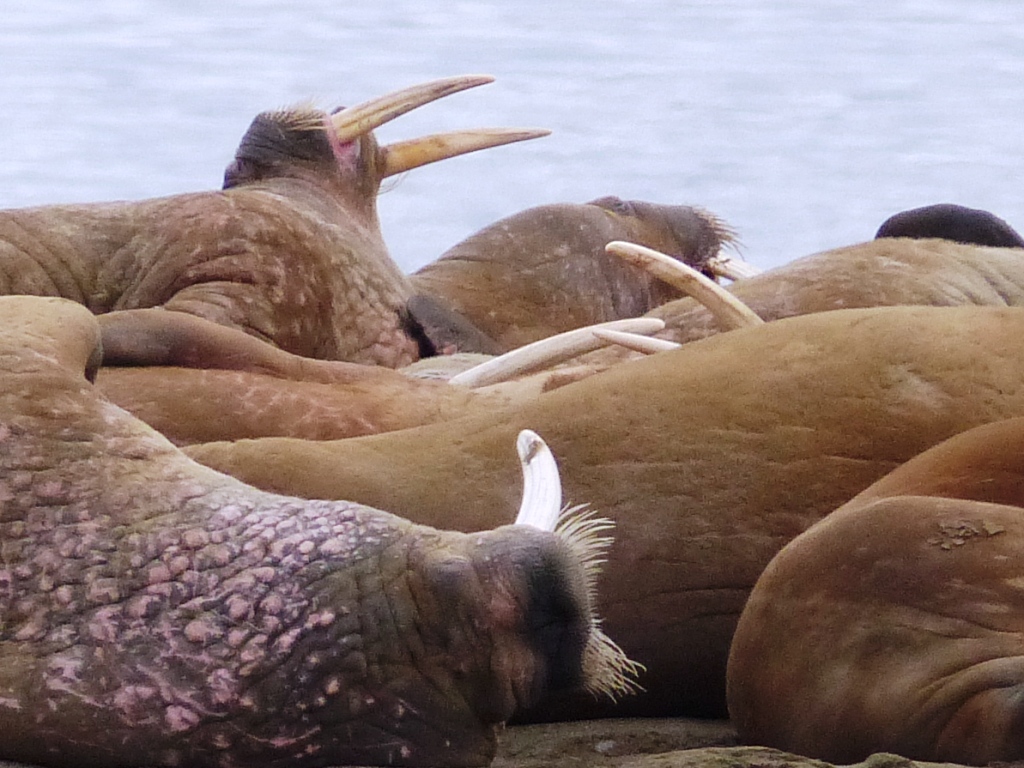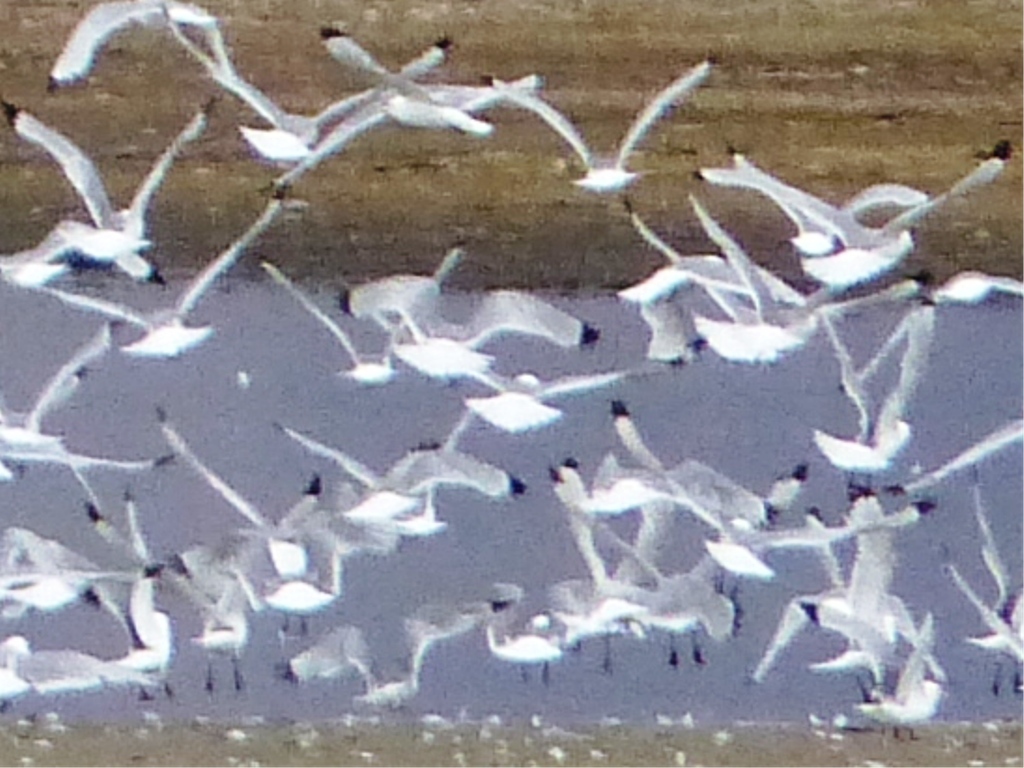 The voyage map is below and the trip log and slideshow of the voyage made by the Expedition for the Guests will appear here when I have bandwidth to upload them.
After a day in Longyearbyen the next voyage started - the itinerary is around Svalbard, the goal is Furthest North. We are still in 24 hour daylight but the sun is starting to move quickly to the horizon giving nice light in the evening. We zodiac cruised for bearded seal, and made a landing. I often switch my camera to Shutter priority to capture moving animals with telephoto. Unfortunate for this landing I accidentally set the ISO to 3200 - giving really noisy results. I like the effect on the reflected Arctic Tern, but for the Arctic Fox not so much.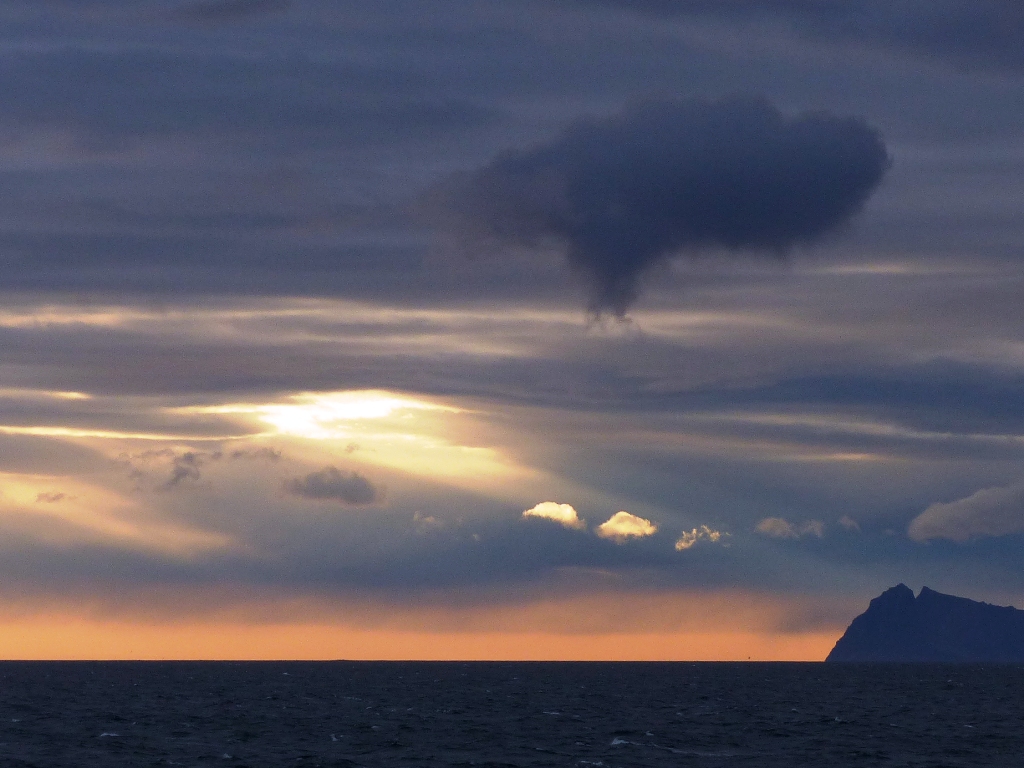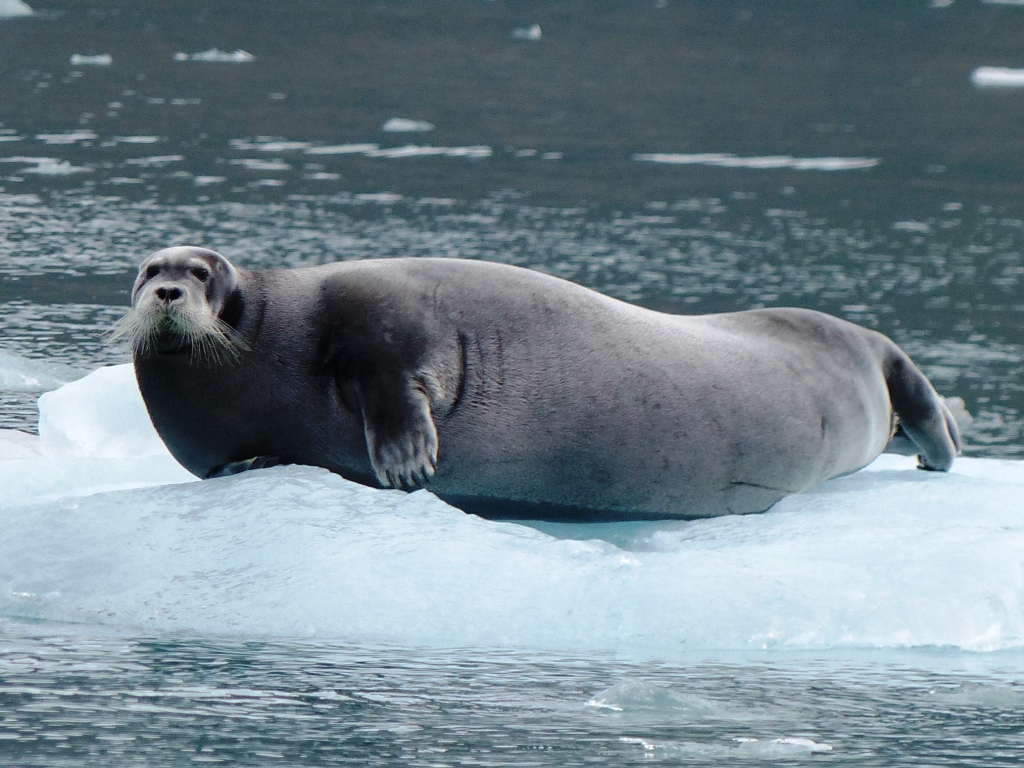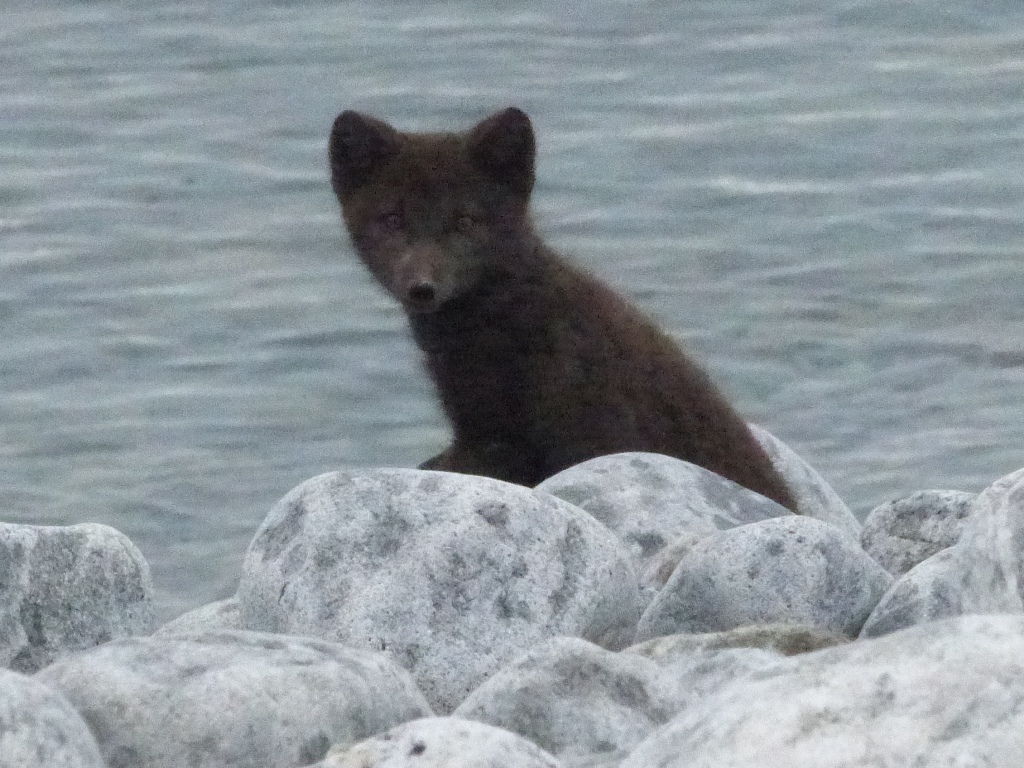 The next landing was a nice hike. The following morning we got a 6am call for Polar Bears on the beach - in the area of the morning's planed hike. The hike was quickly changed to a zodiac cruise and we launched 14 boats. The conditions were windy with large swell - the most difficult yet for me as a driver. I coped. We had a really nice viewing of the bears on shore, but getting sharp photos from the bobbing zodiac in the ~1 meter swell was not happening.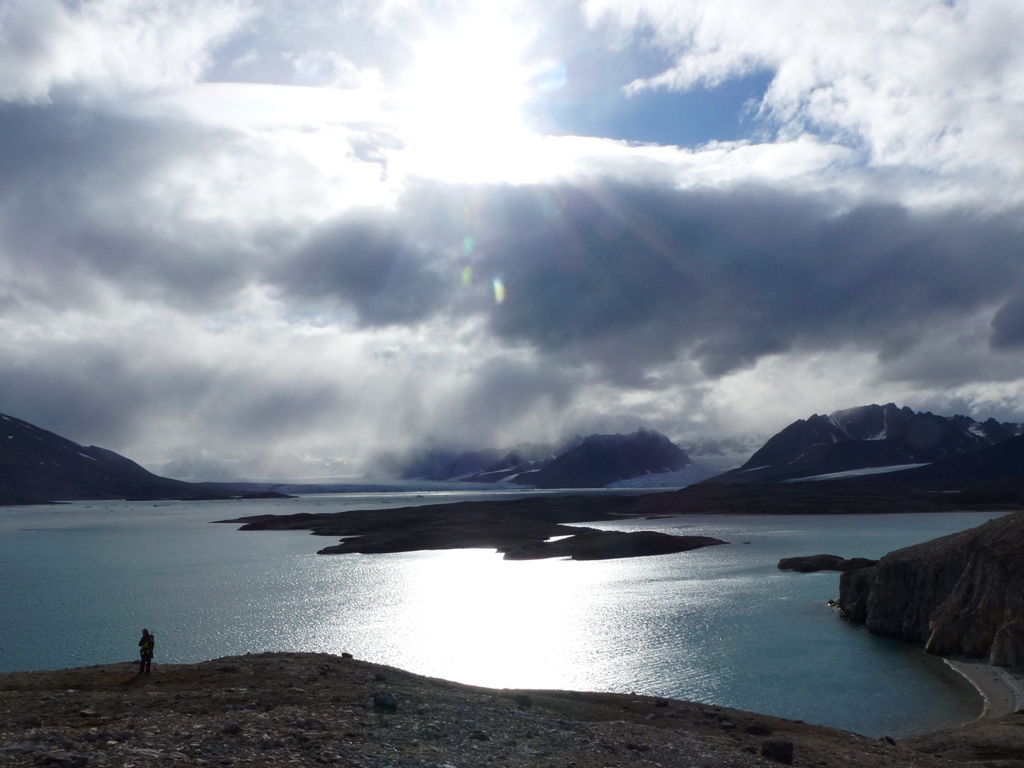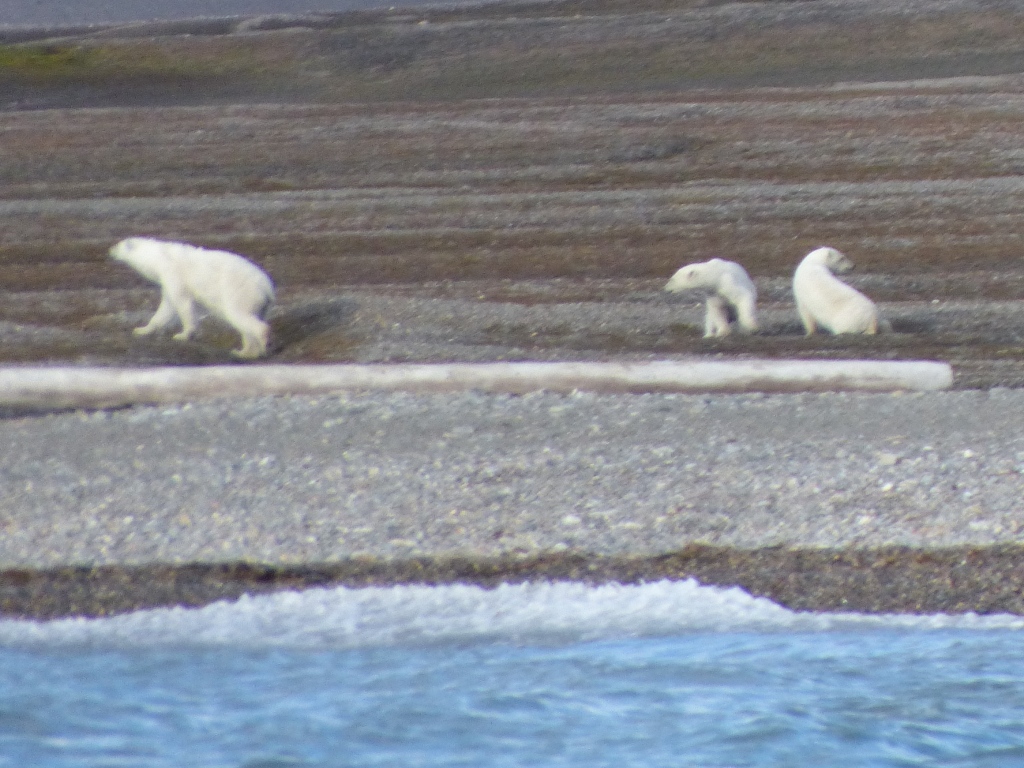 The morning was all about the bears, and the afternoon all about the birds. We did a zodiac cruise at the remarkable Alkefjellet bird cliffs. The highly eroded cliffs, which rise straight from the sea, are home to 60,000 nesting pairs of Guillemots, and a number of other species including Kittiwakes and Glaucous Gulls. The Guillemot chicks have an unusual start to life as they "jump" before they are fully fledged. They (hopefully) land in the sea and the male parent continues the feeding for several more weeks until the chick is able to fly. As you might expect, predators, including foxes, are there for the feast. The sky, and the cliffs, and the sea are all full of birds. A couple of "jumpers" nearly landed in the zodiac.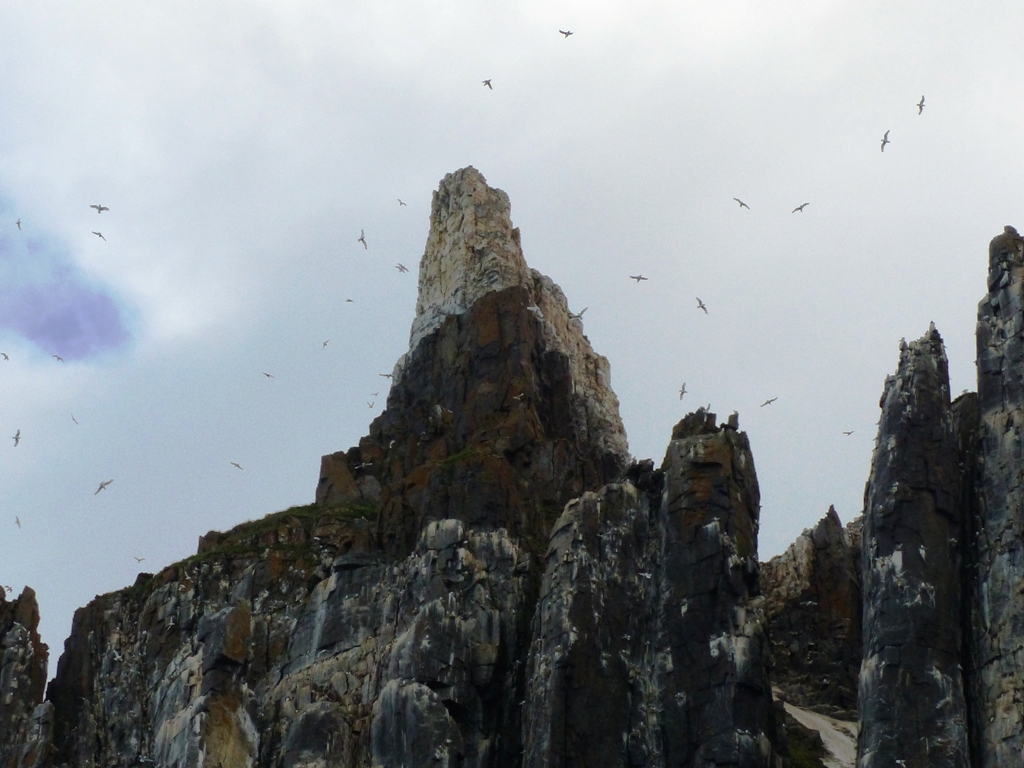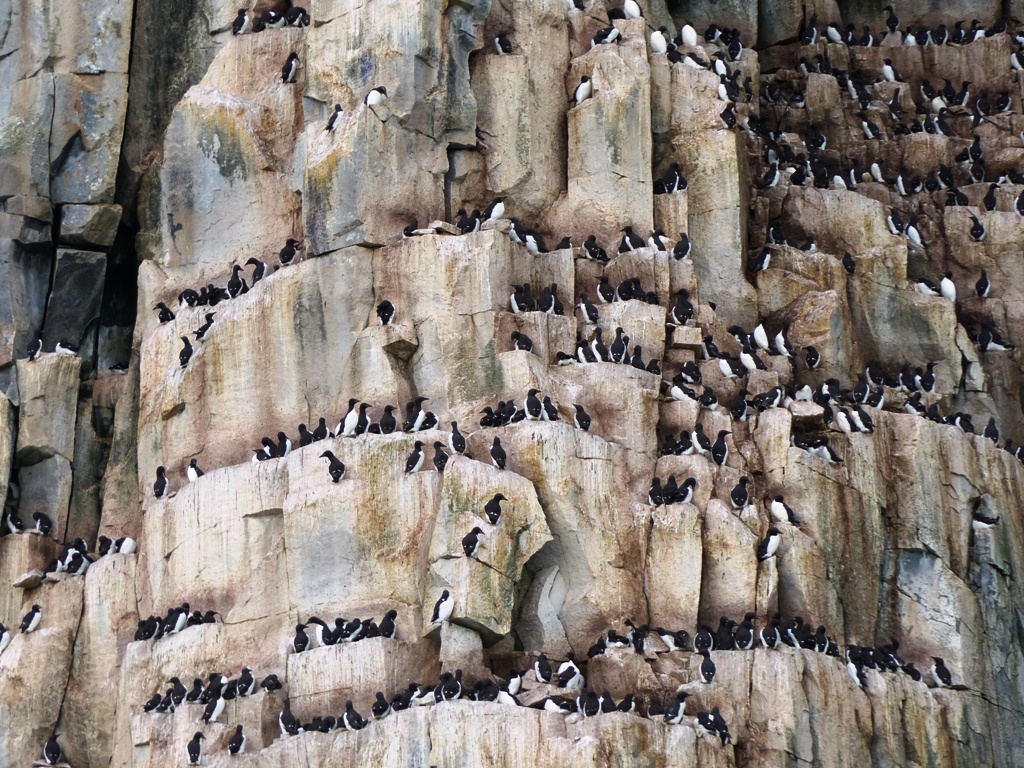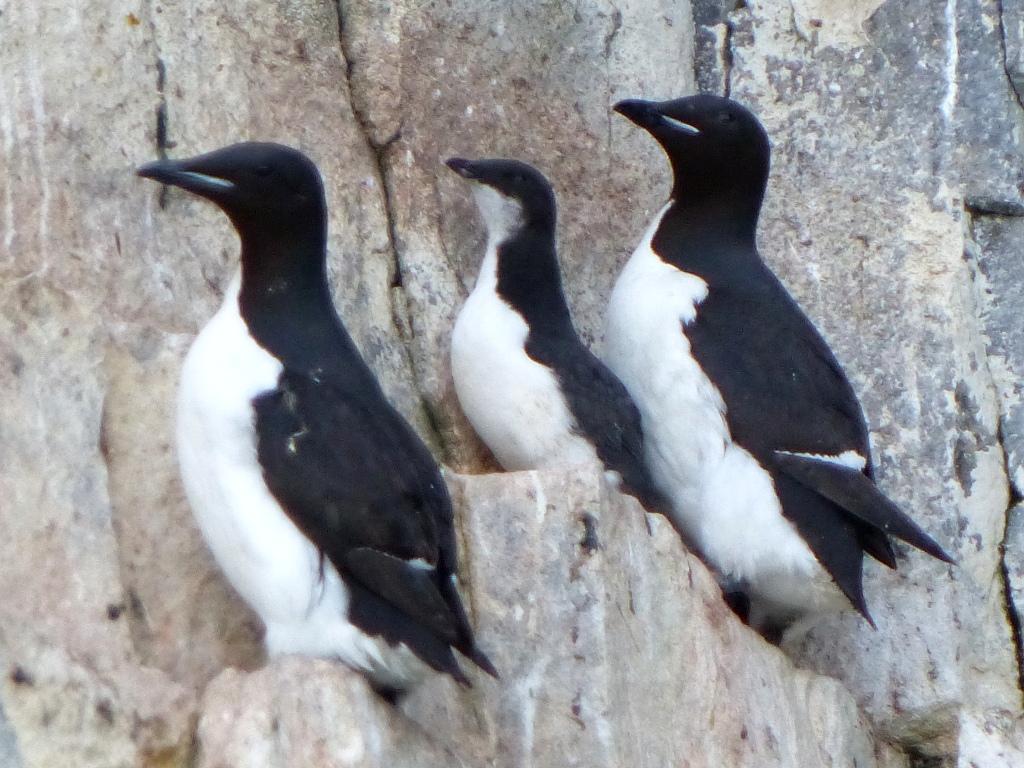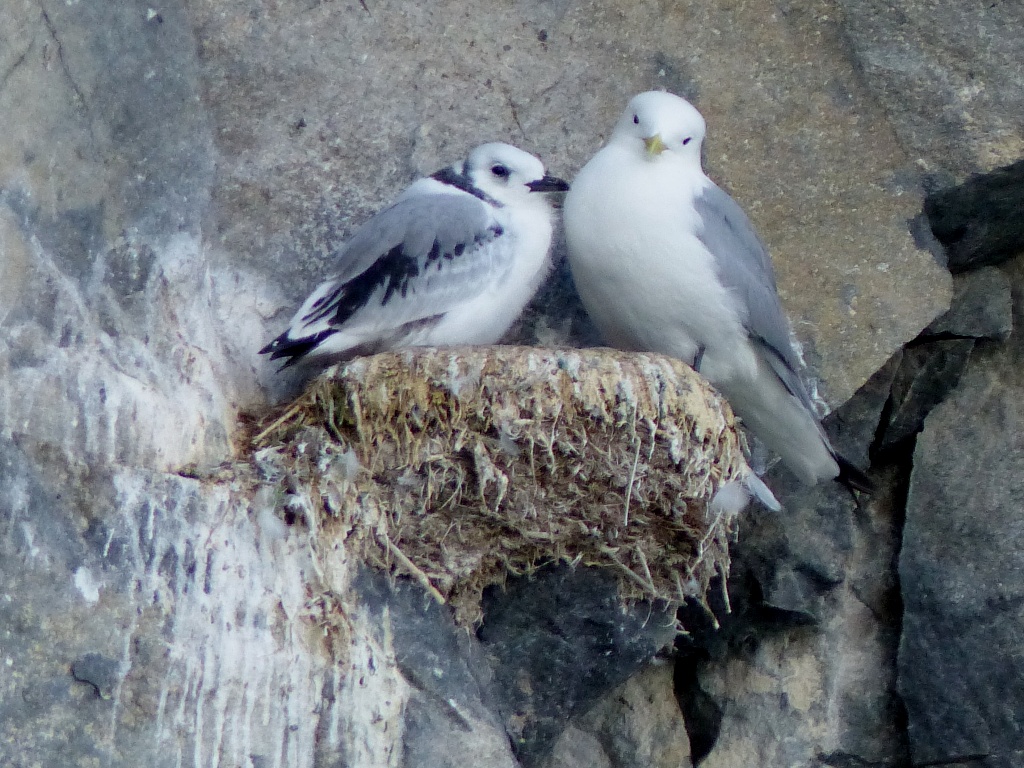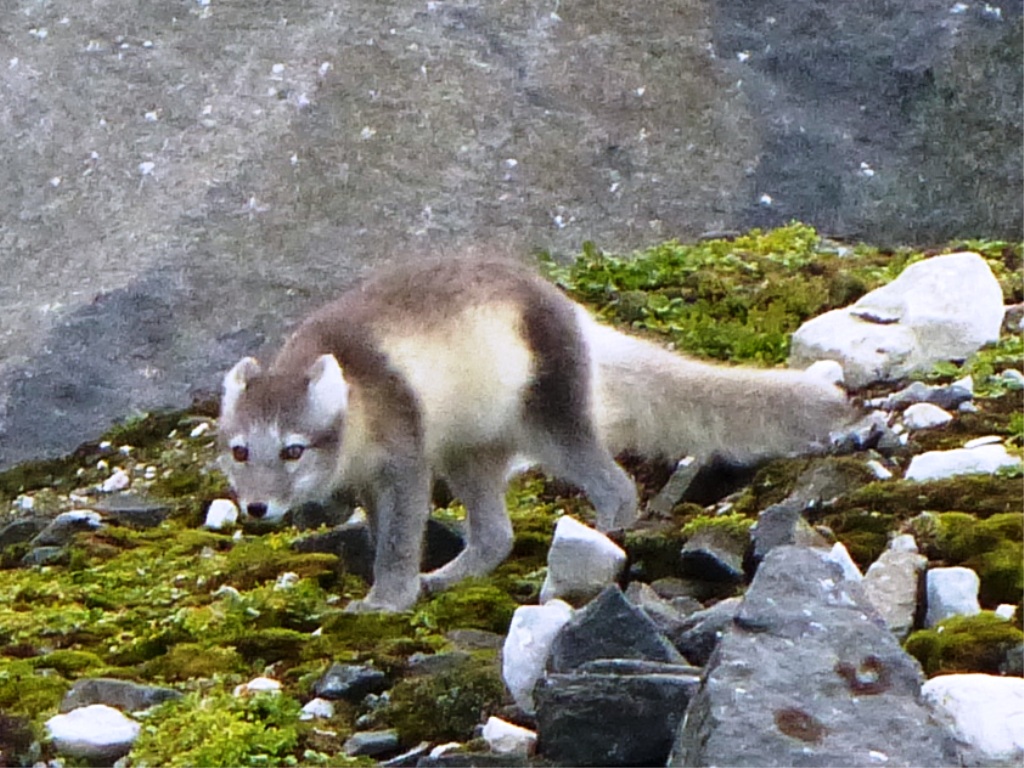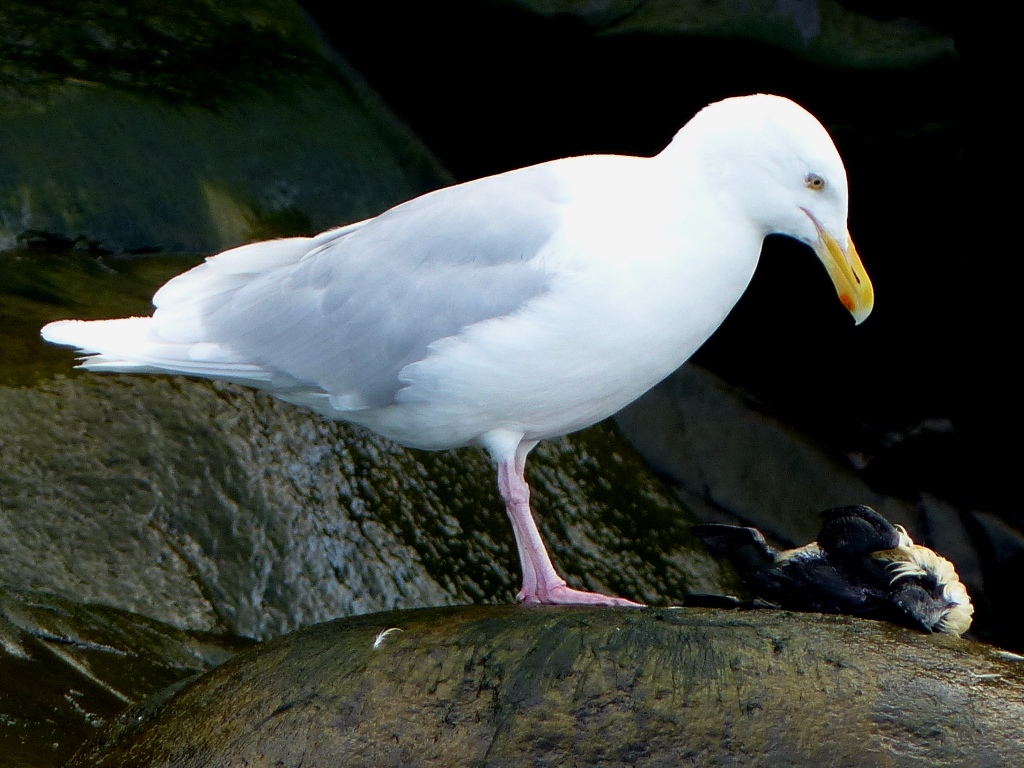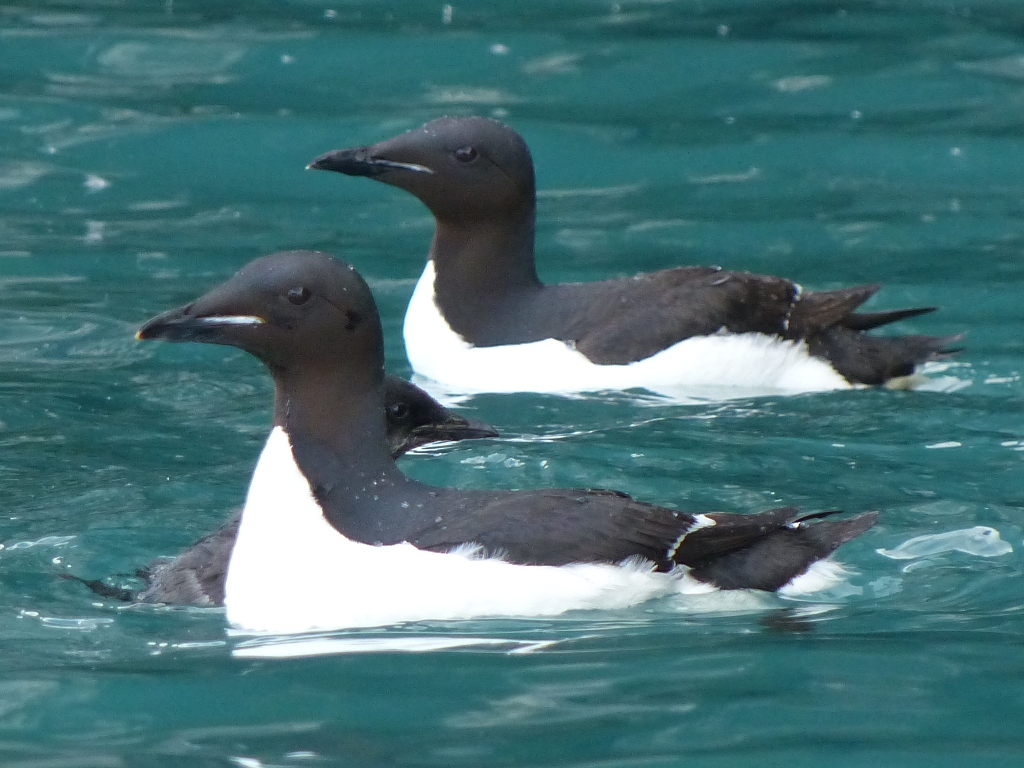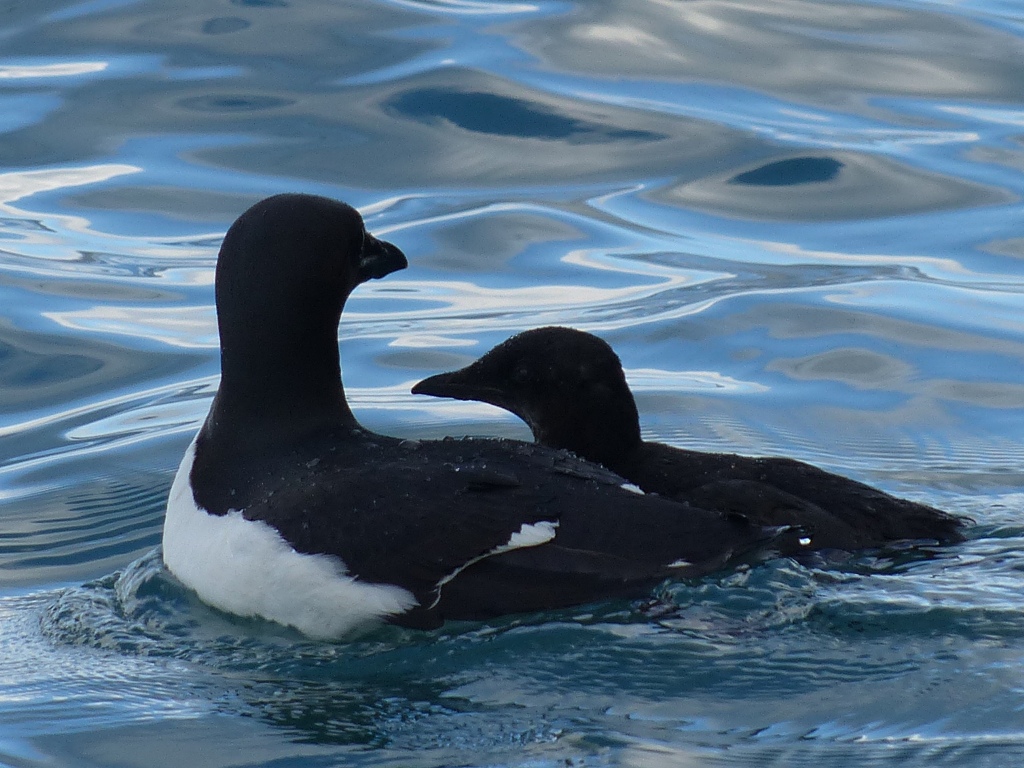 We cruised overnight to the edge of the Arctic Ocean pack ice - setting a record furthest north for any Oceanwide ship of 82°27.6'N - 452.4 nautical miles from the North Pole - about 520 statue miles or 870 kilometers. A personal record for closest to either Pole for me. Furthest North indeed, as the cruise title promised. We turned around and cruised back overnight to the remote Seven Islands at the northern edge of the Svalbard archipelago. Our landing was blocked by a bear ashore, so we zodiac cruised with Eider ducks and downy ducklings, walrus in the water, and the sleepy bear on the hillside (again the large swell made sharp photos difficult - for me at least).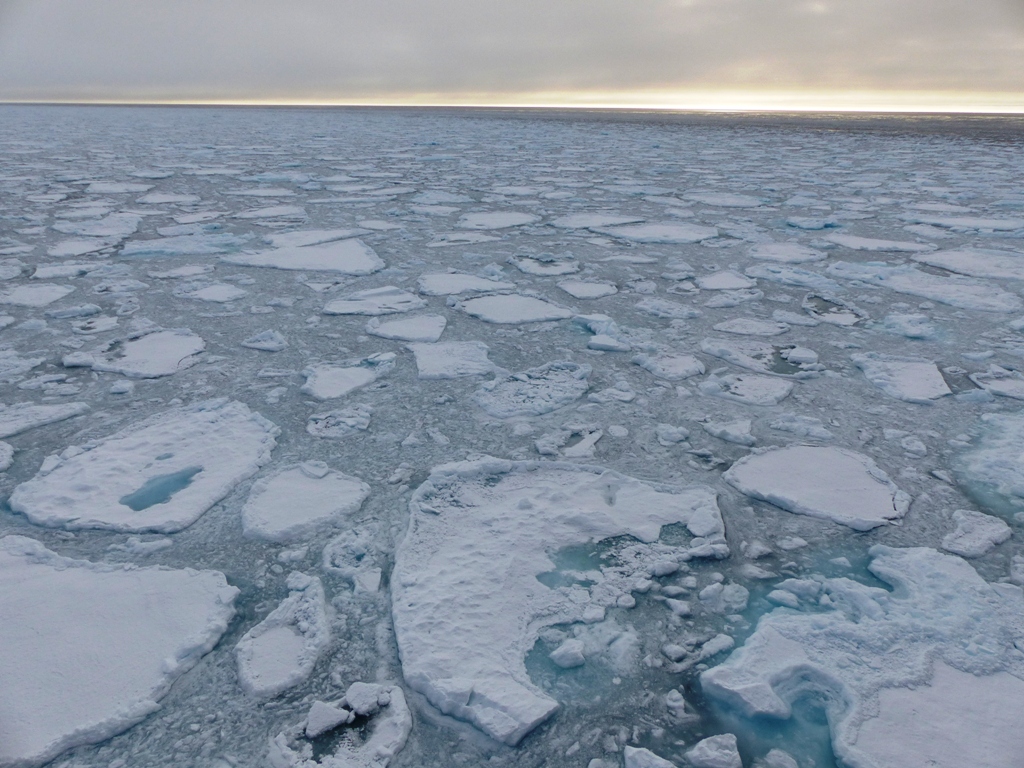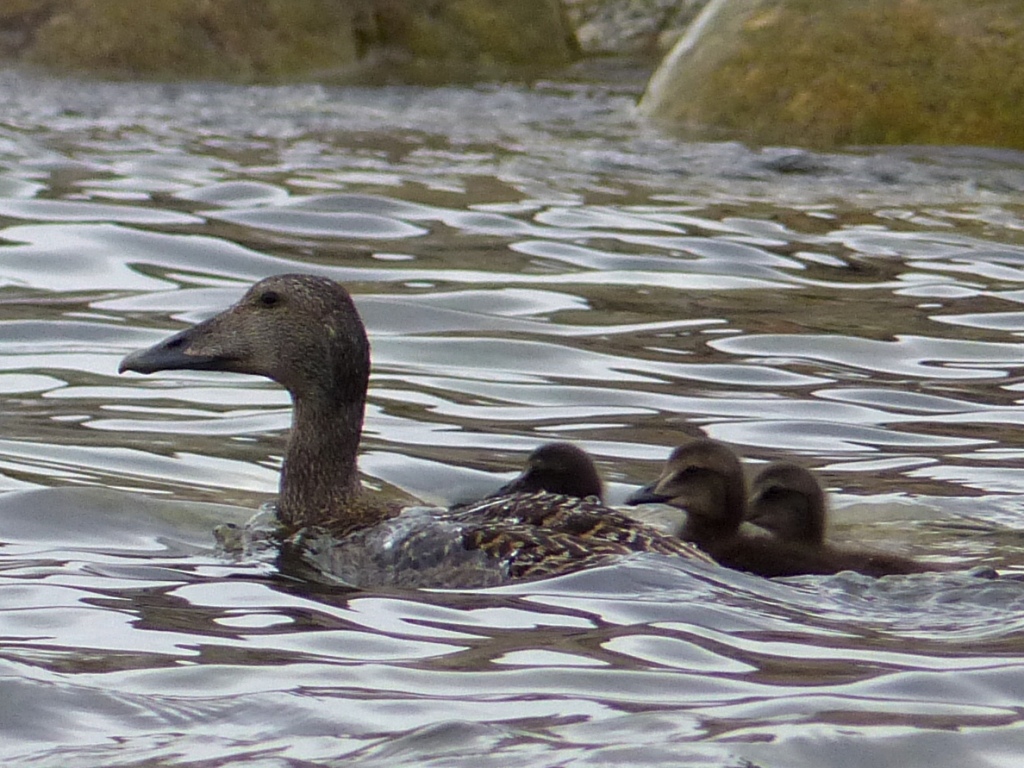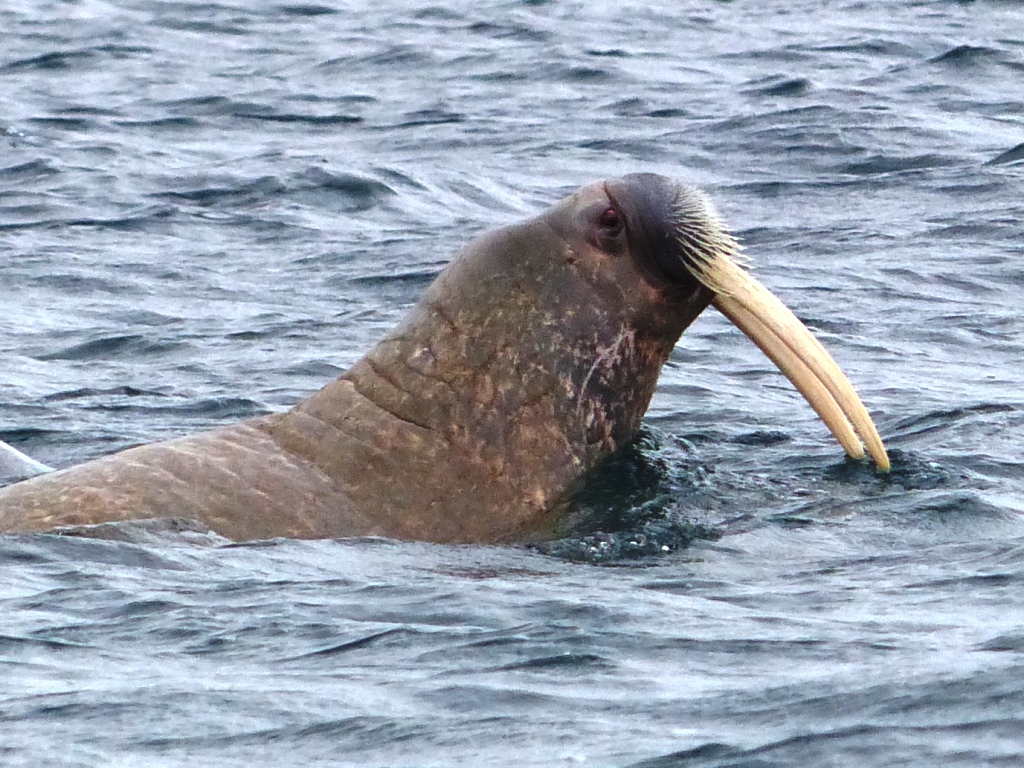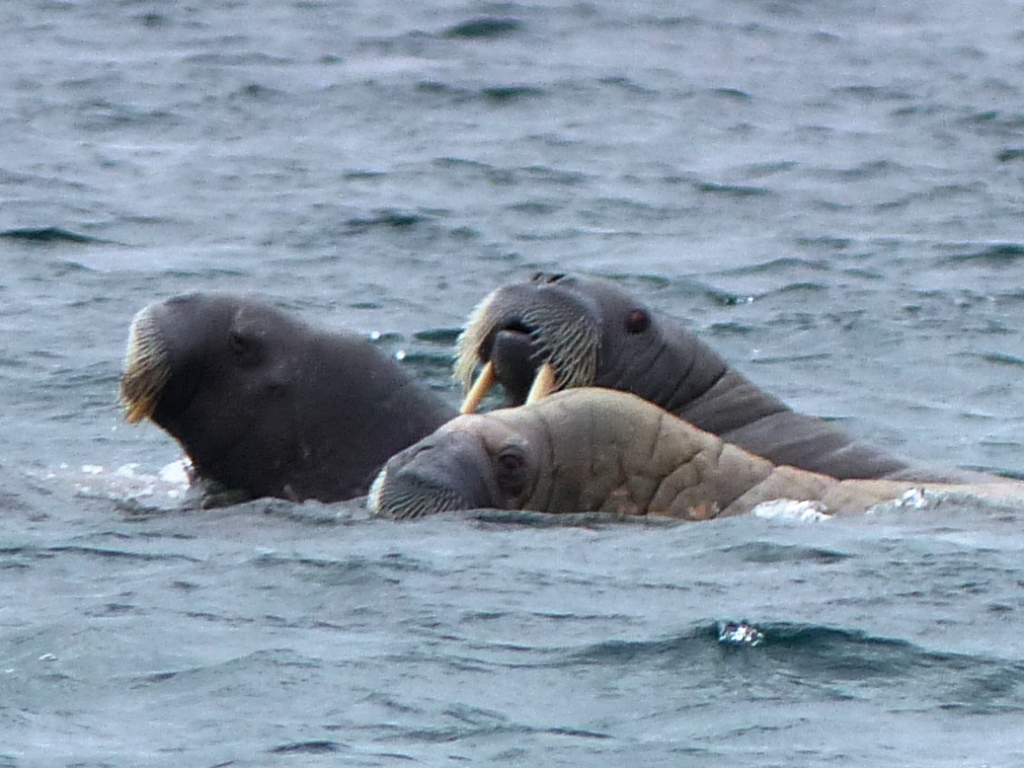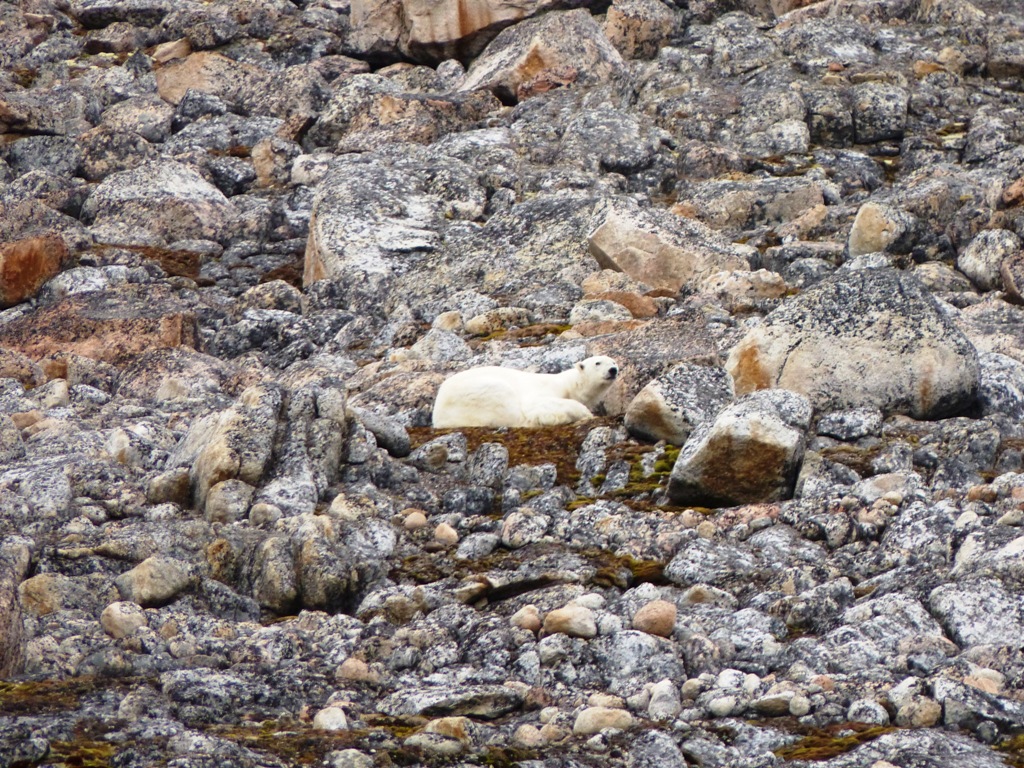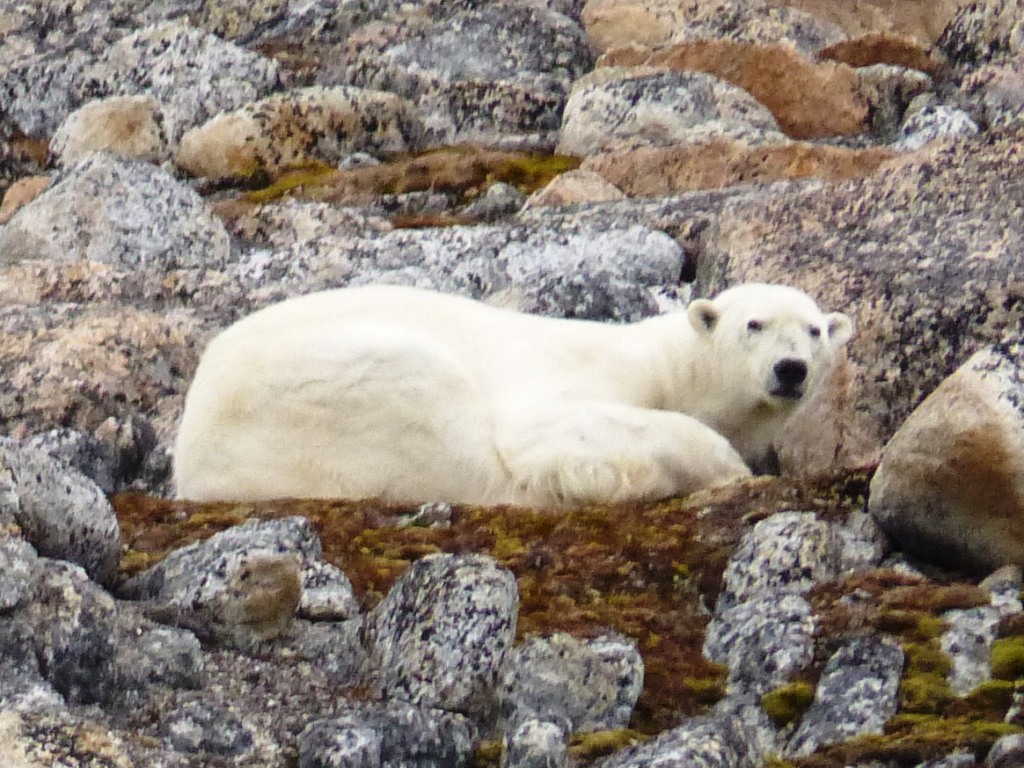 The cruise home started with some nice scenery and featured leaping dolphins.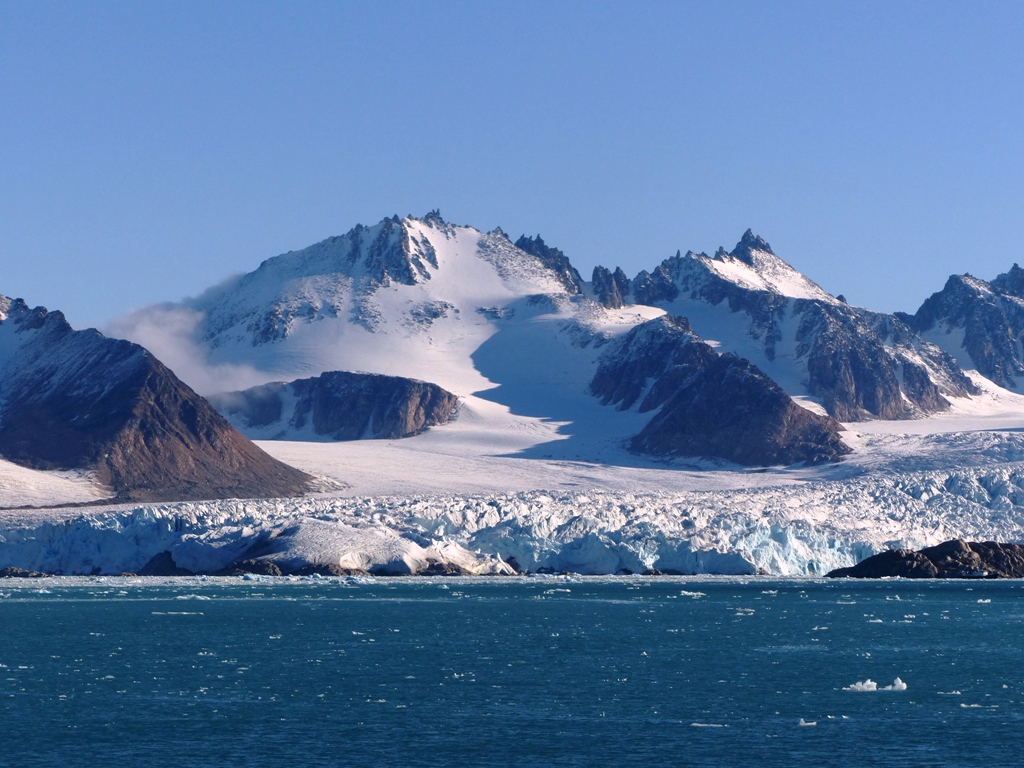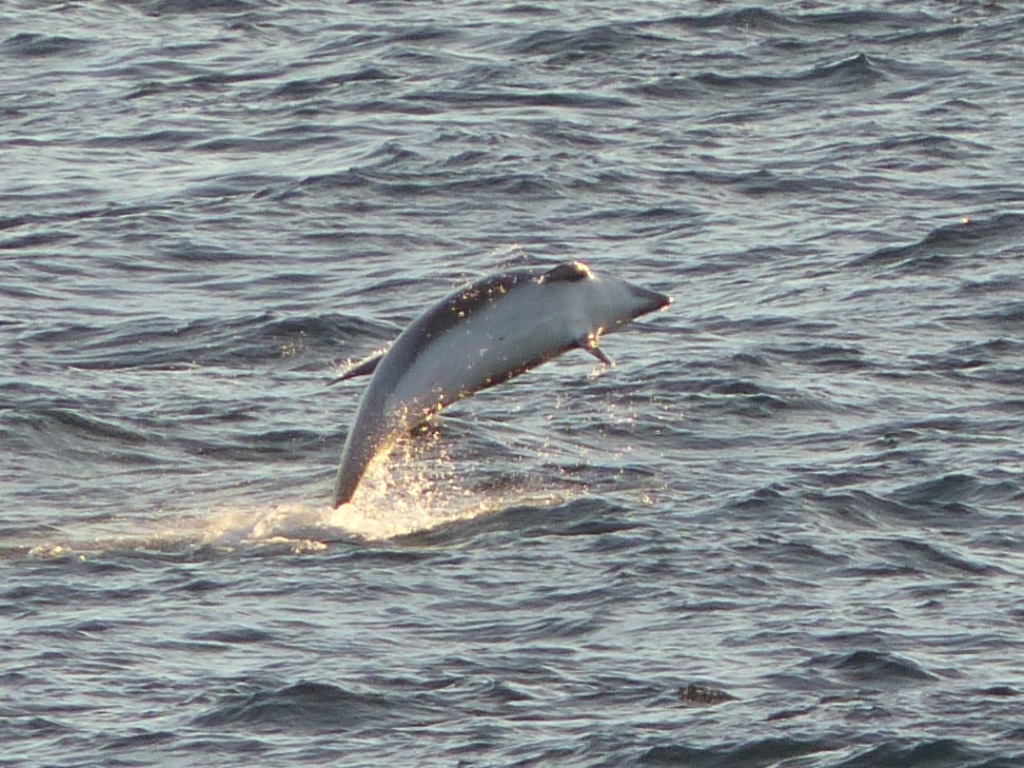 Again there was a Trip Log and Slideshow from the voyage - Click the links to see them (for what is is worth, the slideshows give the best glimpse at the experience).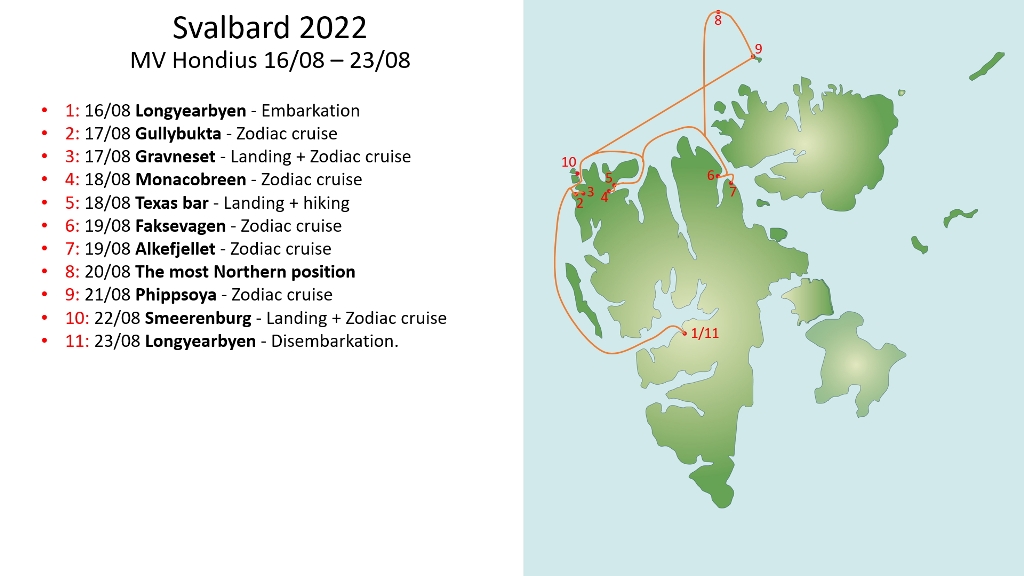 I flew to Oslo where we landed at twilight and then it got dark for the night. It felt odd. So - I have had a excellent introduction to the Arctic. It has been areal pleasure to join the Expedition Team. I have learned SO much. On the plus side - no humans or animals were shot, nobody drowned, and I didn't embarrass myself. People seemed to like my talks. There was no minus side. Photo credit Georgina.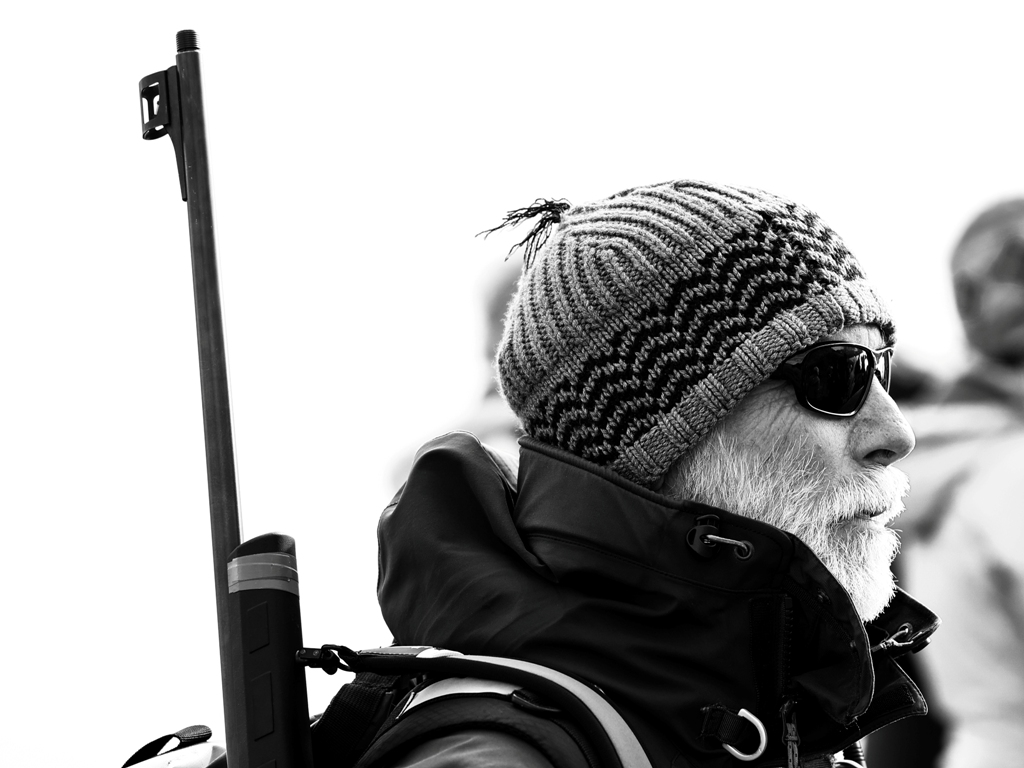 When I returned to the USA, I celebrated a delayed birthday bash with my siblings Kathleen, Jim and Ric, and the wider family and traveled to see other friends and relatives.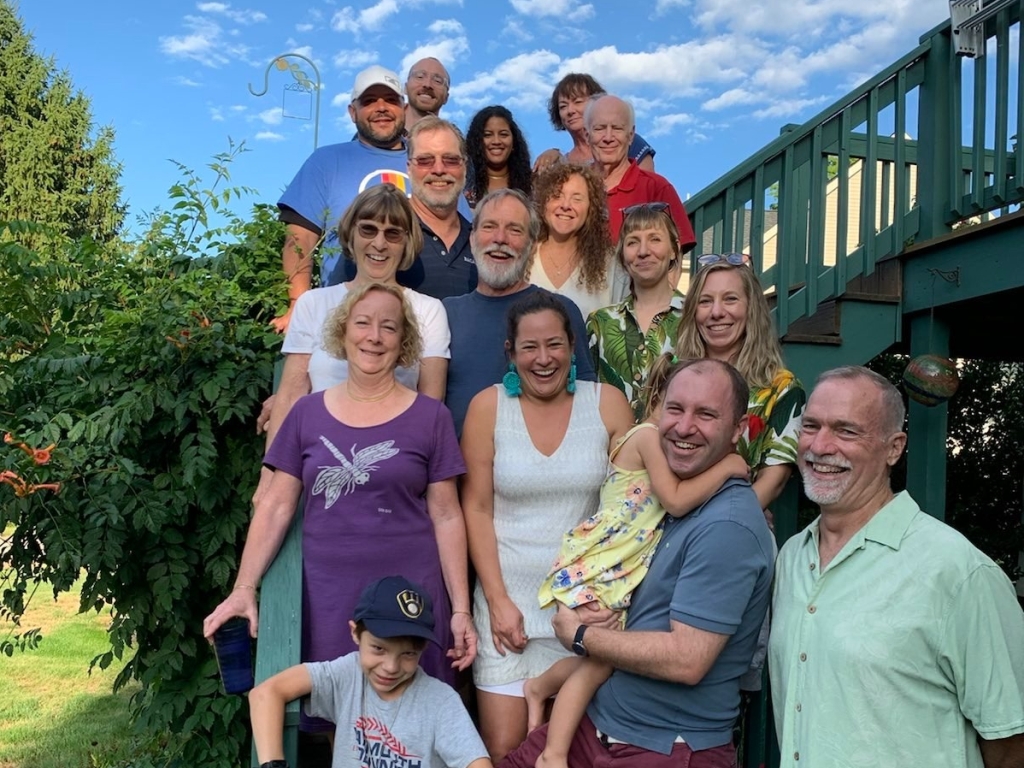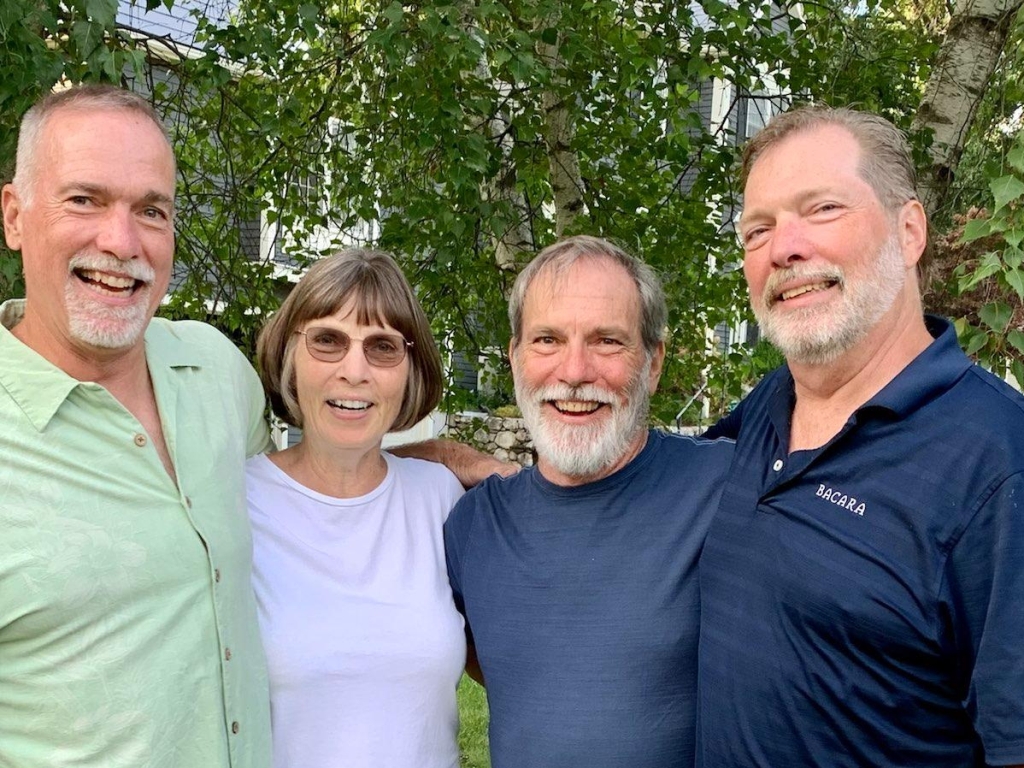 Jim and I made a kayak voyage to the historic Old North Bridge in Concord - site of the first battle of the American Revolution.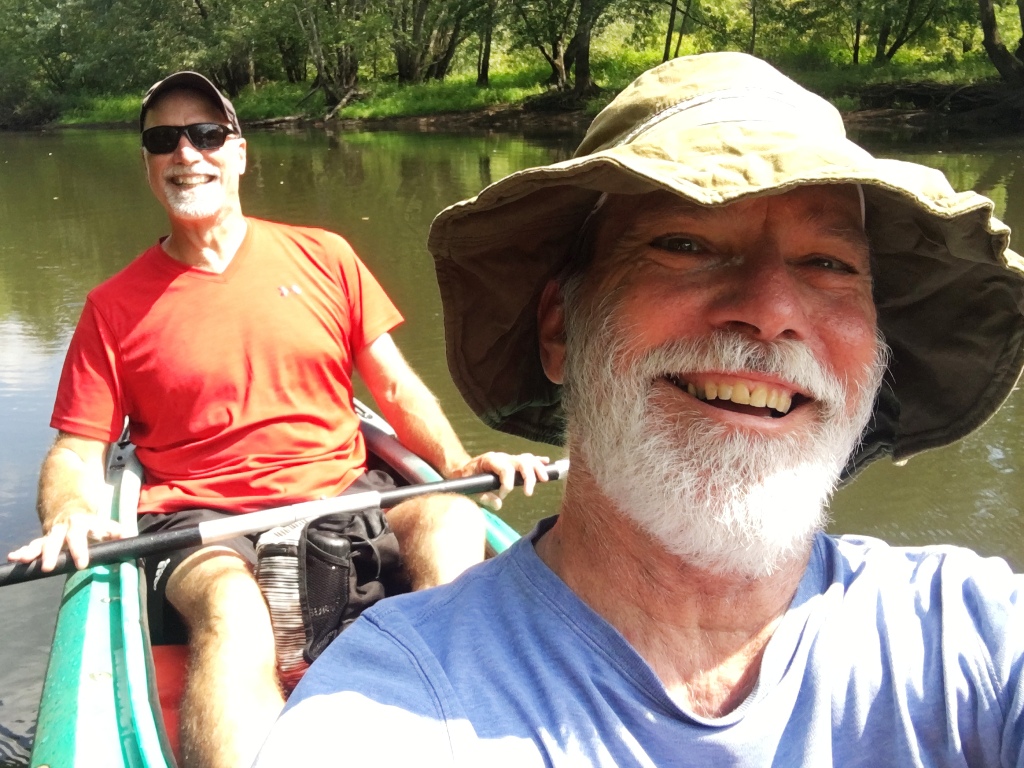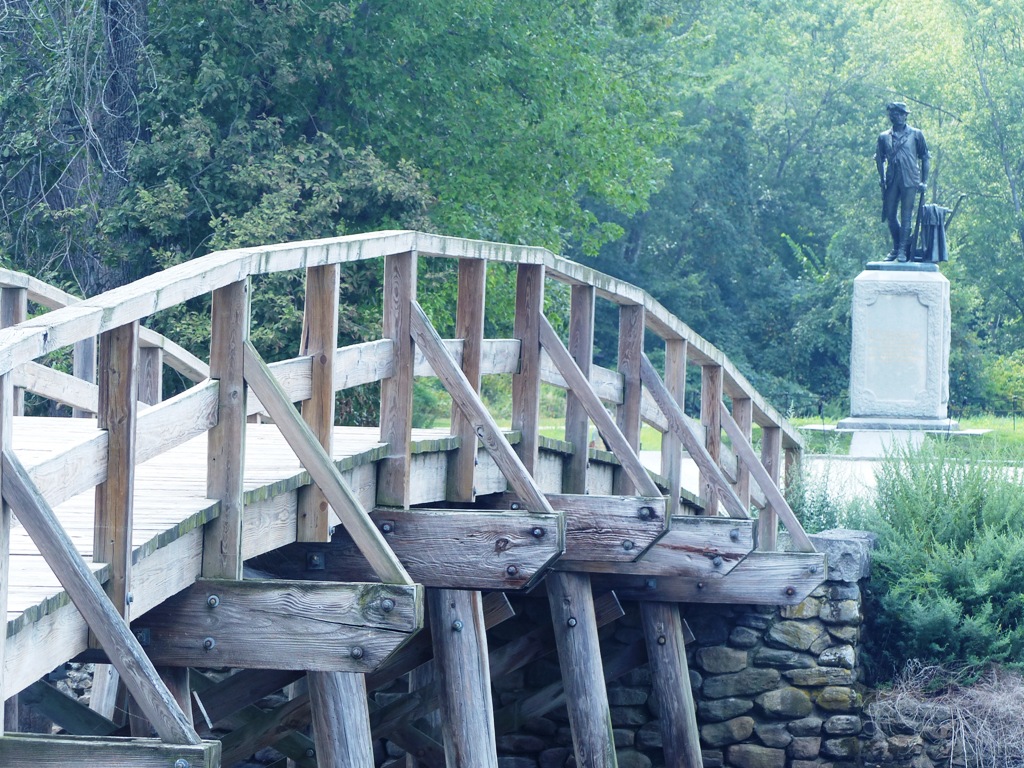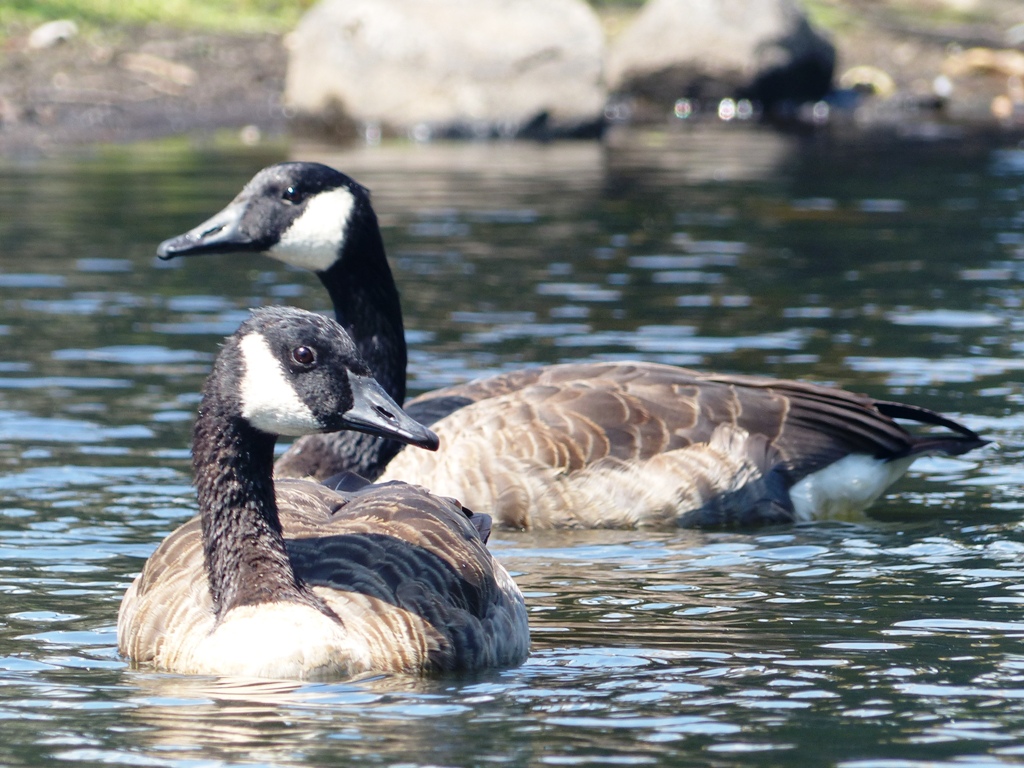 The rest of the visit was overflowing with good times with friends and family including river cruises, kittens, nature walks, beaches, and, of course, eating and drinking (including "lobstah").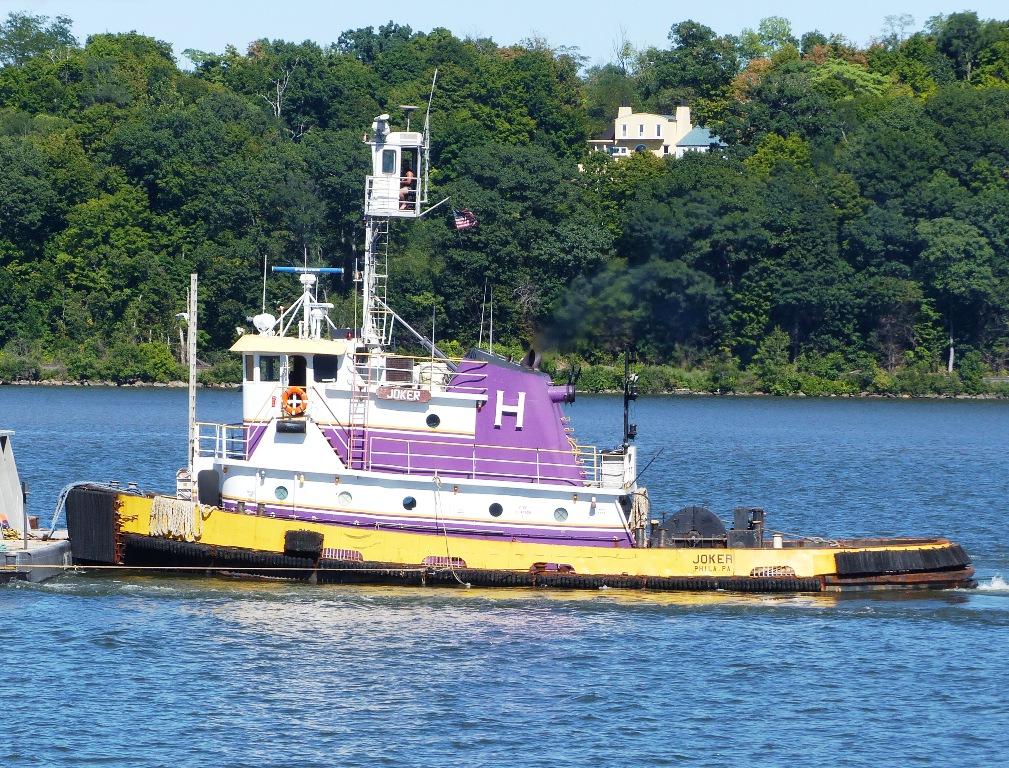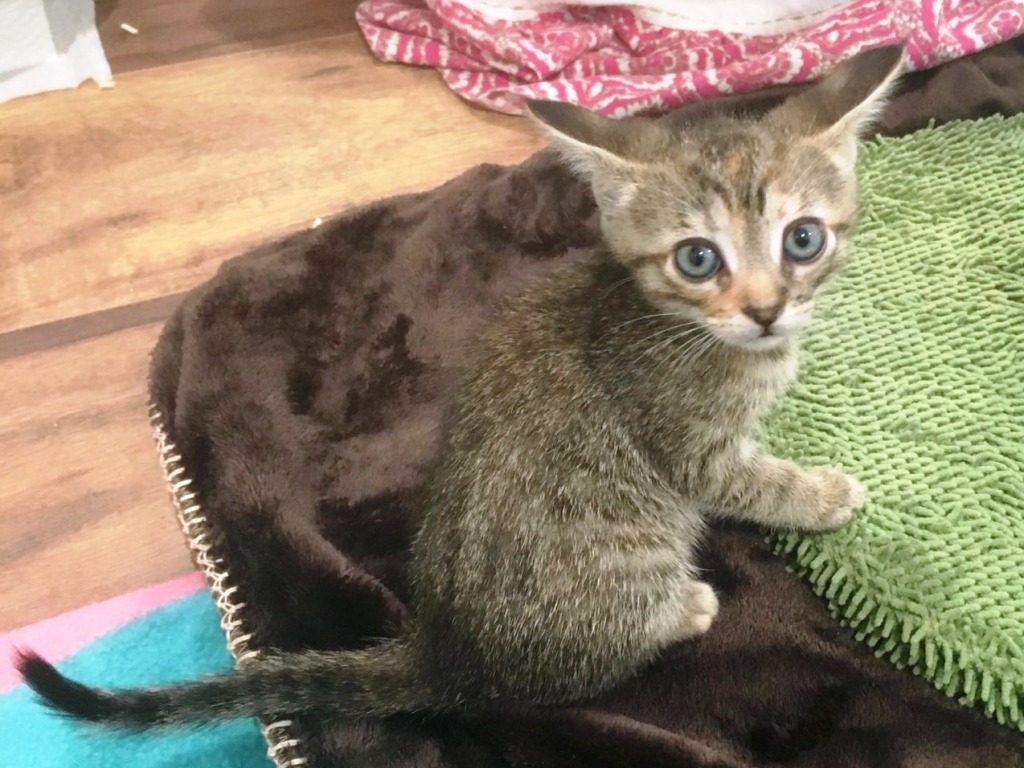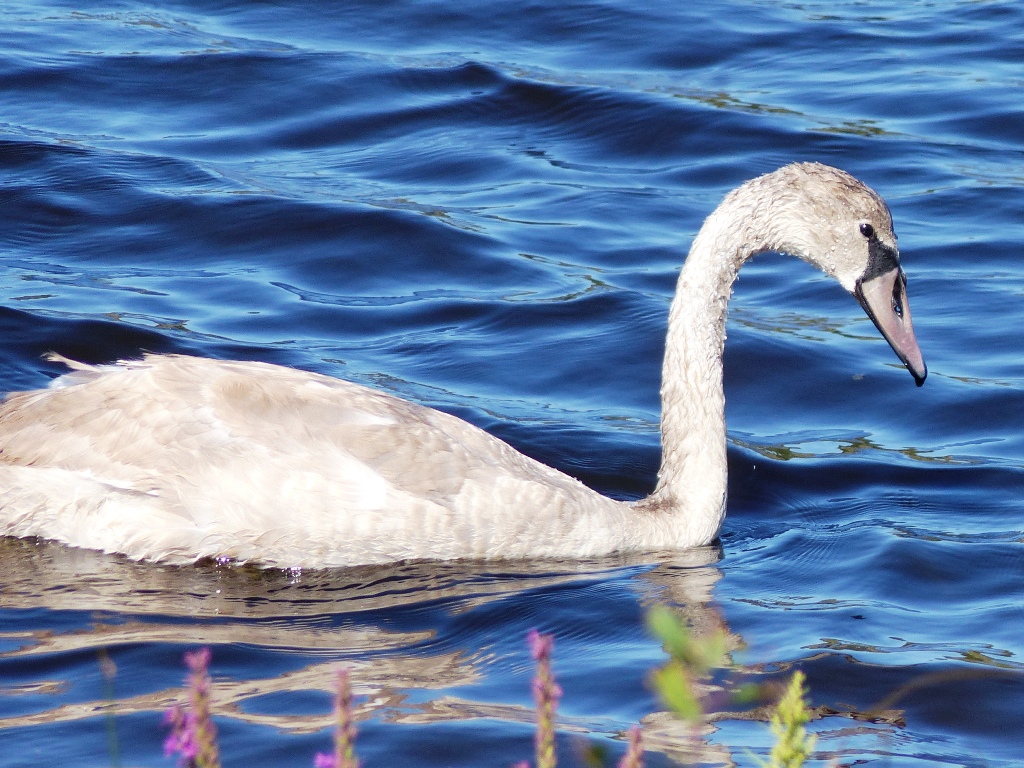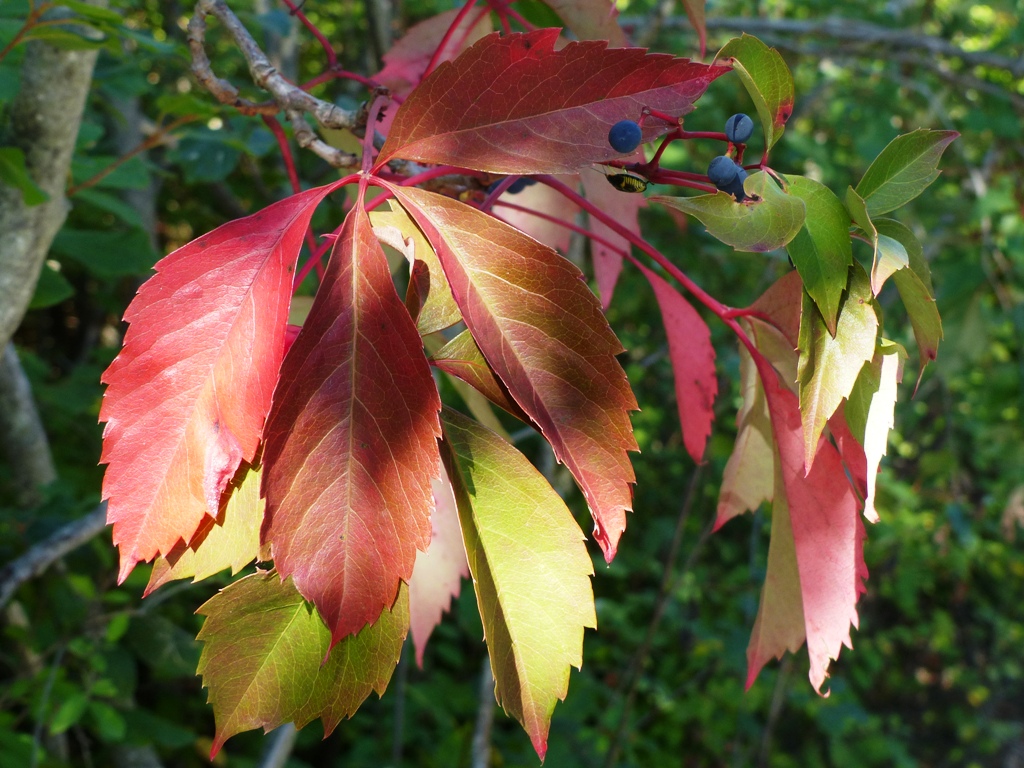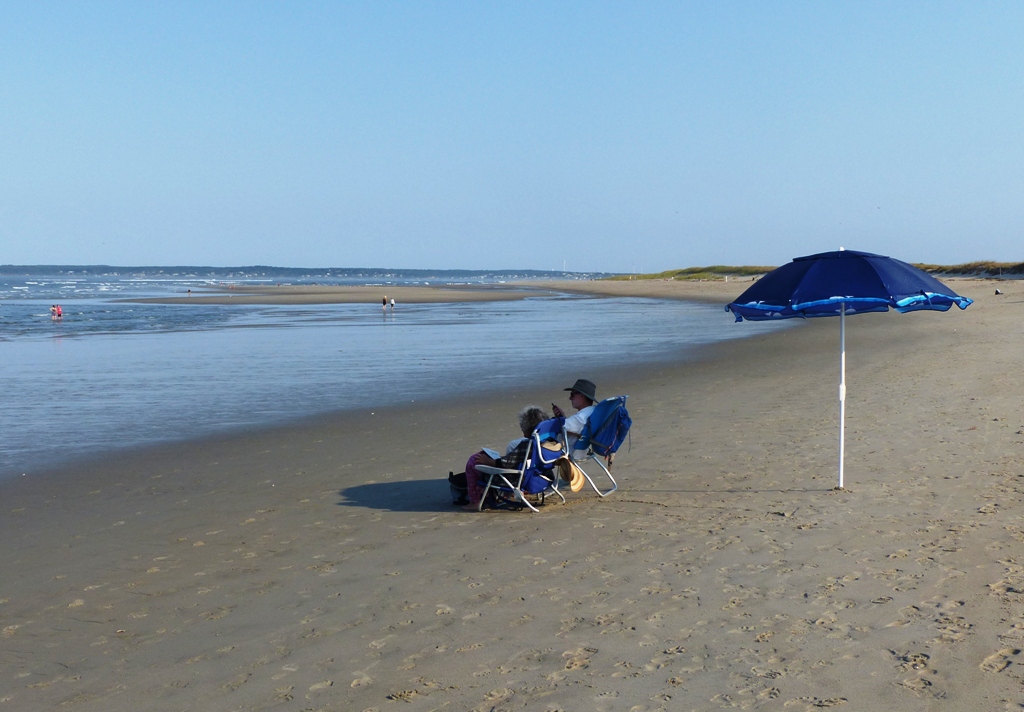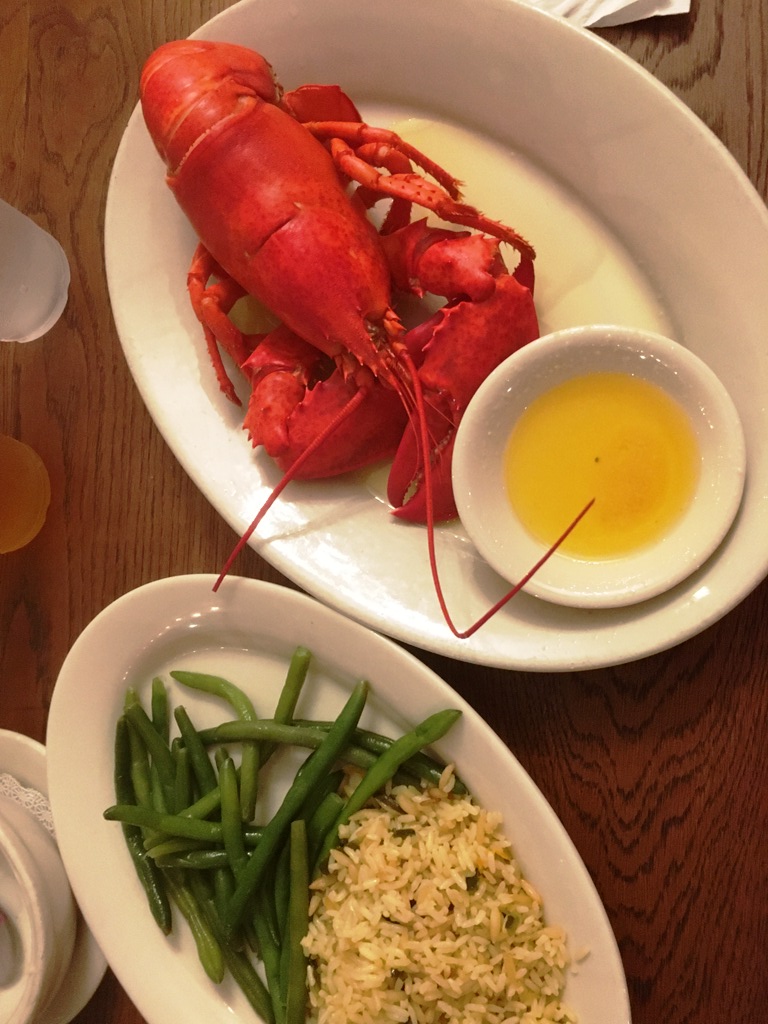 I detest Las Vegas. I find it a vile and depressing place. It seems to encapsulate the worst of human nature magnified through an American lens set in a furnace. It makes me despair. As I was arriving into town, the Byrds song "America's Great National Pastime" was playing. It is a catchy little ditty and the cynical lyrics struck a chord with me:
One of America's great national pastimes…
Is drinking a Coke
Taking a smoke
Telling a joke

Is playing ball
Taking it all
And thinking so small

Is chocolate fudge
Carrying a grudge
Bribing a judge

Is poisoning rain
Acting insane
Inflicting pain

Is the worship of speed
Planting the seeds
Taking more than she needs

Is cutting the grass
Grabbing some ass
Living too fast
It is ironic then that, while Las Vegas is a sign of the impending apocalypse, it provides one of the better signs that there is yet hope for humanity. I mean Cirque du Soleil. Their amazing blend of theatre, music, circus, engineering and more gives some evidence of what humans can create when their passions run free. I saw the show Ka - it was unbelievable. Go see it if you have the chance.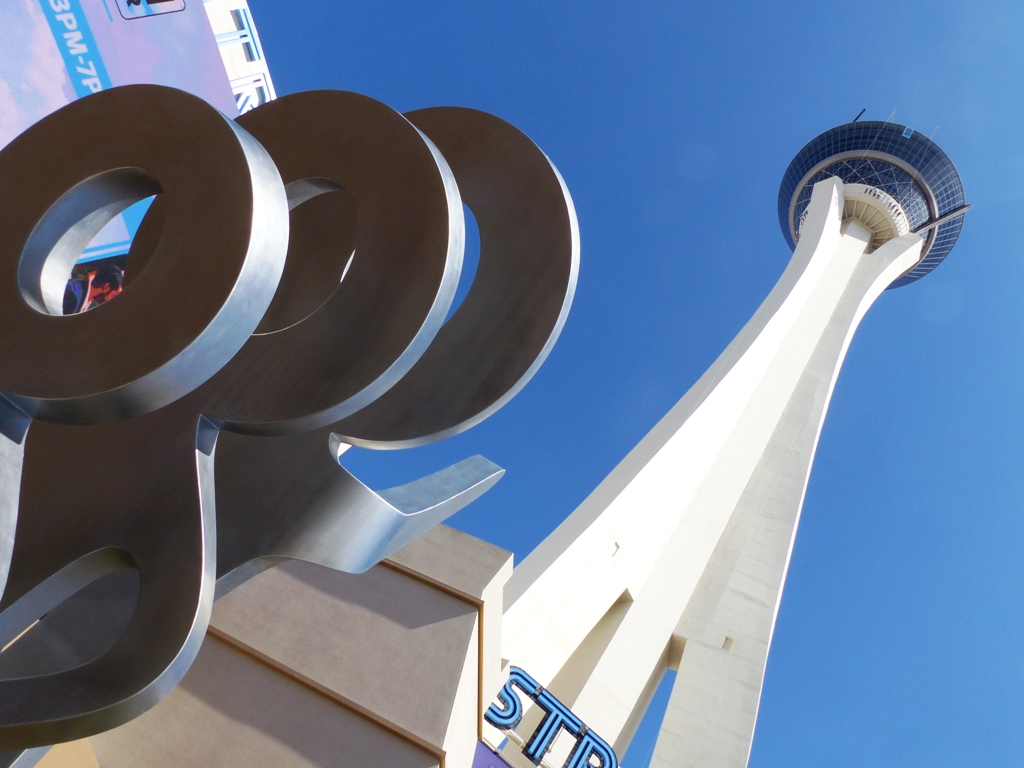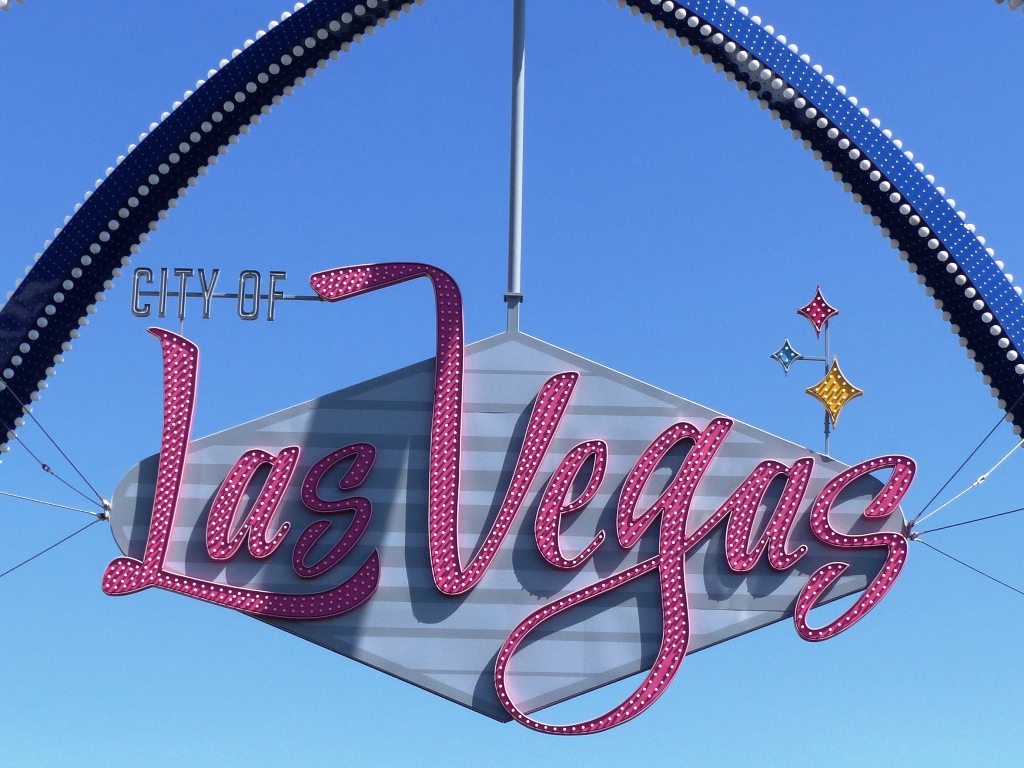 Las Vegas does have cheap hotel rooms and is a good base for the Southwest. I love the Southwest. It is like nowhere else, and superbly. I went first to the North Rim. A rainy night meant sleeping in the Focus (fully reclining seats!) but the day was fine and cool. Exploring was nice, but the highlight was sunset with many perched around the escarpment near the the veranda of the Grand Canyon Lodge.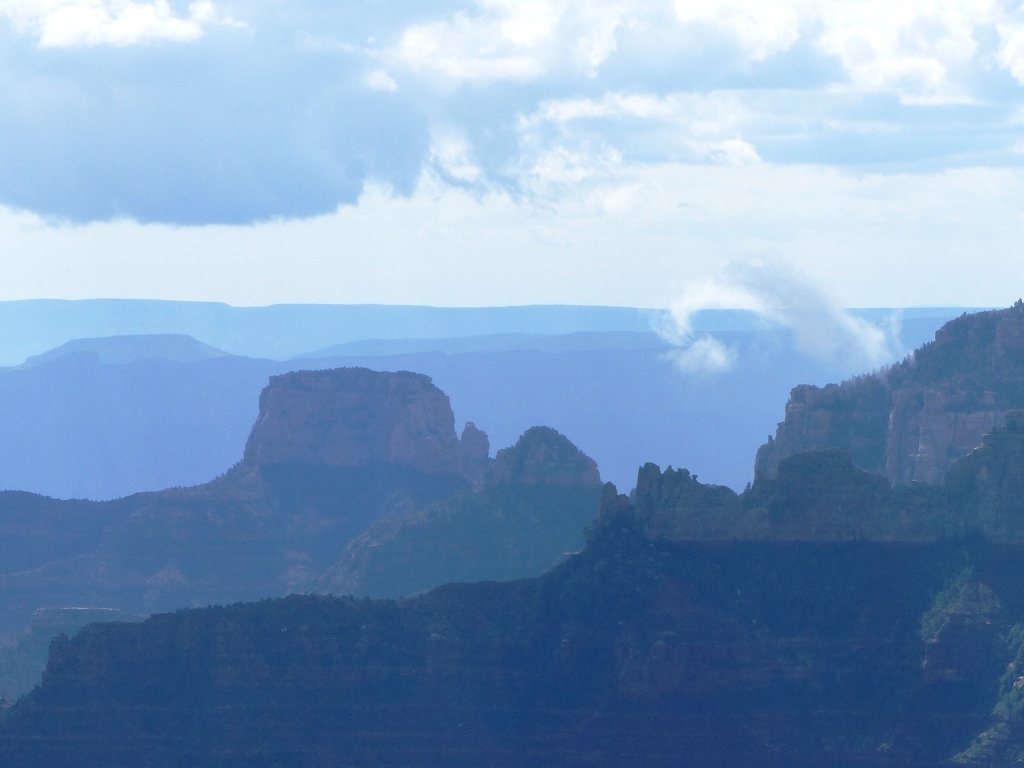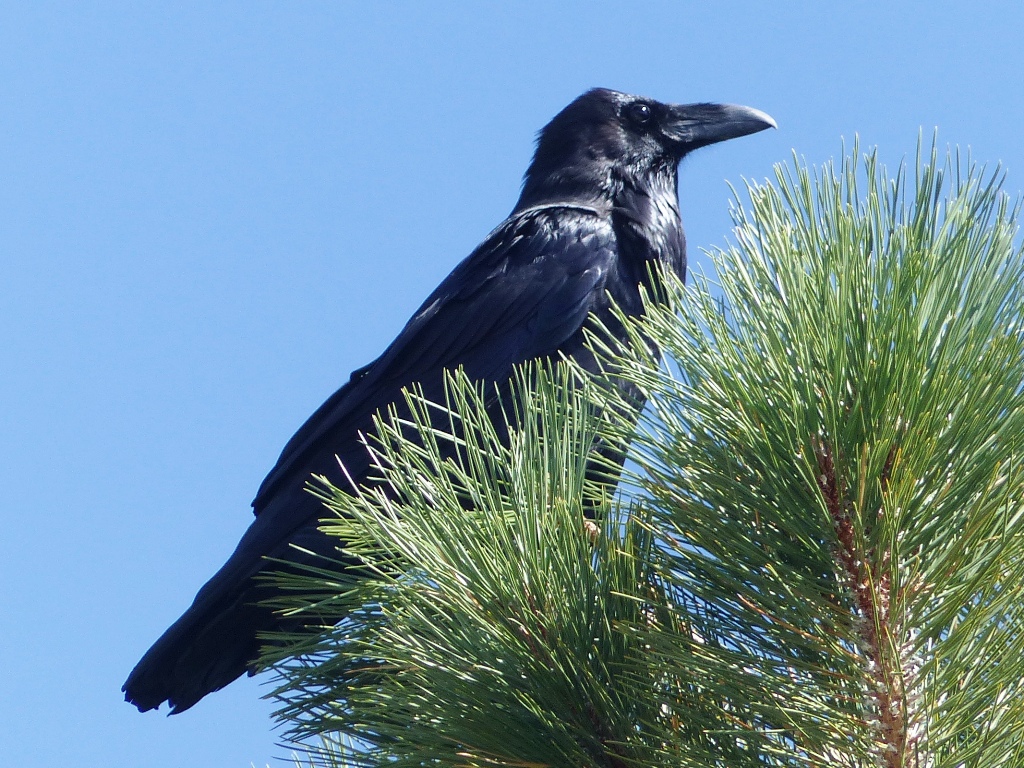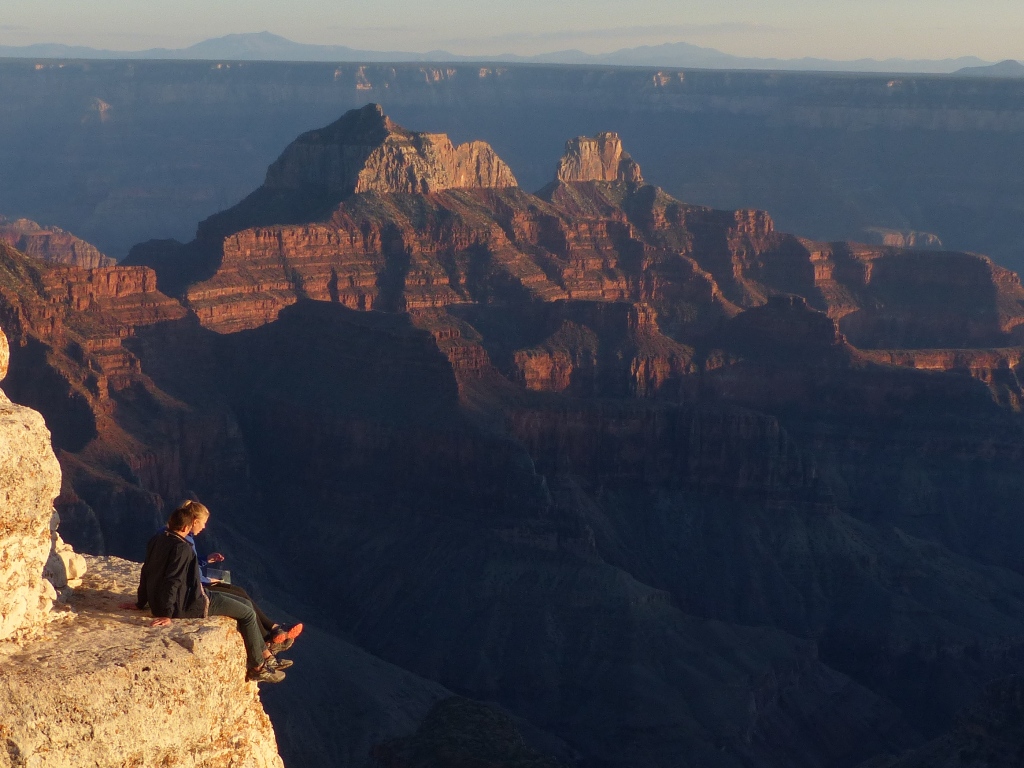 Next evening, I sit in the sunset light after a nice chat with the manager of Mystical Antelope Canyon attraction. He was bidding me good night. I have the place to myself. I have excellent internet access, THERE ARE NO BUGS, the breeze is refreshing, the highway noise tolerable, the temperature 20/70ish, and serendipity has struck.
So, a bit of backstory. The Antelope Canyon is actually 4 Canyons - Lower, Upper, X and Mystical. All are owned and managed by the Navajo Nation. From my chat, it seems that the canyon sections are owned/managed by families. The other 3 are big business - see Antelope Canyon Tours. I'm not sure how I stumbled upon Mystical but it was they who I contacted to make a booking. They are anything but big business. The other 3 canyons were fully booked for days into the future. There were 3 of us on my Mystical tour.

The Mystical portion of the Canyon was in it's raw state. There were pumps and makeshift ladders. We were waist deep in murky water. Adventure canyoning. Super fun. Then back to the camp for a chance to check those photos now that it is dark enough. I have always known that some subjects demand "just one more" - kangaroo, penguins, sand dunes - AND Slot canyons. I hope you will agree that perspective is only a mater of choice - after all, I may have been standing on my head when I took the photo.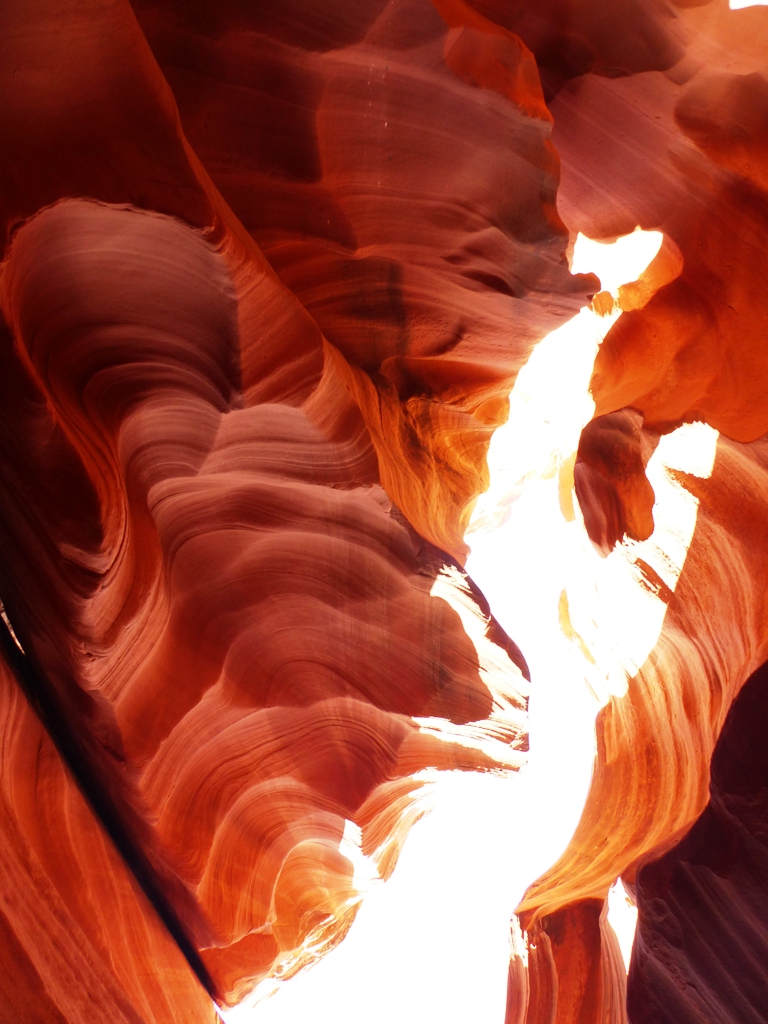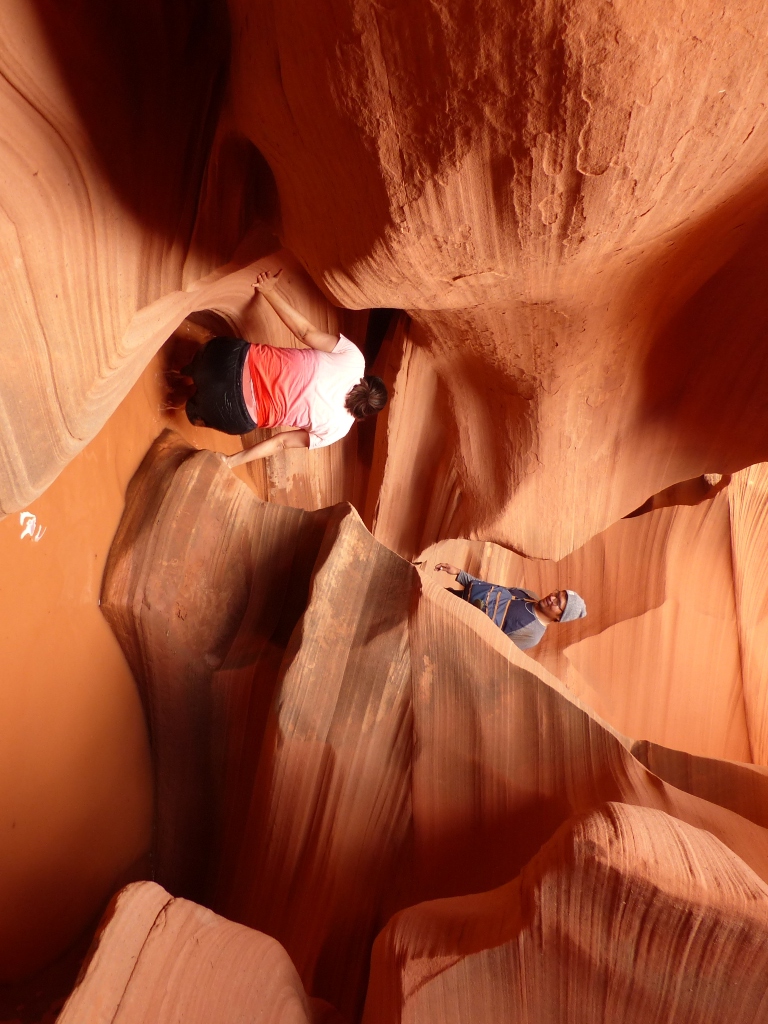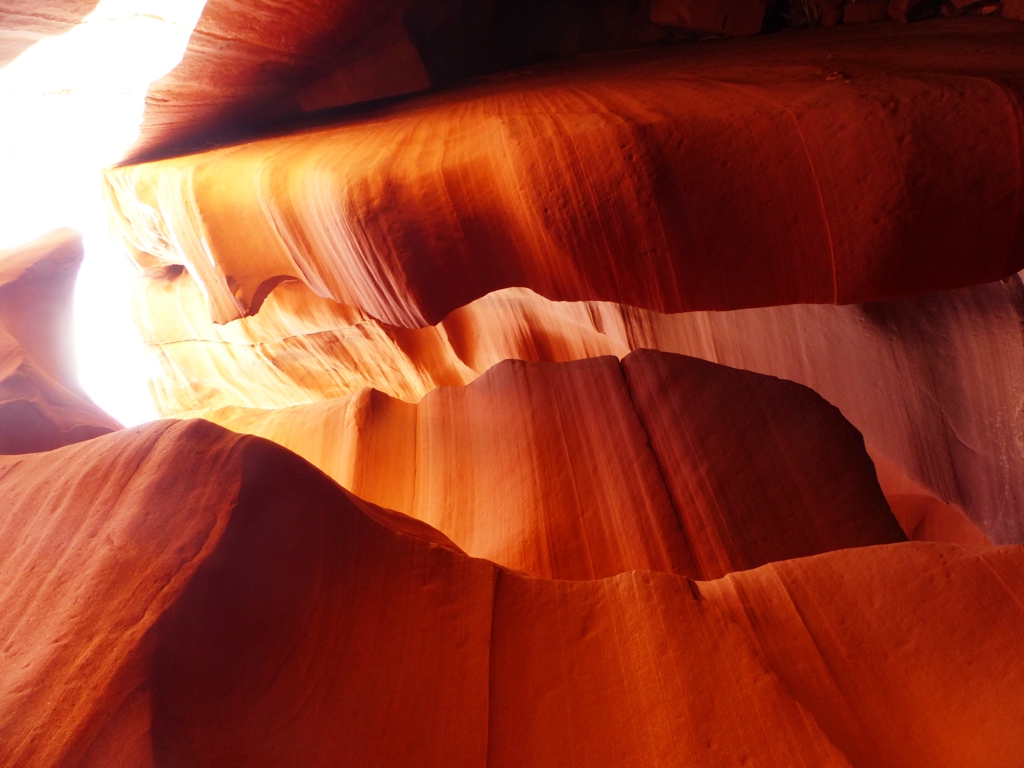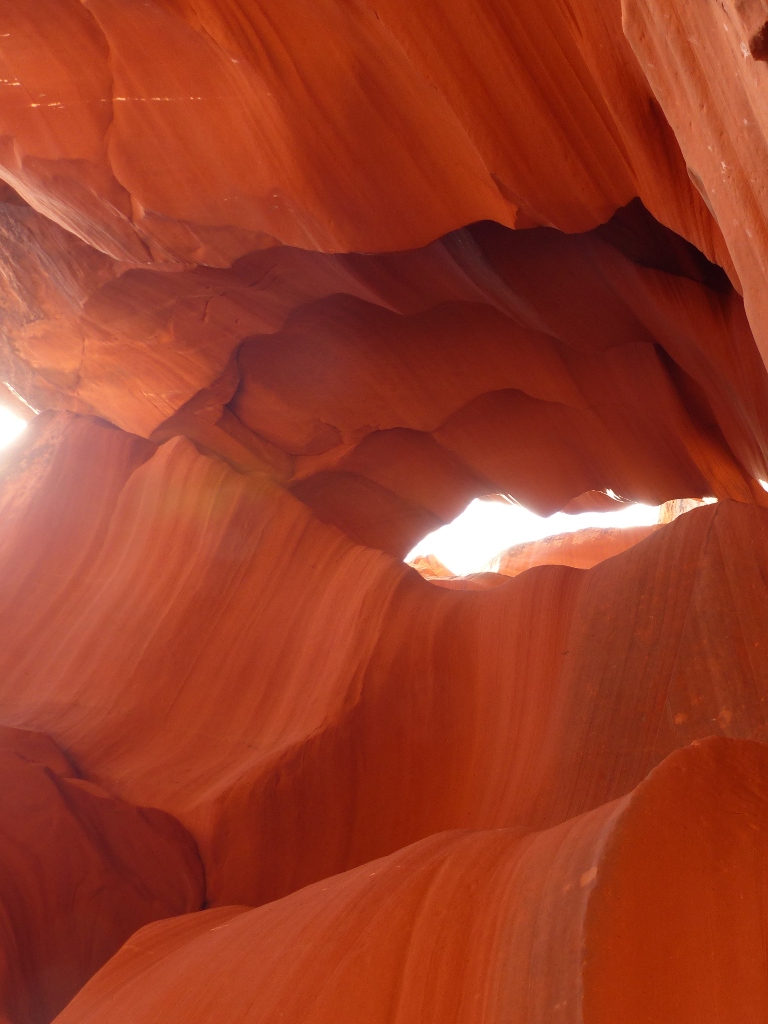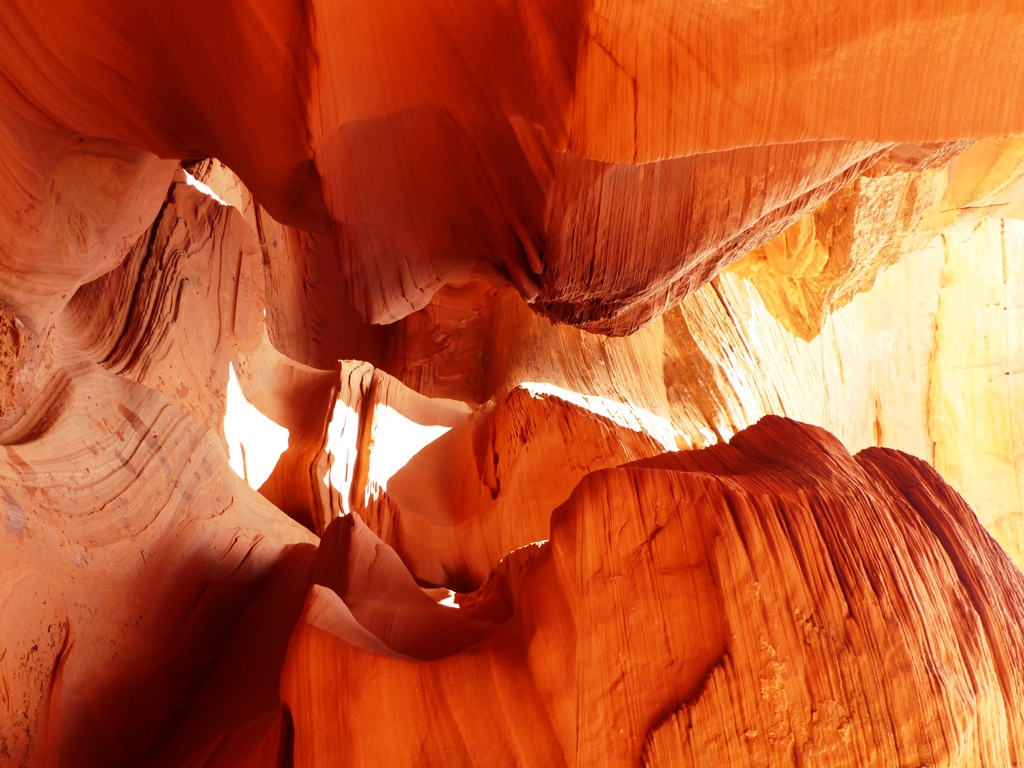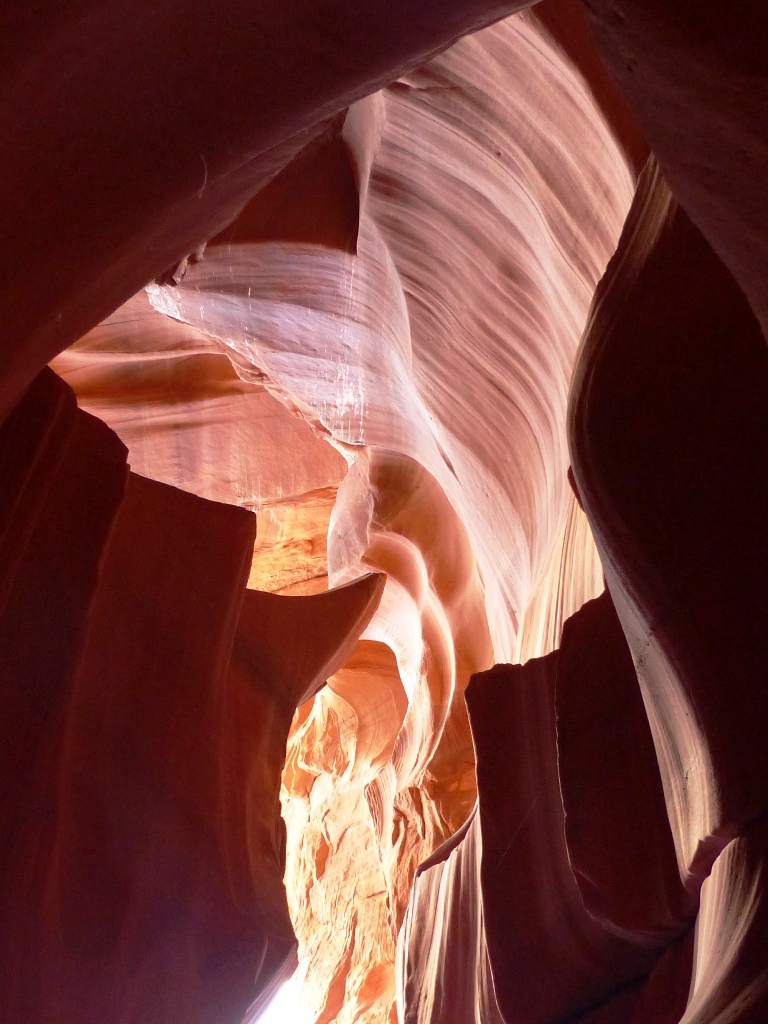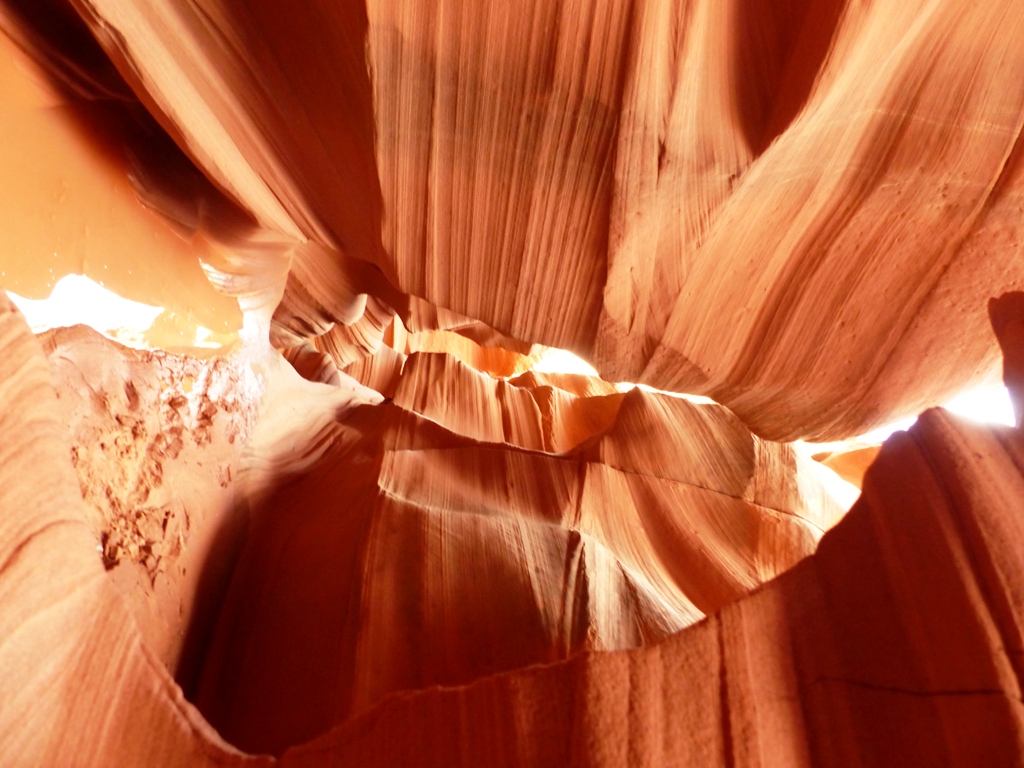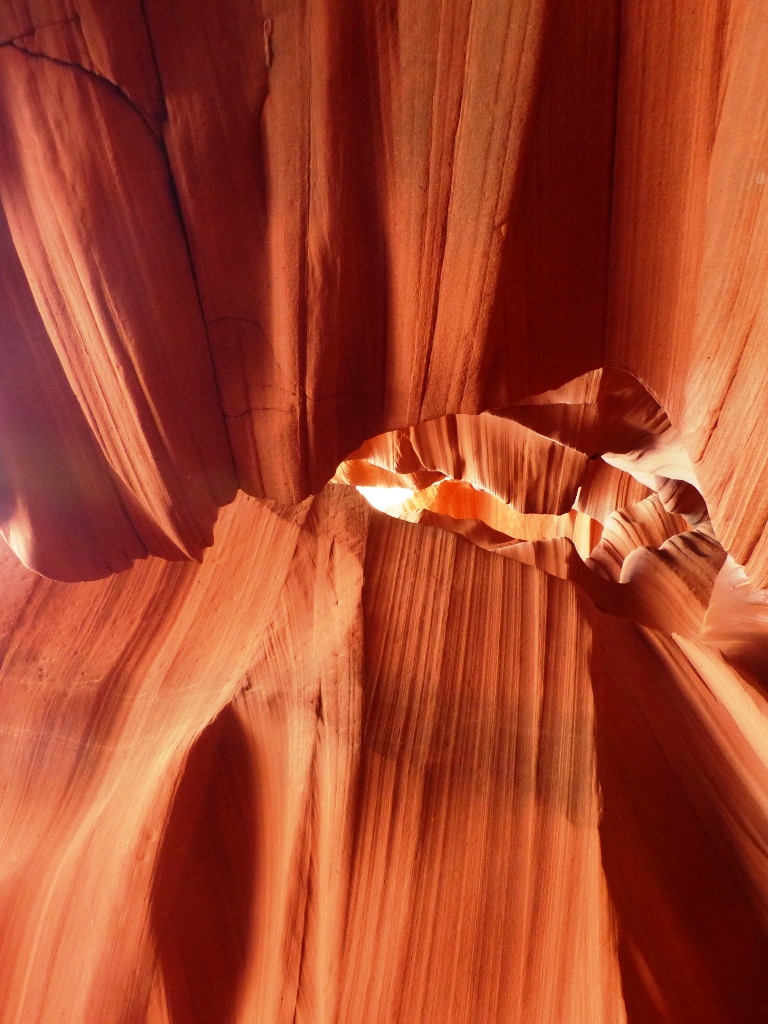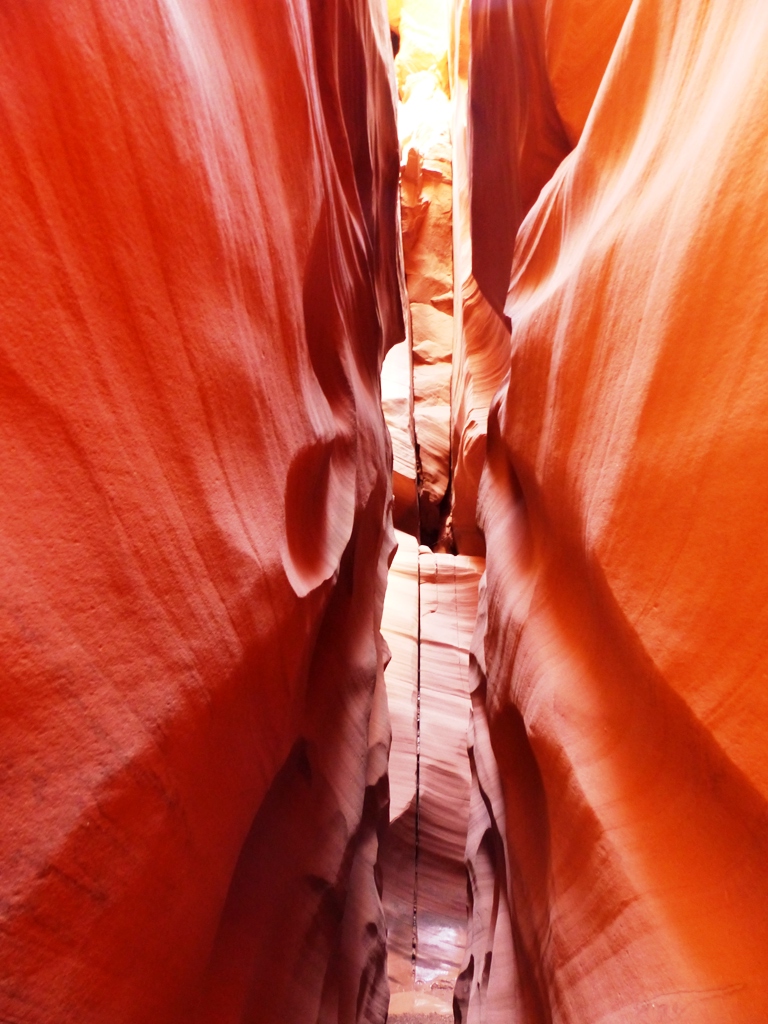 Then, there is my evening in the campground after the canyon. From my chat with the un-mystical proprietor, I tried to learn why they are so far "behind" the other families. I didn't get any satisfactory answer. They clearly aren't bothered by appearances and enjoy doing things their way. I certainly enjoyed doing things their way - but they would need to up their game if they expect to attract a more discerning clientele. In any case I loved my time in the solitude of the evening and splendor of the sunset.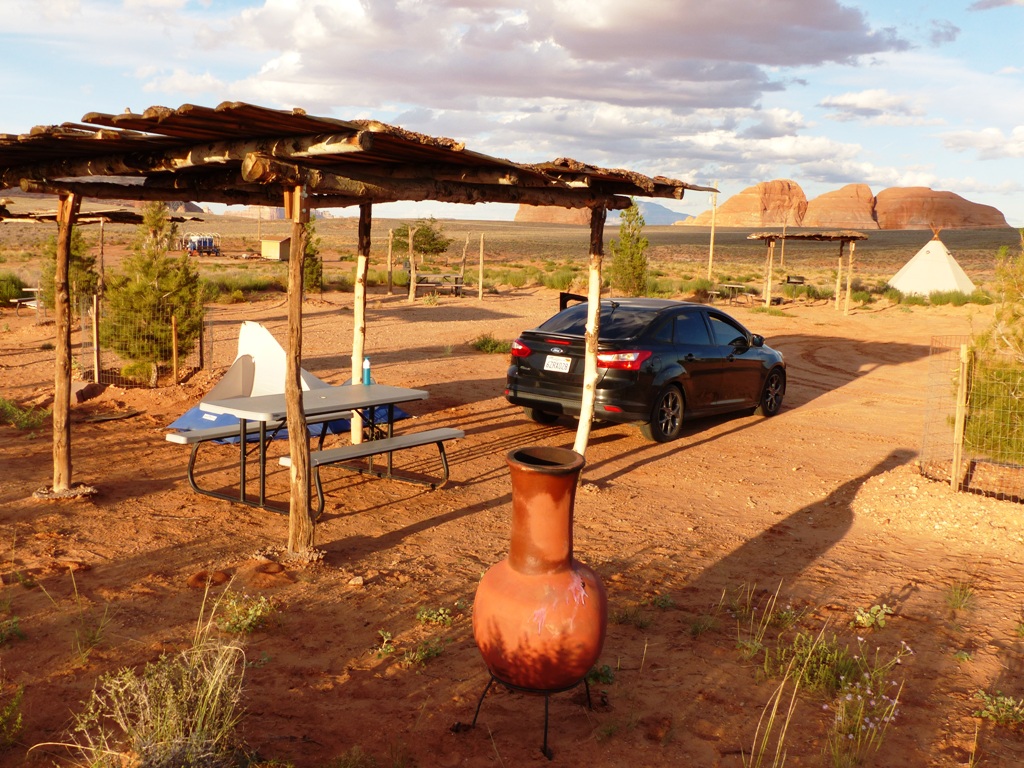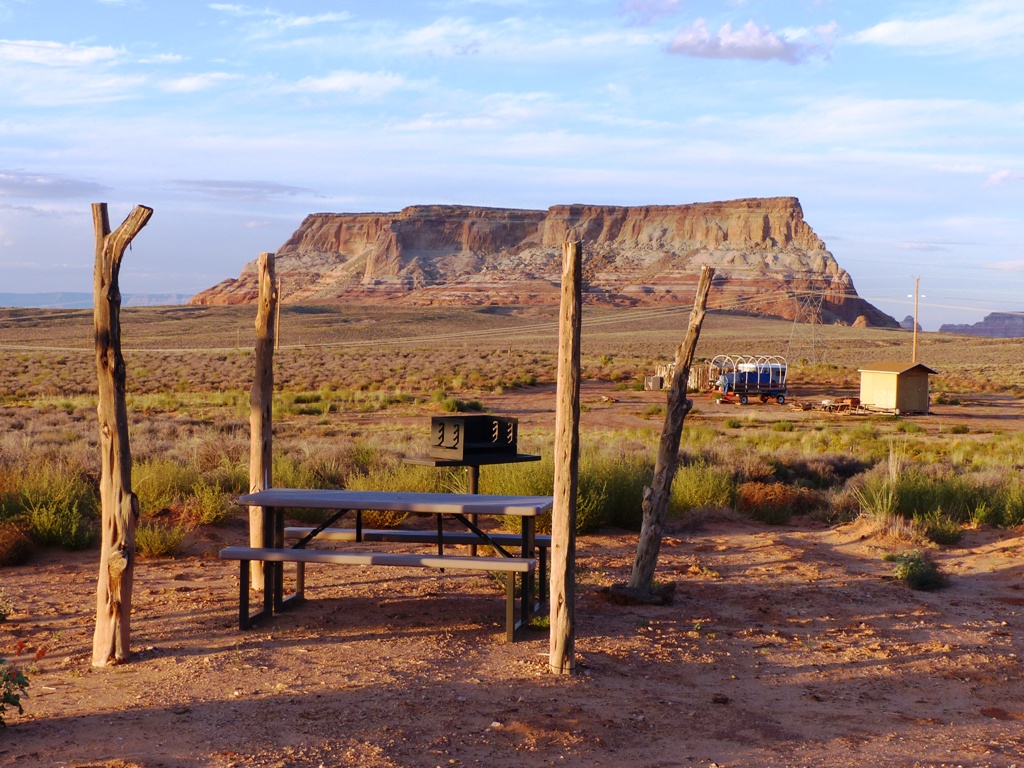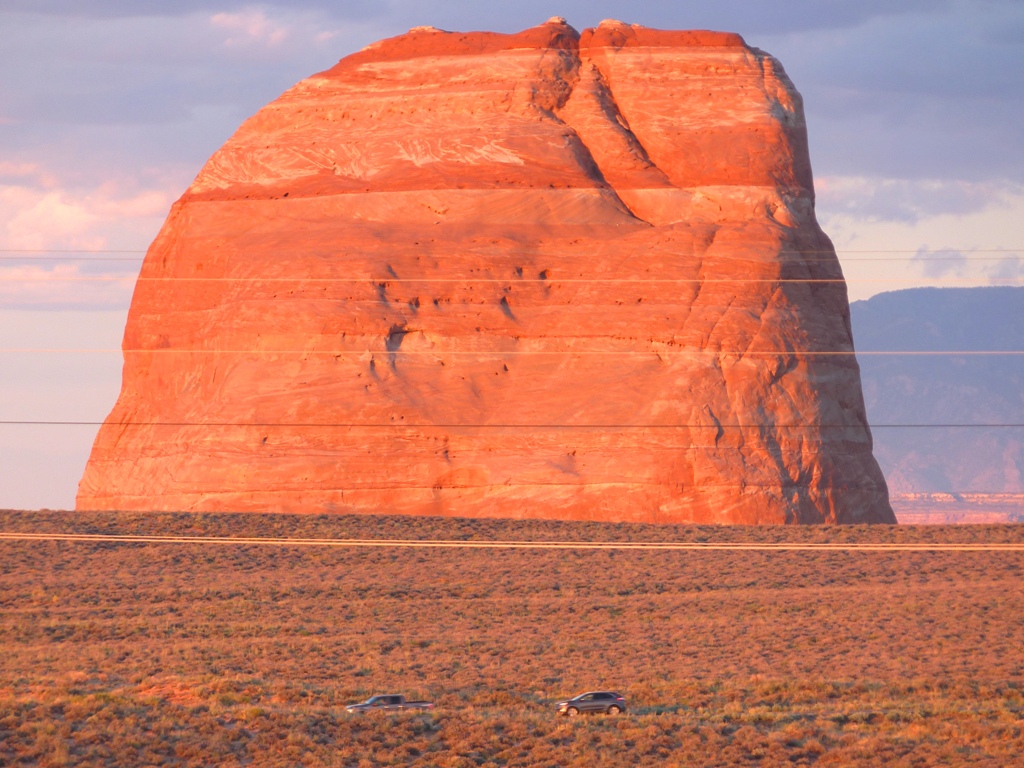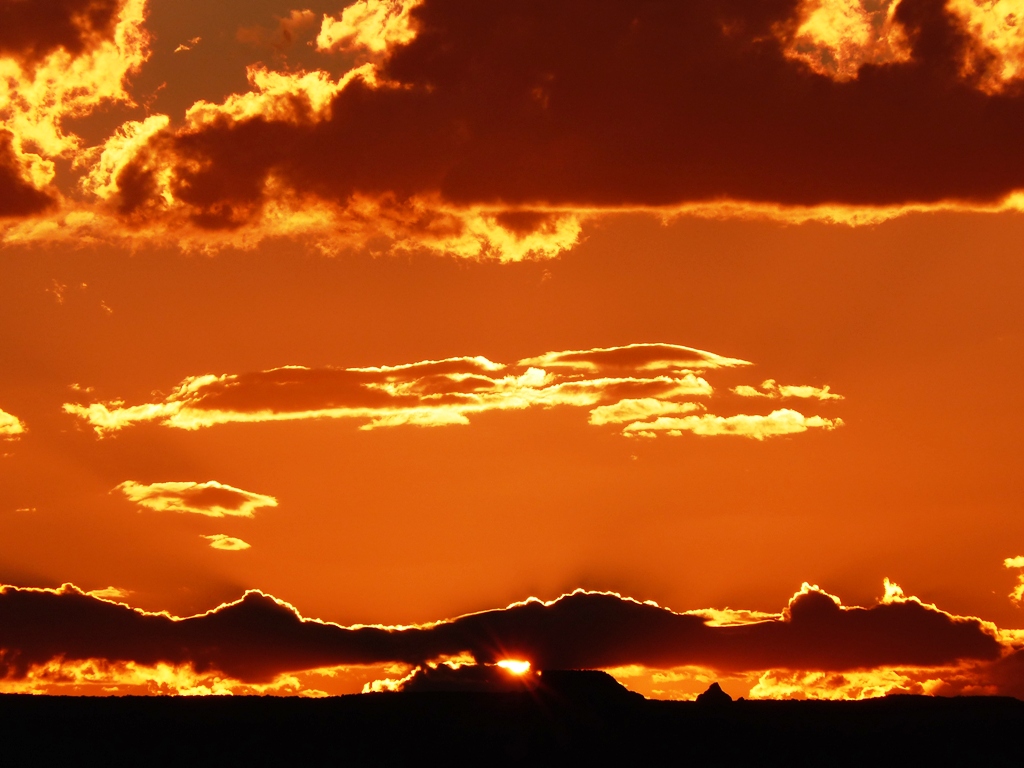 Once again, for the next two evenings, I sit in a lovely, temperate post-sunset camp - in Mesa Verde National Park. No internet this time, but STILL ZERO BUGS, and a few friendly deer and cottontails to distract me. The history of Mesa Verde is quite remarkable. Touring the ruins with an open mind, and a bit of imagination, gives a reasonable idea of what life lived there was like. It doesn't seem too bad - hard, yes, but life wasn't easy anywhere back then. Here you worked in the fields to raise corn, squash and beans; raised domestic turkeys and hunted with a bow and arrow for meat; ground corn, worked and played on the open rooftops with a view; traded for cotton with other tribes; made delicate pottery and flax ropes; built and re-built your cliff house; and relaxed and celebrated special occasions in the underground kiva. Could be much worse. The ruins are inscrutably silent on the reasons for their sudden abandonment. (It was nice to be there on sunny days - but the shadows are diabolical).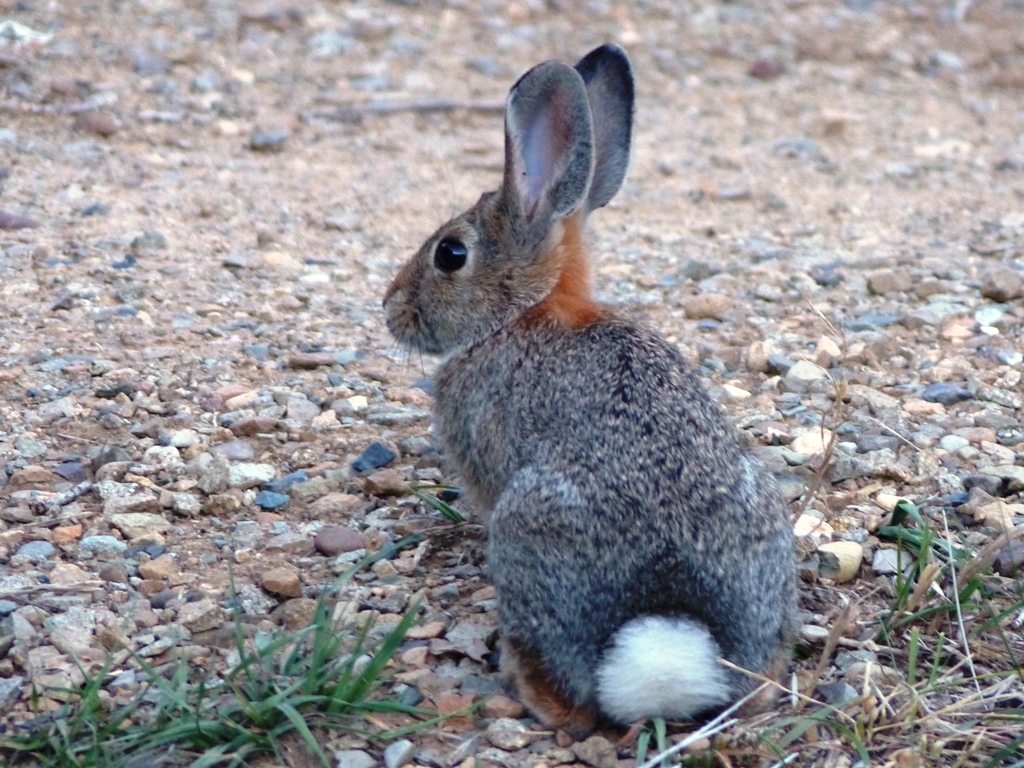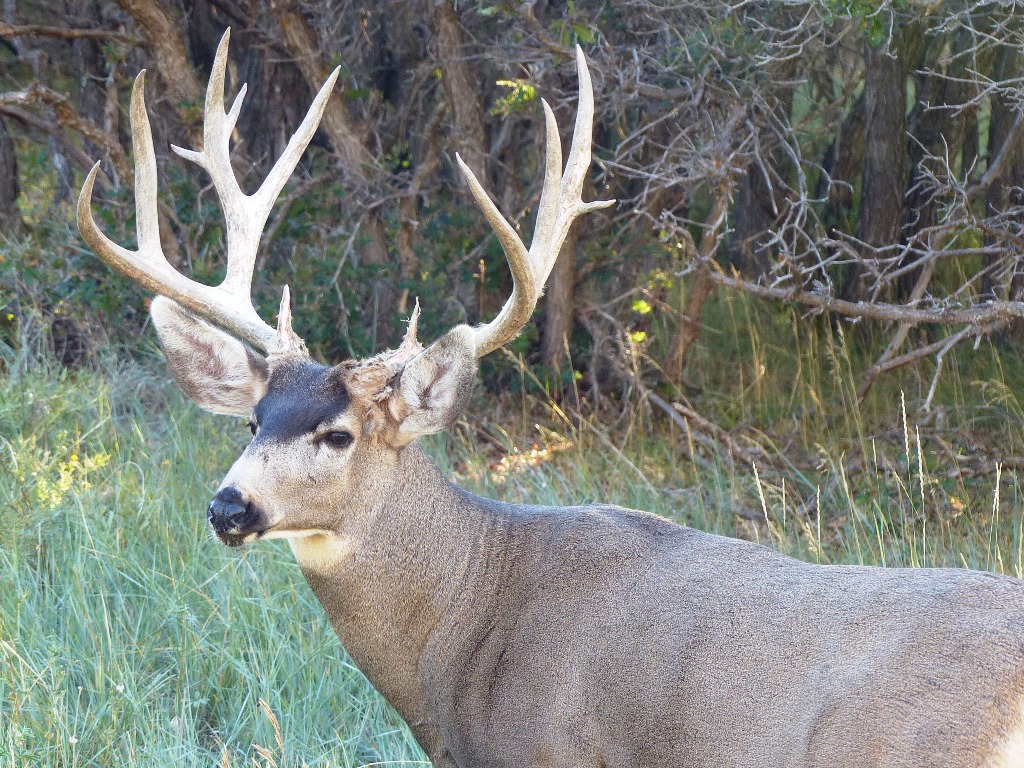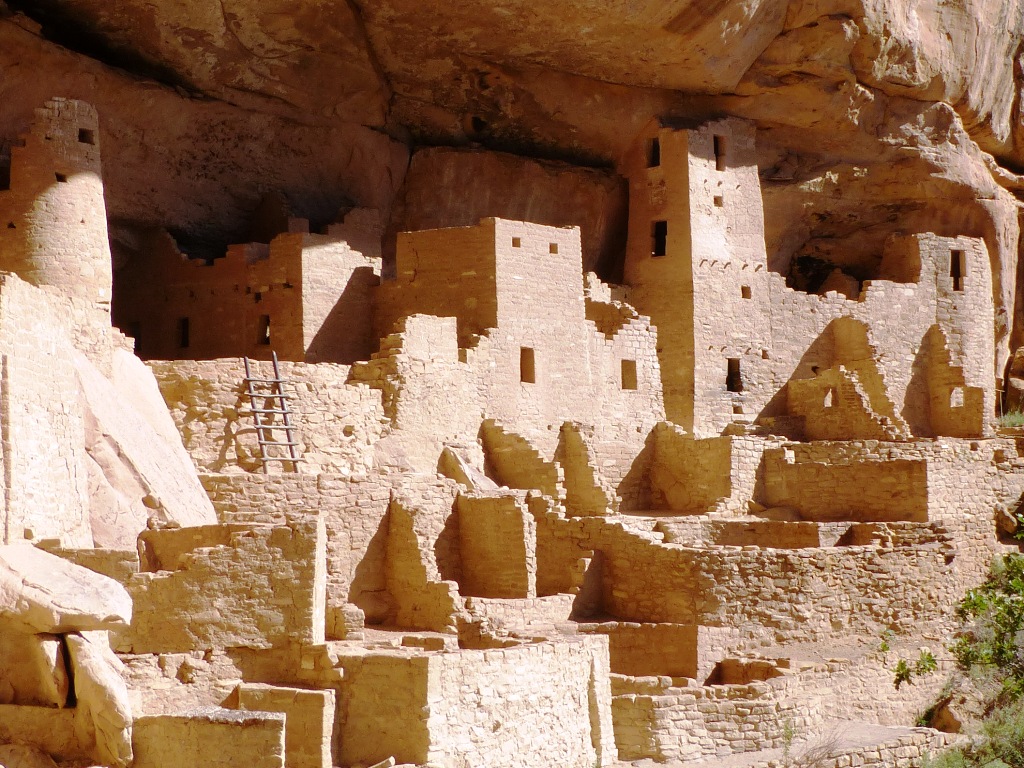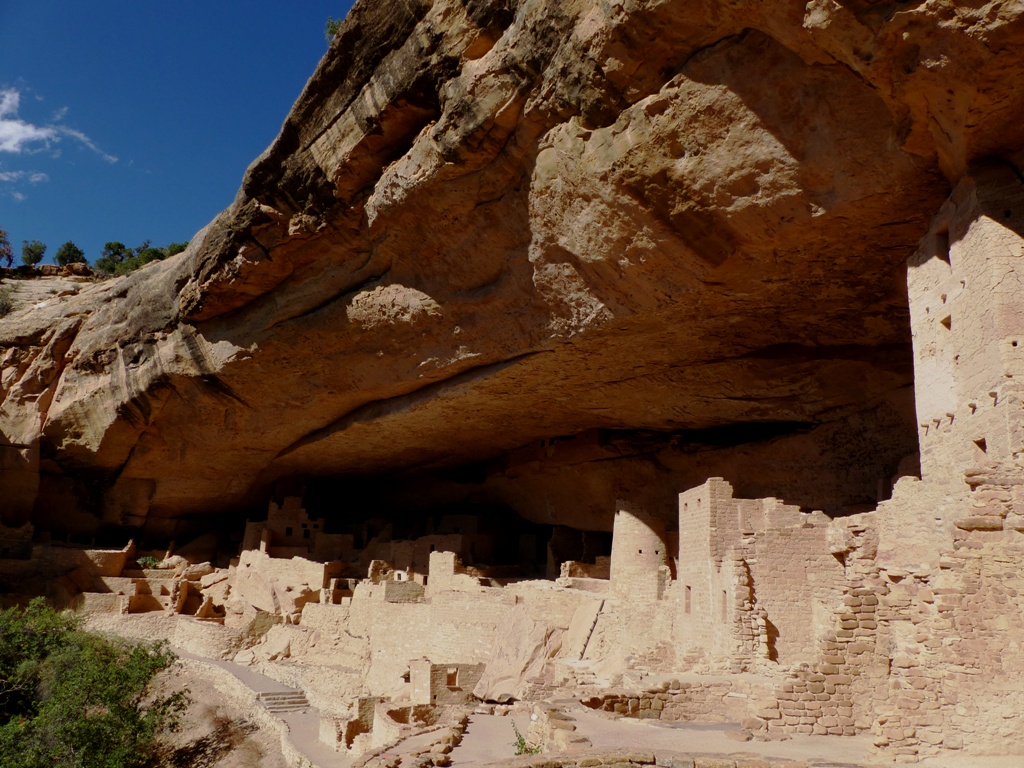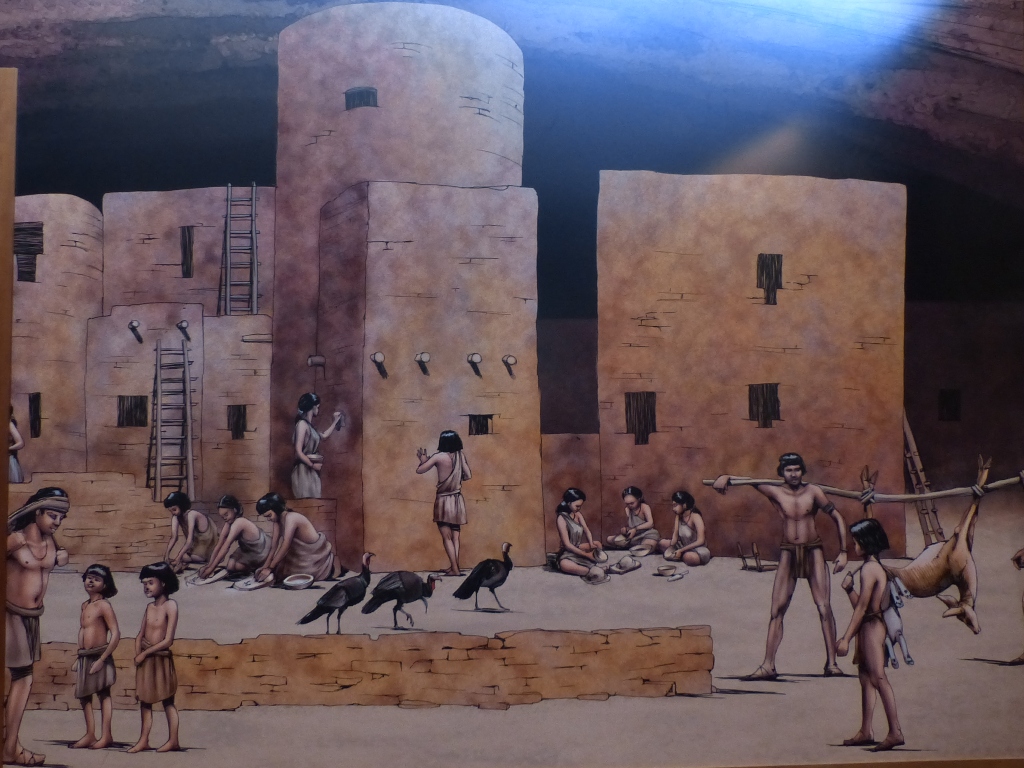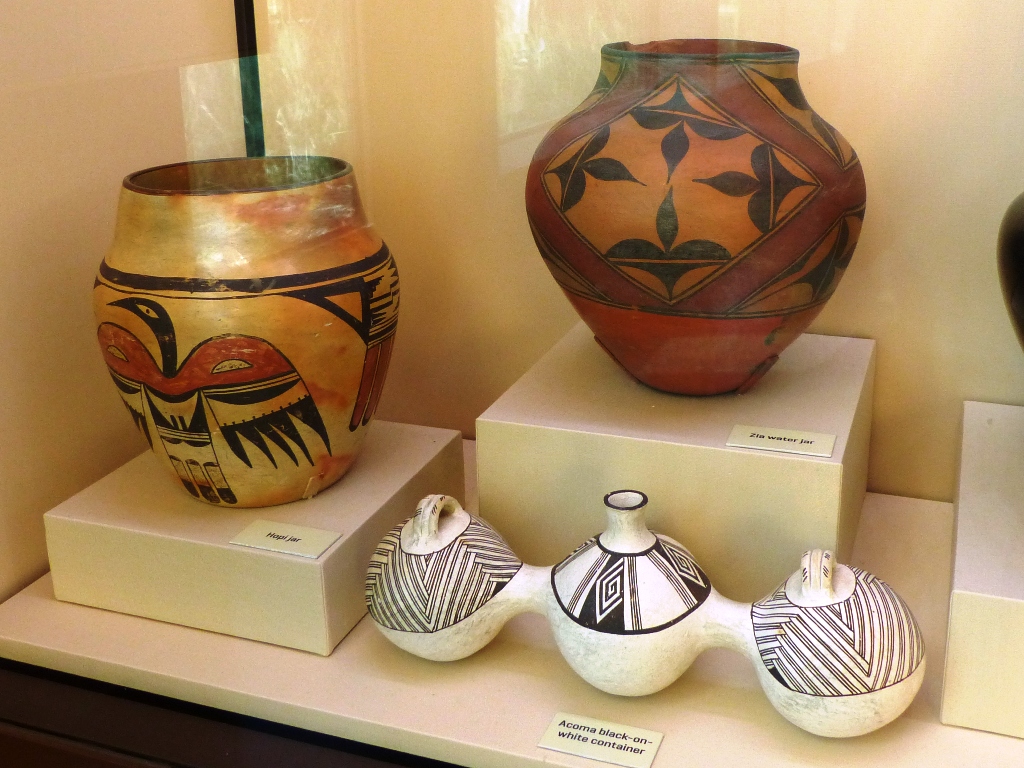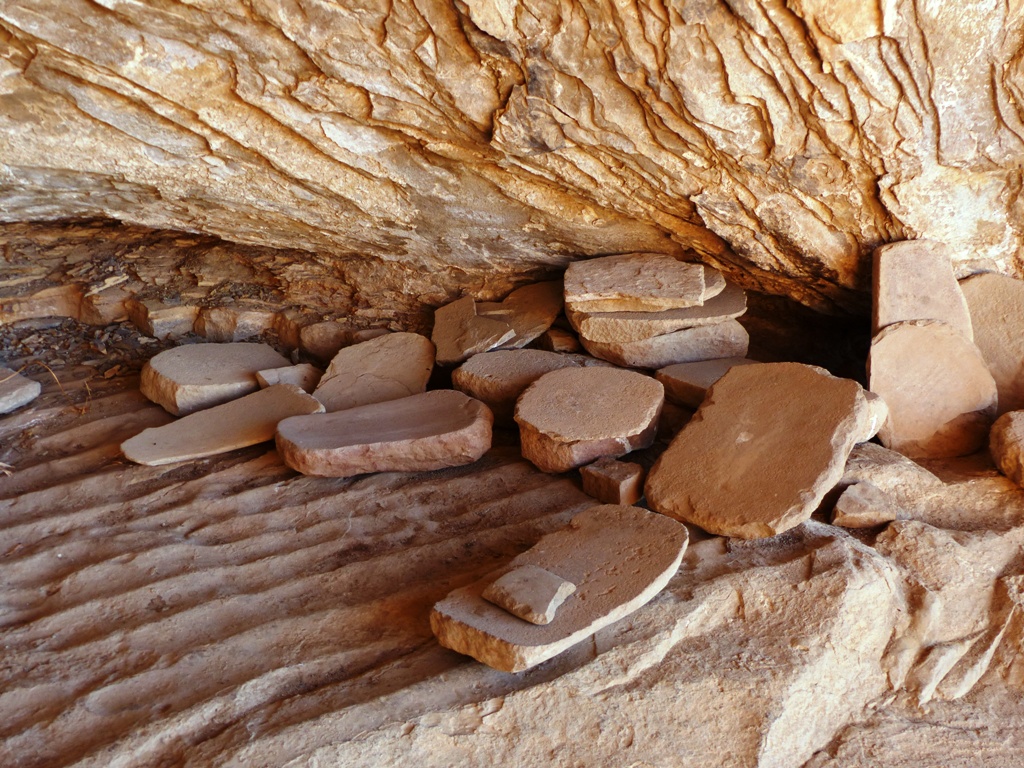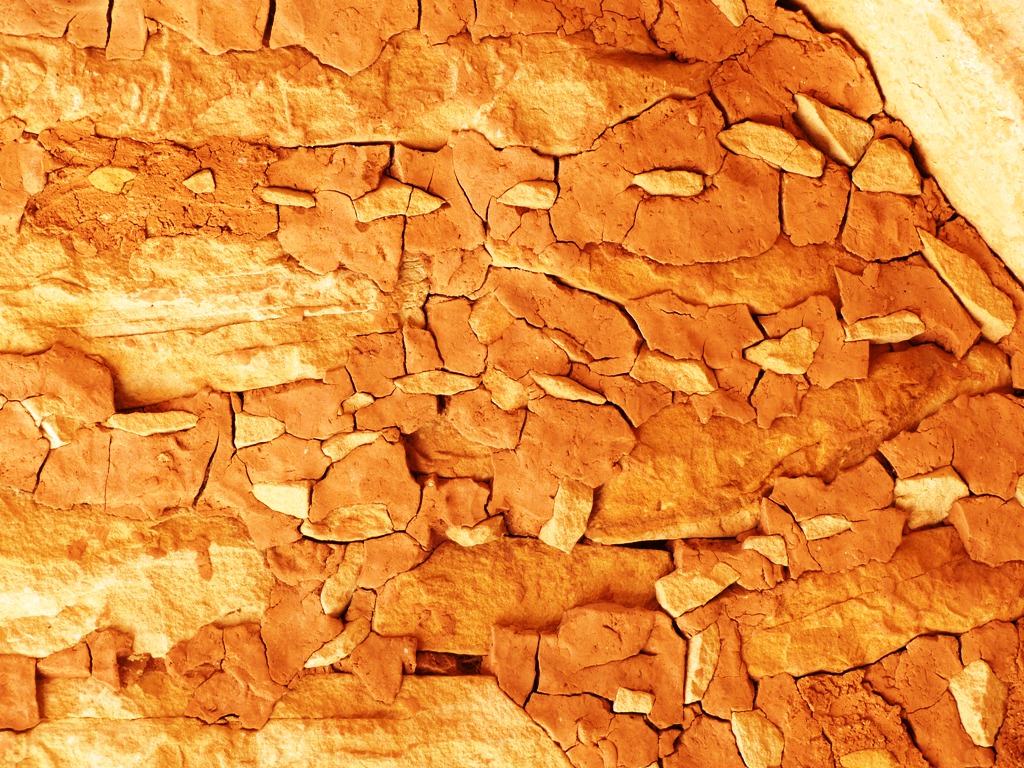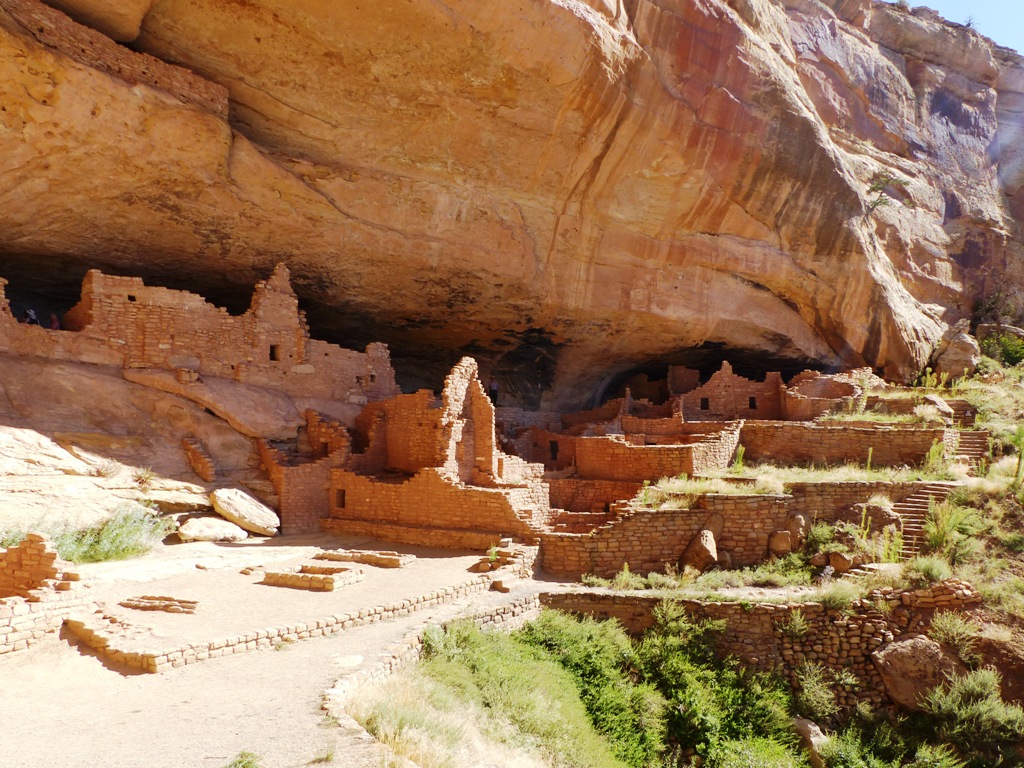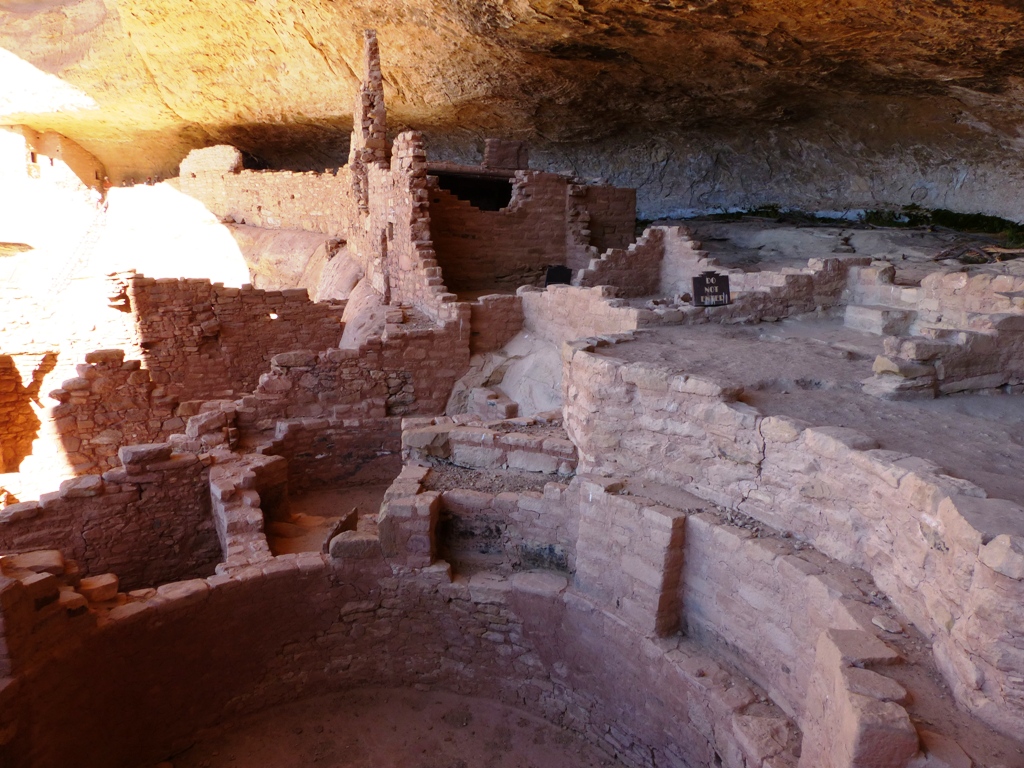 A morning's drive north brought me to Arches National Park, home to some strange geology - but delightfully strange, and strangely marvelous. The trail to Delicate Arch is as unique as the destination. There is plenty besides arches. The sun was eclipsed perfectly by Landscape Arch. Note the bride for scale in Double Arch.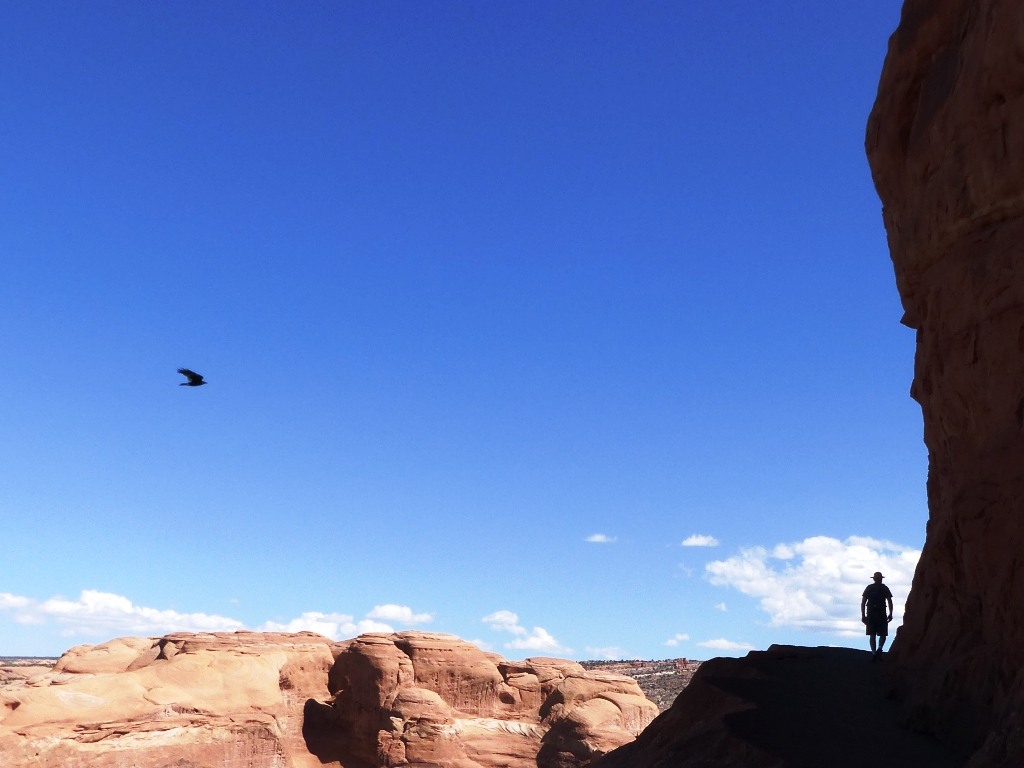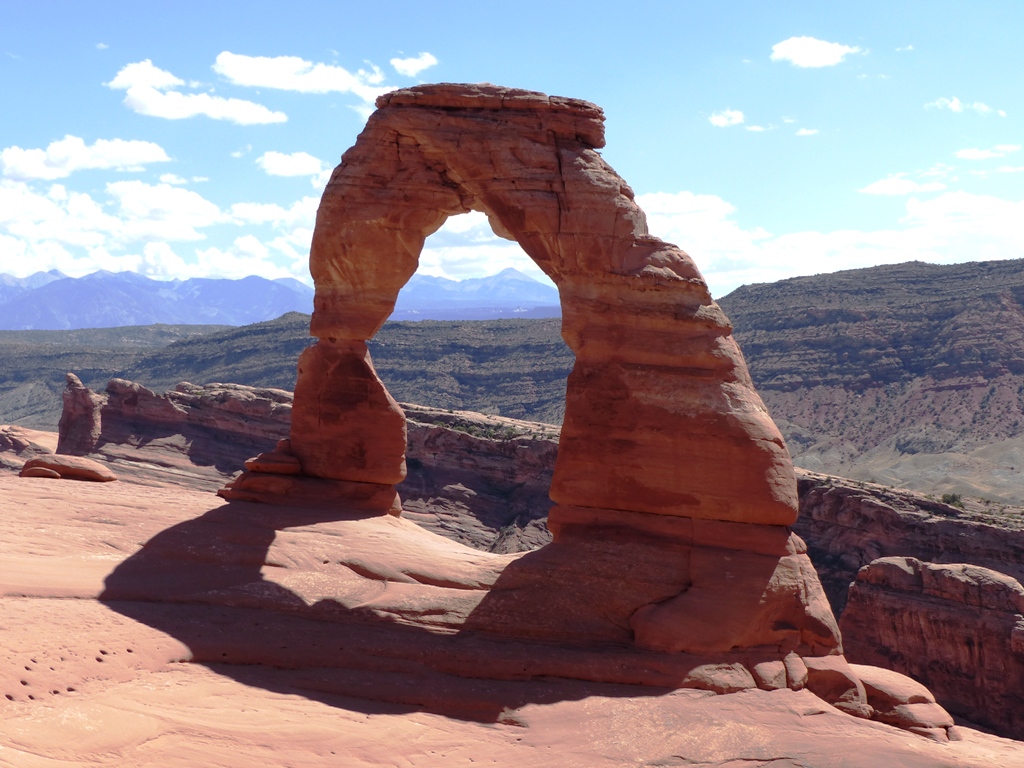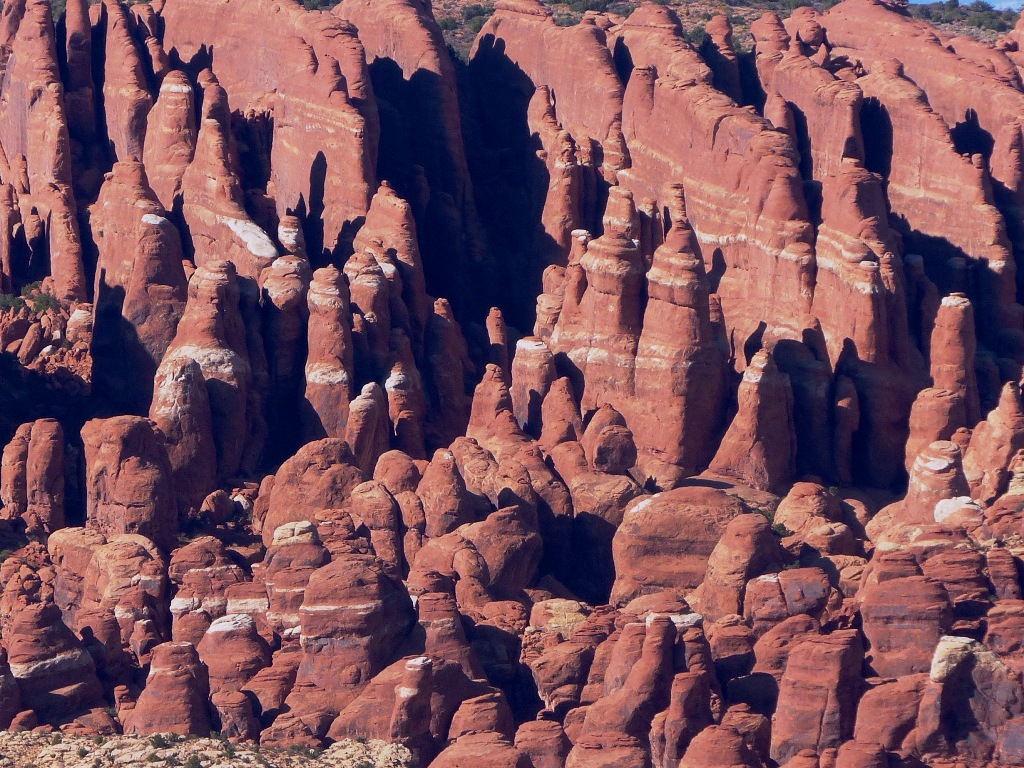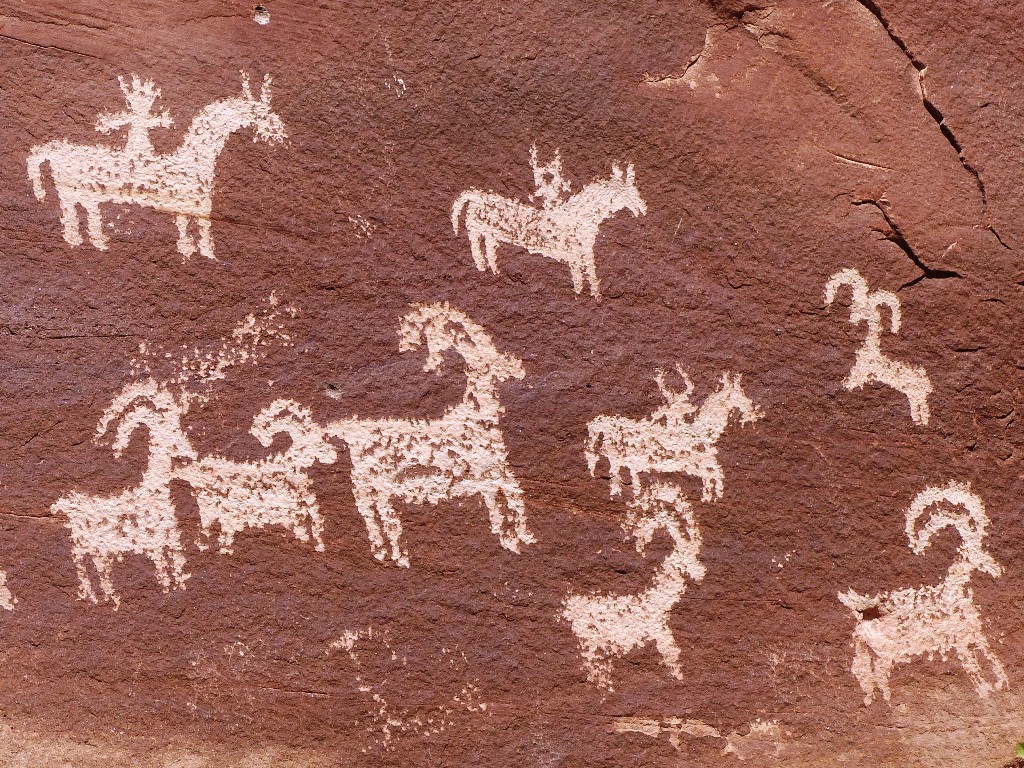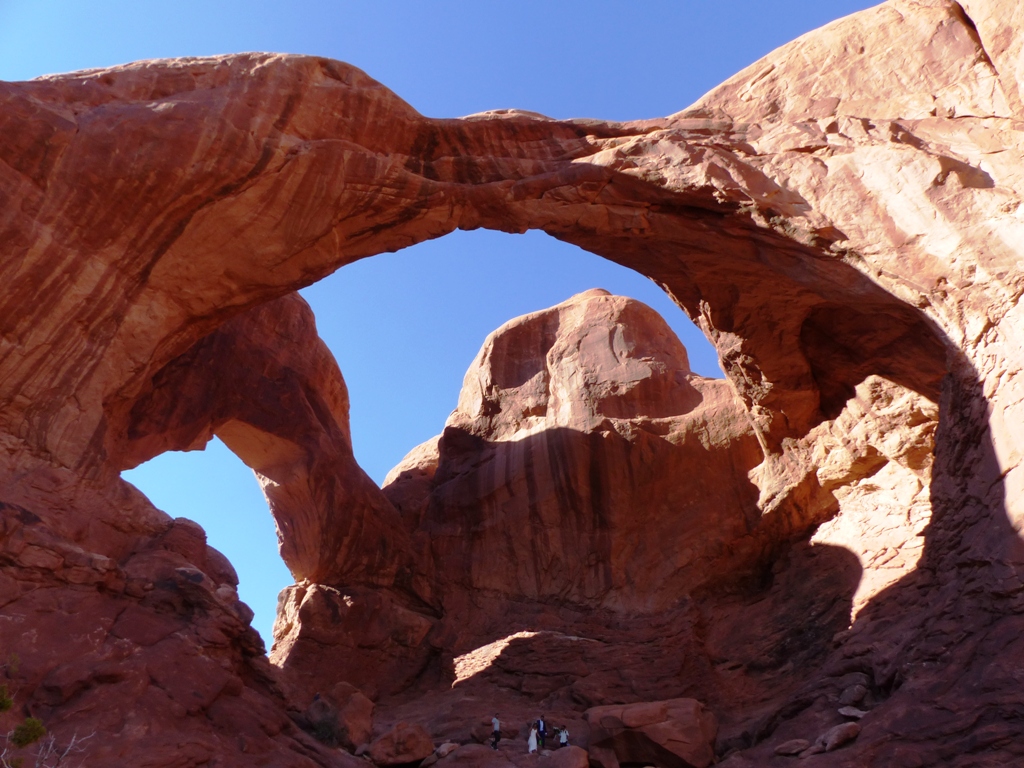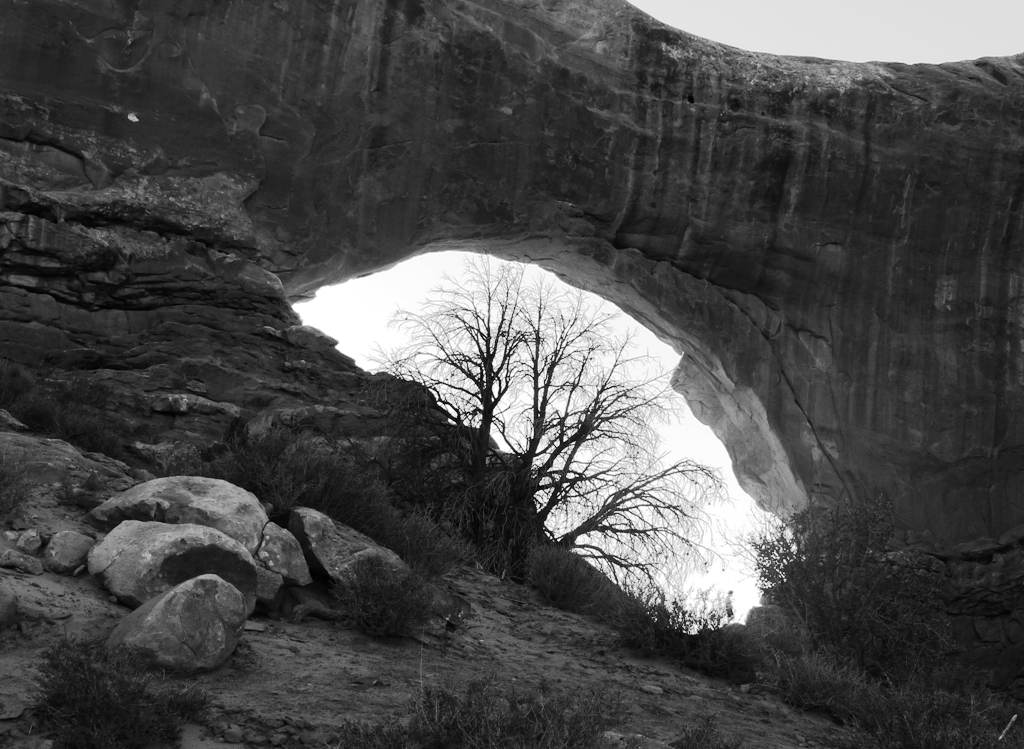 A big squally system came through, so I spent 2 nights in the Quality Inn in Beaver, Utah. Perfectly adequate. The mountains got hammered and flooded while I had a fabulous Mexican dinner at Maria's - go there for sure if you ever get close. Next stop - Bryce Canyon National Park. Bryce is the most strangely, sublimely, and subtlely strange of all these parks. The hoodoos and named for the Paiute word for "spooky", and in some places the formations are also called "Goblins". I find them sometimes silly, sometimes solemn, but never scary. The center of attention is the amphitheater between Sunrise and Sunset points - leading the shuttle driver to say that we were attending a "rock concert" of a whole different sort.

Day 1 - Started with a walk along the rim and a descent into Queen's Garden.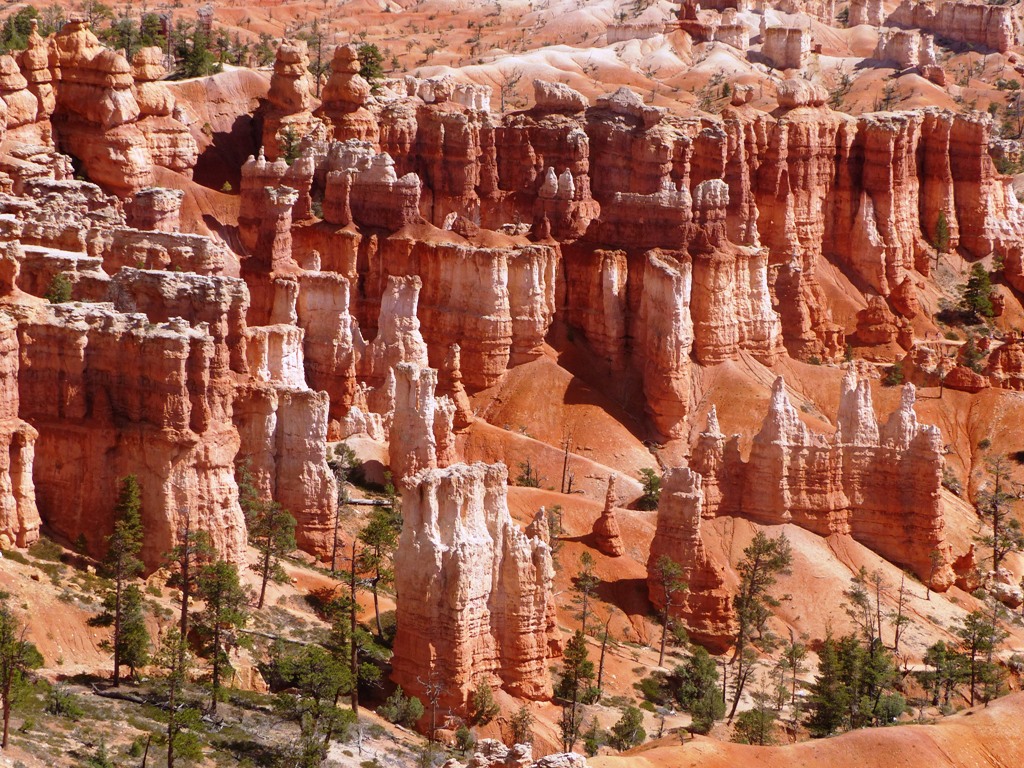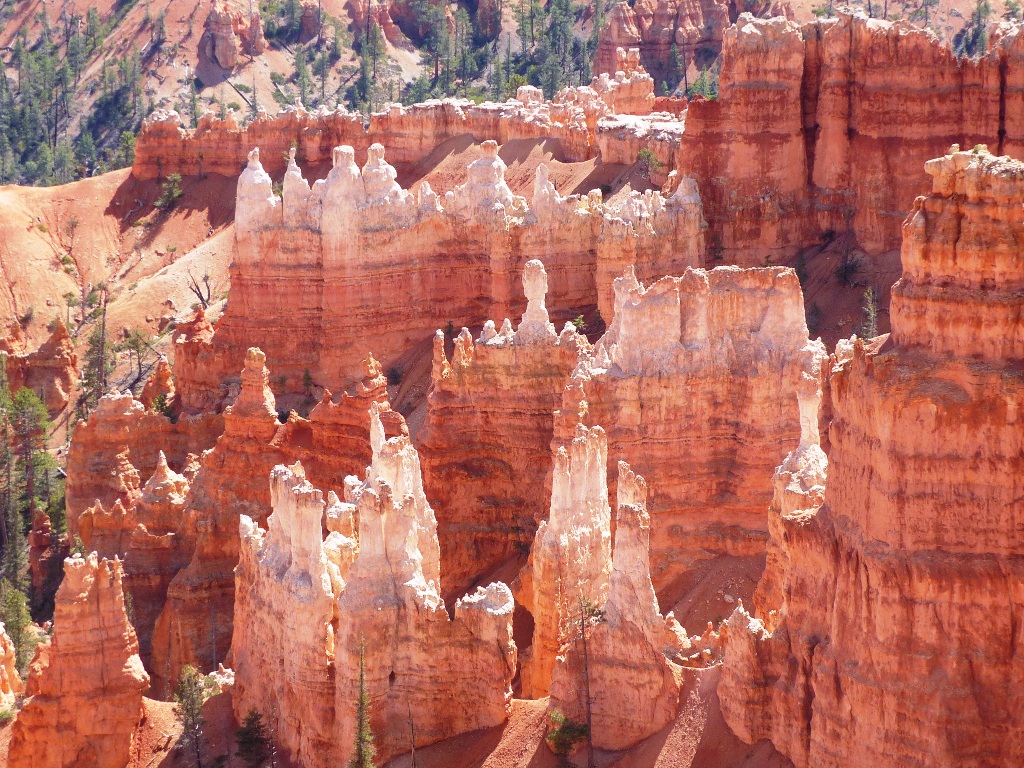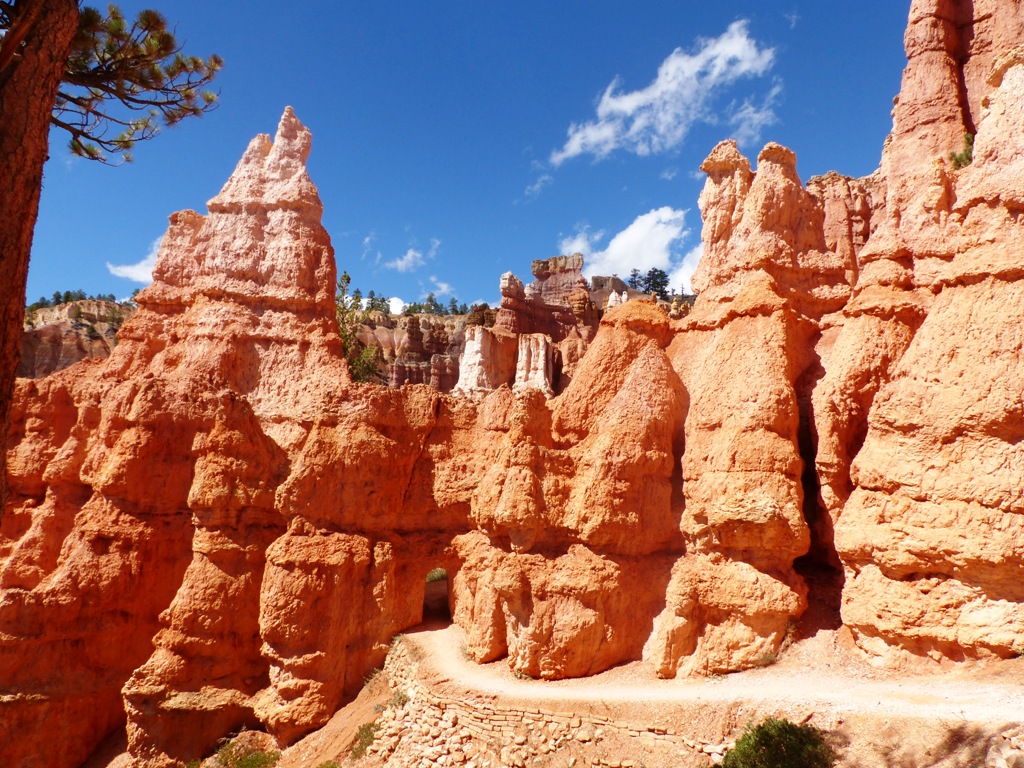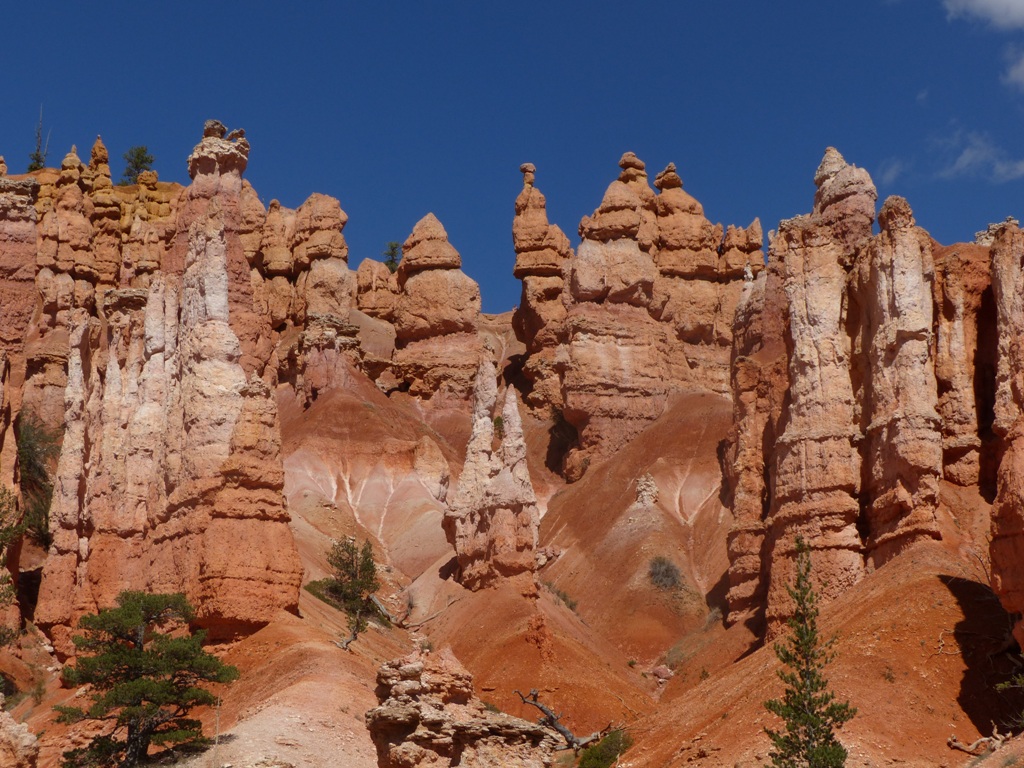 Then sunset from Sunrise Point - including neighboring trees in the twilight, the first in monochrome, the second in enhanced polychrome (looking downsun makes the pink be above the blue).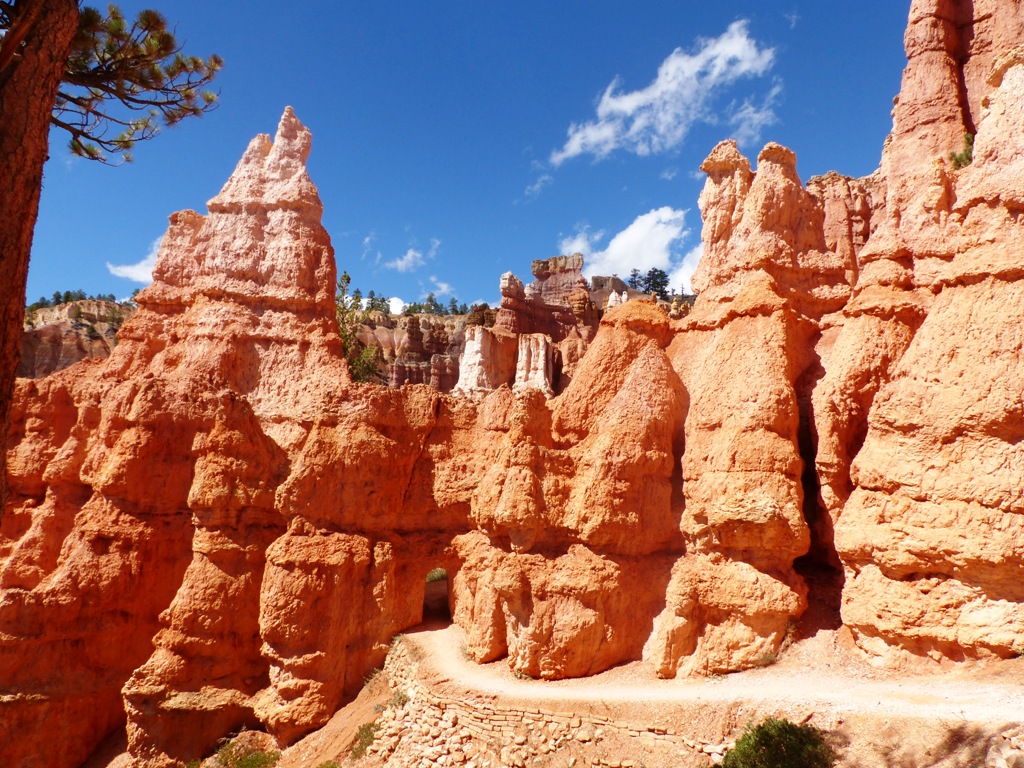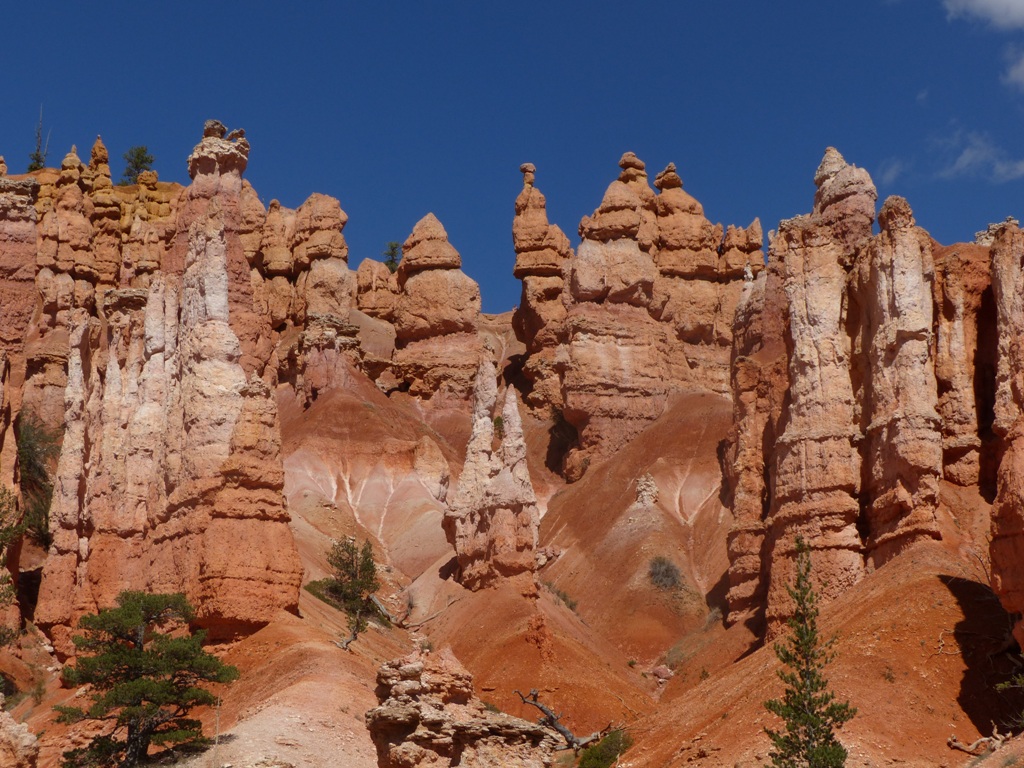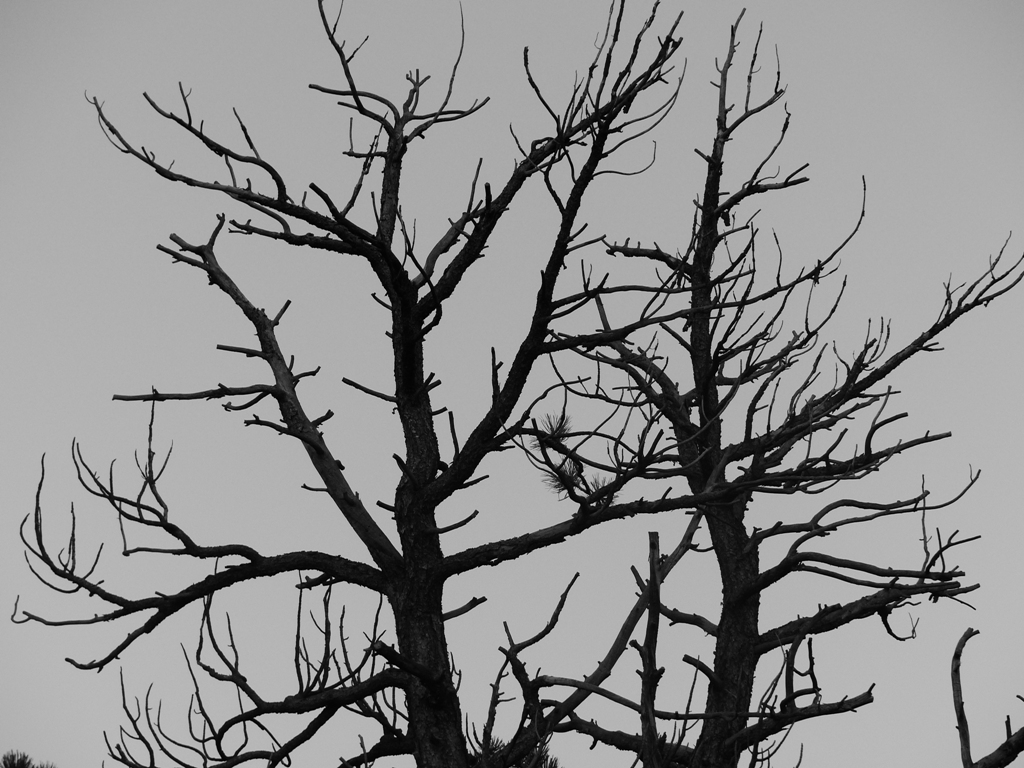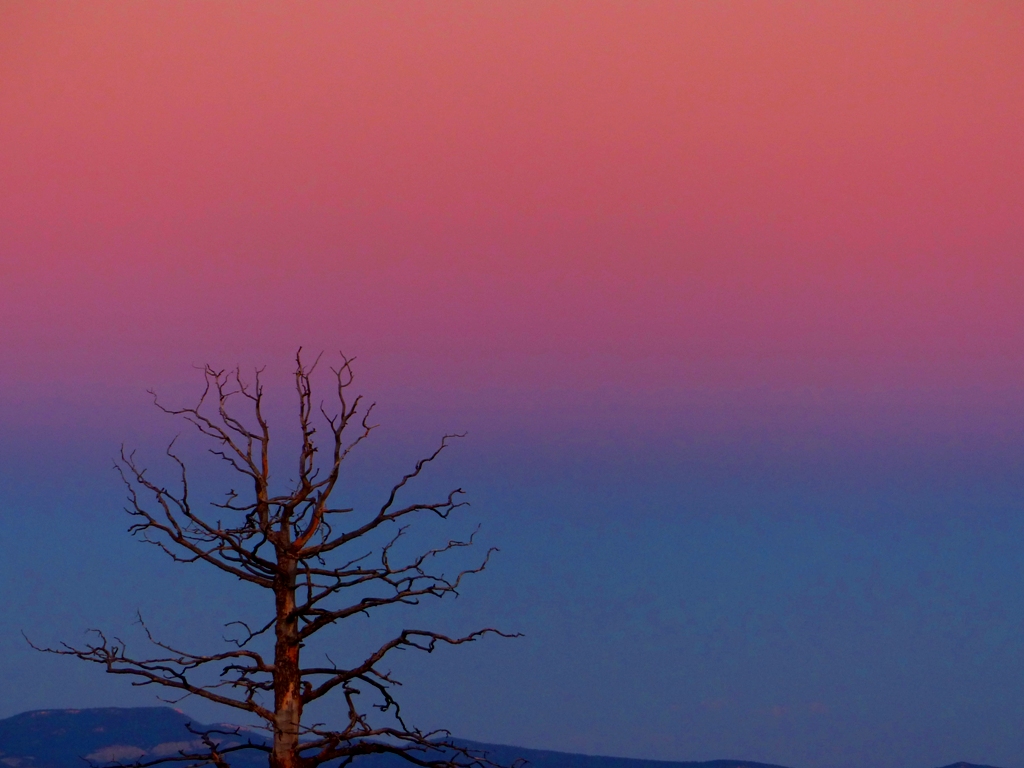 Day 2 included prairie dogs and a rim walk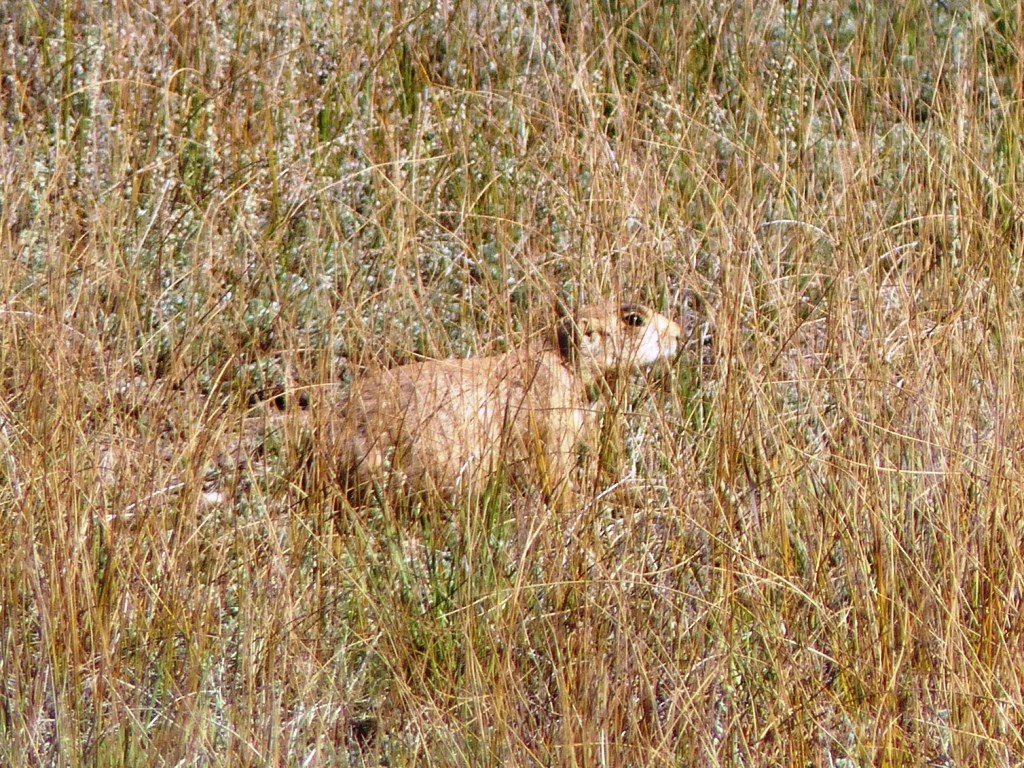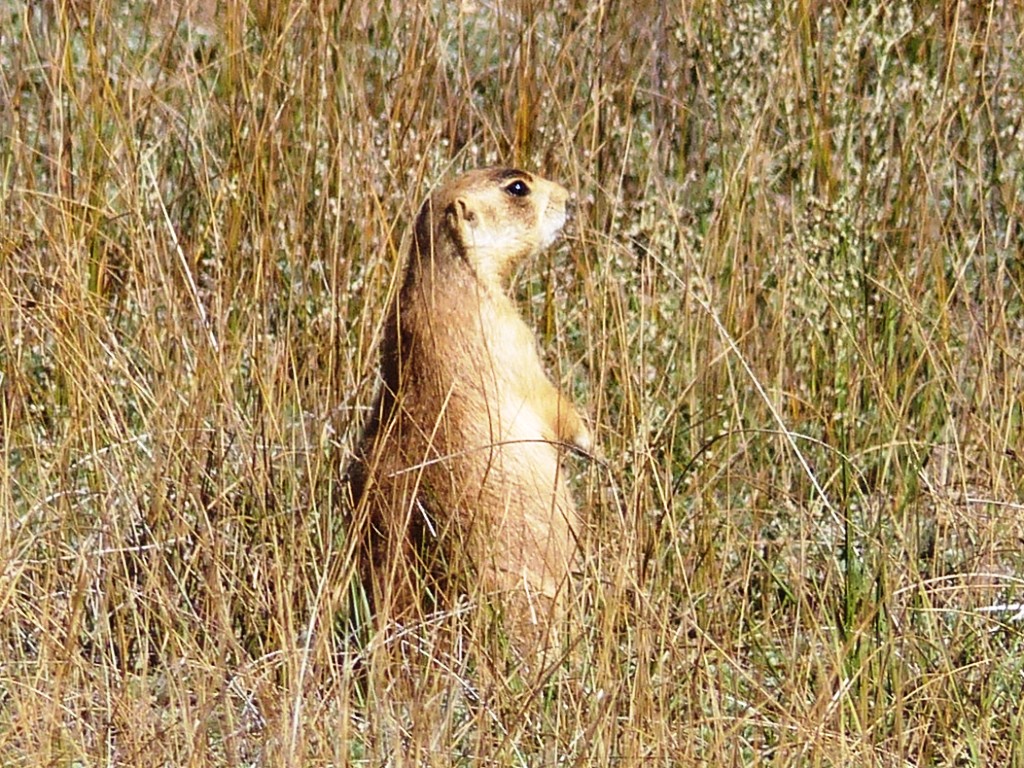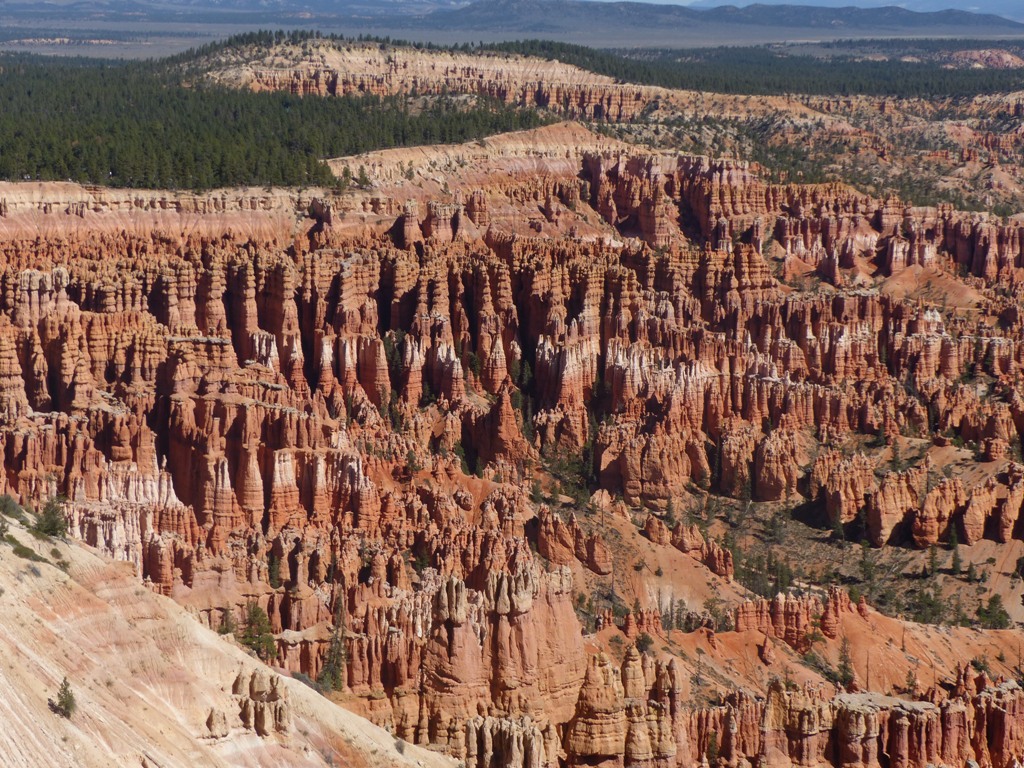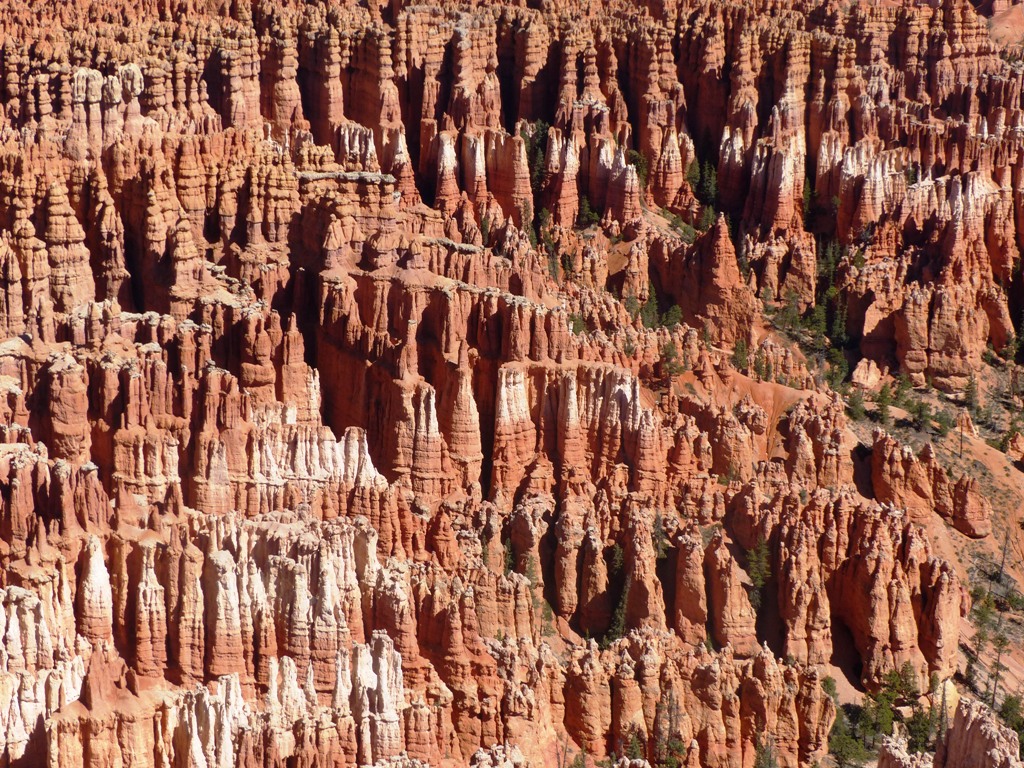 and sunset from Sunset Point