Oceanwide - M.V. Hondius

Falklands, South Georgia, Antarctic Peninsula

November 3 - December 29, 2019

This page is a way to save and share some images and words from my voyages on the M.V. Hondius. I was aboard for 5 voyages - first a 21 day voyage from Puerto Madryn to the Falklands, South Georgia and the Peninsula ending in Ushuaia - followed by 4 x 10 day voyages from Ushuaia to the Peninsula and back. This was my first contract with Oceanwide. For a look at previous voyages go to the main website www.jillandjohn.net.nz.


Sorry - I have made no effort to make this page work well on smaller screen sizes. You can, however, click on any image to get a larger version.

The trip started in Puerto Madryn, which is a rather rough outpost but also the centre for a whale and wildlife visits to the Valdez Peninsula. The city centre is along a very pleasant seaside promenade. Here are some views from there - the ship, a carousel, a monument to divers, map of the area, monument to women (which looks more like a monument to a man's dream of women to me - but then this is Argentina)

We had a free day when I joined the staff so we hired a car and made a visit to the nearby city of Trelew to see the famous paleological museum. The fossil of the largest dinosaur discovered so far was found near here - titanosaurus. This was a great opportunity to get to know my new workmates.


Hondius is a brand new ship and very comfortable. Normally the crew cabins are on the lower decks, but I was assigned to a cabin on deck 6 - just below the bridge. Lucky me. The food was very good - both in the crew mess and the dining room where I shared meals with the PAX. Tea, coffee and snacks were always available in the lounge. Let's have a look around.

My cabin from the bow deck, my top bunk, the rest of the cabin, the lounge, an upper deck passenger cabin (a few have balconies), a standard passenger cabin (some doubles, triples and quads), crew mess, dining room.


Our first port of call was the Falkland Islands. We made a morning landing on Caracass Island. The main attraction was the Gentoo penguin colony - where the eggs had just been laid. One of the reasons I was looking forward to this contract is that I have never cruised south in November/December and I wanted to see the differences between spring/early summer and the late summer/autumn that I have experienced before.

Gentoos with egg, PAX at Gentoo colony, Upland geese, Gentoo colony monochrome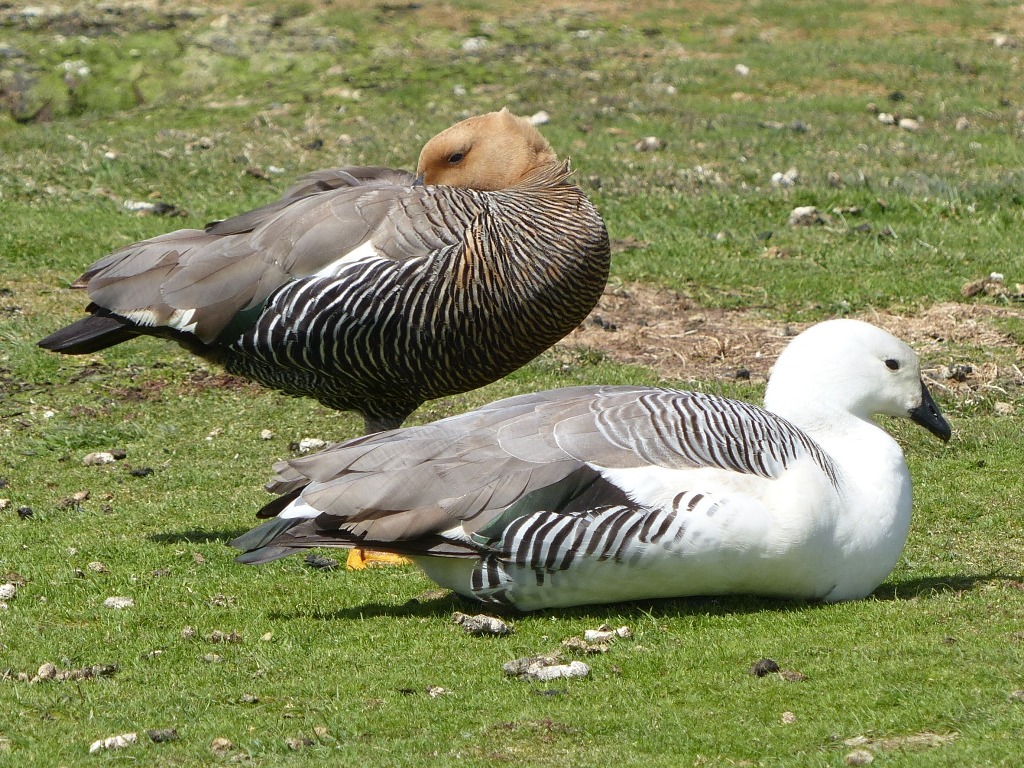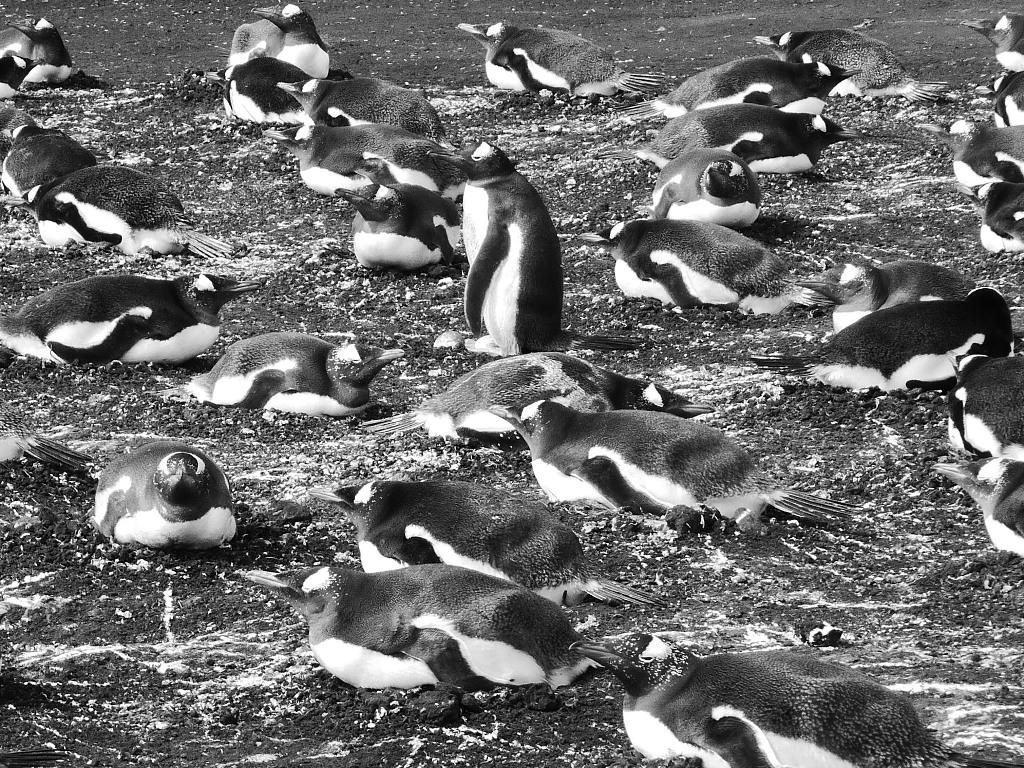 Our afternoon landing was blown out - so no albatross or Rockhopper penguin colonies on this visit - too bad. The next morning was at Stanley where I spent the whole time using the Wifi as the weather remained lousy, I had visited Stanley twice before, and the internet aboard was abysmal so I took this chance. Then it was 2 sea days to South Georgia.
The first landing was at the largest King Penguin colony on the island - St. Andrew's Bay - in superb conditions. The kings were as pretty and curious as ever - but I have sooooo many king penguin photos that I mostly just enjoyed being there. The beach was also full of elephant seals as their breeding season was just coming to a close. South Georgia is a wildlife paradise and this was a great introduction to the visit for both PAX and me.

Beach scene, colony overlook, kings prone, king chicks, the colony backlit in the morning sun





Elephant seal, fur seal bull snarl, mountain peak, penguin moult and poo, king closeups
To rear a king penguin chick takes the parents more than one year. At the end of that time the chicks are bigger than their parents and are covered by brown down. Under the down is the adult plumage waiting to be revealed. For more see: https://en.wikipedia.org/wiki/King_penguin. Because of the early season there were many more chicks at this stage than I had ever seen before. At our next landing, Salisbury Plain, I was lucky to be able to approach the colony quite closely.
King penguin chicks approaching fledging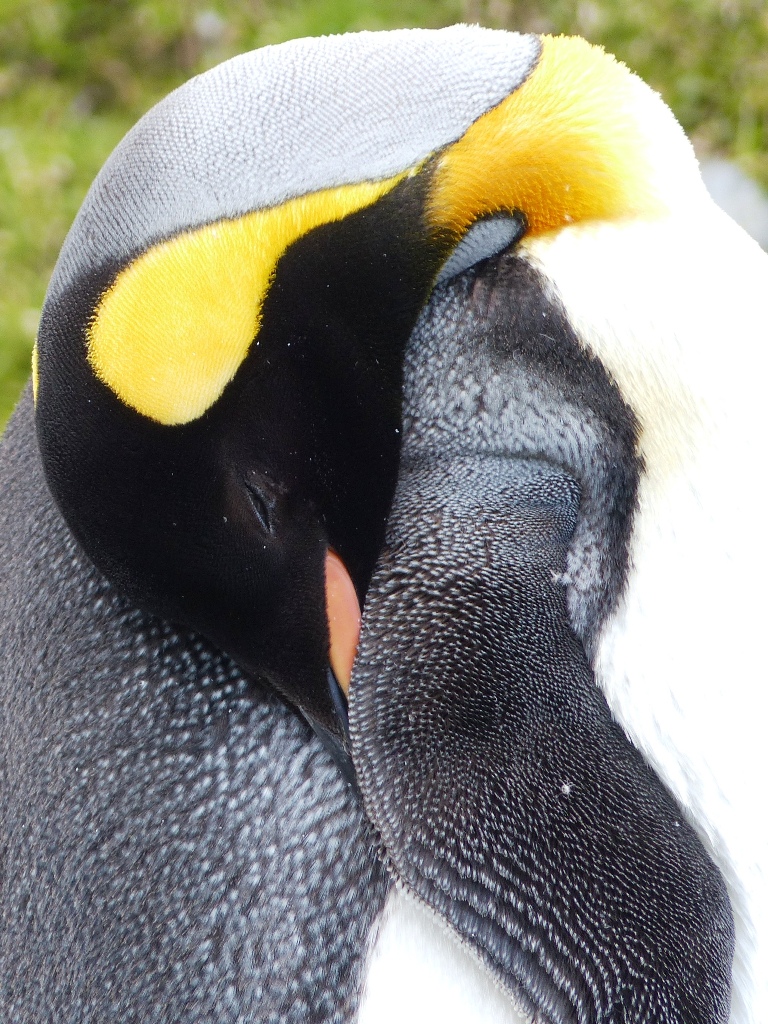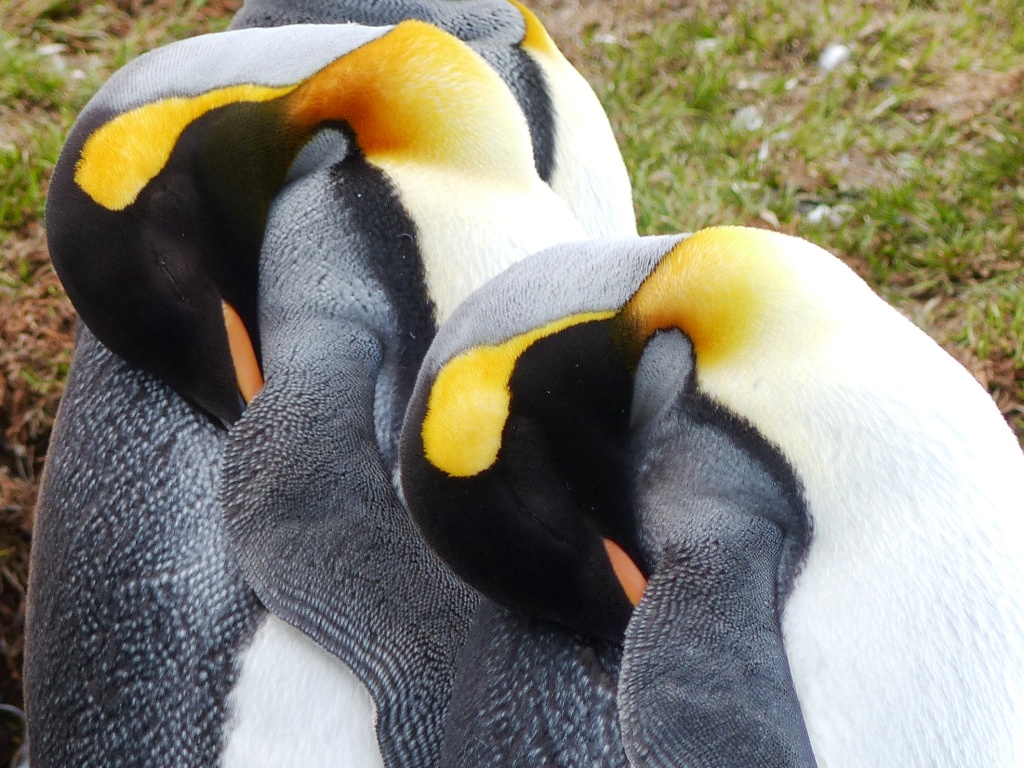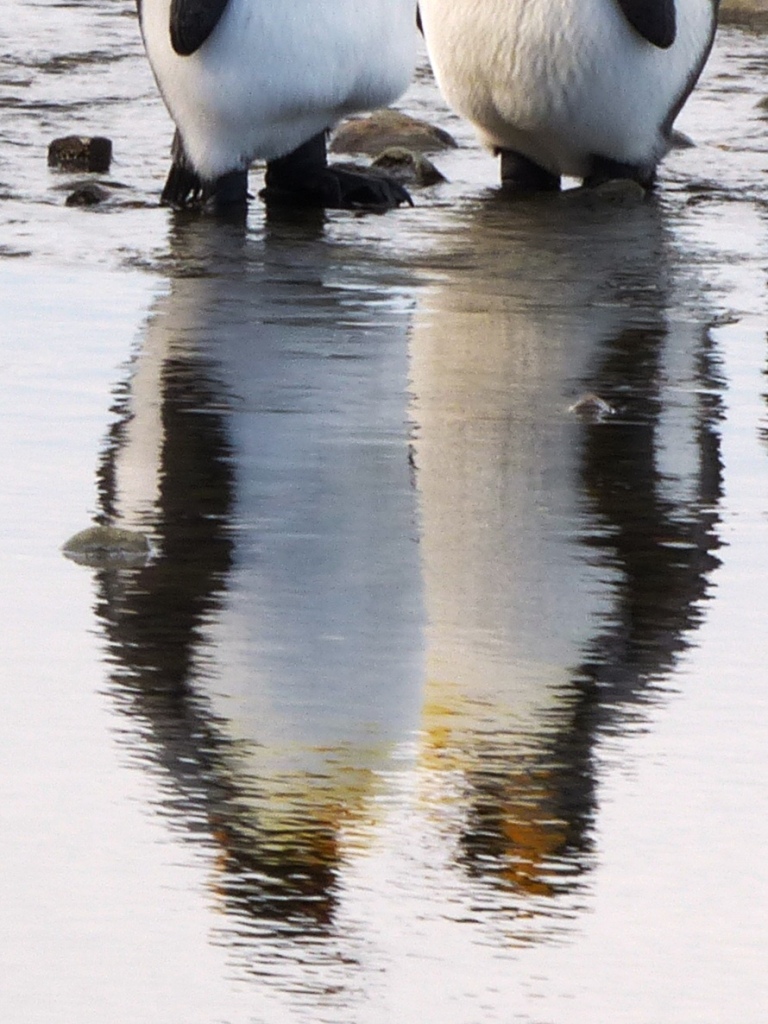 Our next port of call was at Gold Harbour. This is my favourite landing on Soouth Georgia because of the superb setting and the abundance of wildlife along the beach. When I was here in February the beach was alive with fur seal pups. At this earlier time the fur seals had not yet arrived and the beach was dominated by elephant seals. Their pups were mostly all weaned and the mating was drawing to a close. Nonetheless we saw several ferocious battles between the beachmasters. The "weaners" were everywhere - seeming a bit lost and looking at you with big brown eyes as if to say "Are you my mother?" and wanting a cuddle. The weather this time was truly sub-Antarctic - zero degrees C and sideways sleet. So it was cold and not the most conducive to photo taking - but still and exceptional wildlife experience.

On our last day in South Georgia we made a landing at Prion Island - home to a colony of nesting Wandering Albatross - the largest of the albatross family. The wind was strong and the older chicks were testing their wings and getting ready to try that crazy thing called flying. At this beach the fur seal bulls had taken over and were busy getting the best possible positions for the arrival of the females
Wanderer chicks, fur seal bulls (love the whiskers)


With that we weighed the anchor and headed east toward Elephant Island and the Peninsula. Along the way we had a nice encounter with a pod of killer whales. Point Wild on Elephant Island is where 22 of Shackleton's men from Endurance waited while he made the perilous journey to South Georgia to effect a rescue. They were there for 4 months on a tiny spit of land under their overturned boats. It is named for Frank Wild - Shackleton's deputy who stayed behind with the men - but it it truly a wild place.
Killer whale, Elephant Island glacier monochrome, Point Wild


From Point Wild we continued overnight and reached the Antarctic Peninsula - for the first of 5 consecutive voyages to this area as the reminder of my contract was for "classic" 10 day trips from Ushuaia. In past years I have arranged the photos and stories from this region chronologically and geographically - so this time I have decided to go with subject matter.

Adelie Penguins

Adelie are probably my favourite of all the penguins. They are delightful is a kind of energetic scatterbrained sort of way.

Adelie penguins in various poses - including with an egg


Chinstrap Penguins
The "Chinnies" are almost as endearing as the Adelies and the most photogenic of the brushtail (non crested) penguins.
For a chorus of Chinnies click here:Chinstrap chorus

Gentoo Penguins
Gentoo penguins are the most common and, to me, the least charismatic - but nonetheless fun to be around. Note the industrious collection of pebbles for nest building.

Flying Birds
Kelp gulls nesting, closeup, in-flight, light mantled sooty albatross, wandering albatross (longest wingspan of any bird), black-browed albatross, Antarctic shag, Cape (or painted) petrel, south polar skua (various)


Whales

Commercial whaling decimated most species, but the Humpbacks especially are bouncing back. These were all taken from the ship as various pods fed and played around us.

For a short video of the Humpbacks click here: Humpbacks
We had more killer whales this time than previous seasons
Seals
In this area are found Elephant, Fur, Crabeater, Weddell and the brutally majestic Leopard
Landscape
The Peninsula is a rugged and scenic place




Icescape
Ice comes in all sizes, shapes and hues.




On one passage through the Lemaire Channel a glacier filled side valley lit up with a strong and mysterious blue glow. No one could explain it.


Cloudscape
We had suberb weather with many more sunny days than in previous seasons - but the clouds are often striking



Sunsets
Days are long and sunsets stretch out as the sun slides sideways below the horizon. These are from a magical evening in the Lemaire Channel




And from the Drake Passage


Art and Detail

A potpourri of me playing with my camera or cropping images drastically or mucking about in photo editing or something.

Ship's wake in the sunset, close-up of leopard seal chin, Deception Island ruin with dirt on snow slope background monochrome, dirt on snow slope, Skua eye and plumage, humpback underwater, albatross silhouette (heavy on the contrast), sunset cloulds reflected in the gentle swell, lurid version of sunset in the Lemaire Channel (heavy on the photo editing), lichen on rocks (aka Antarctic rain forest), sea spider in a tank in the biology lab in Vernadsky Base, Weddell seal detail, Blue eye of Blue eyed shag



Weather

Mostly we were lucky but did have occasional rough weather crossing the Drake Passage - like 50+ knot winds and large swell. The bow spray drenched the Bridge windows sometimes. After one storm the ship was covered in ice for days.

For a video see: Bow Wave


Other People's Photos
For some voyages we had a professional photo guide (Neill Drake) aboard. He sometimes ran photo competitions for the PAX. Here are some of the entries that I liked best, plus some from Neill. No photo credits sorry - except the last 4 are from Neill.
Yours Truly
I never takes selfies - but occasionally get snapped by others in a way worth sharing.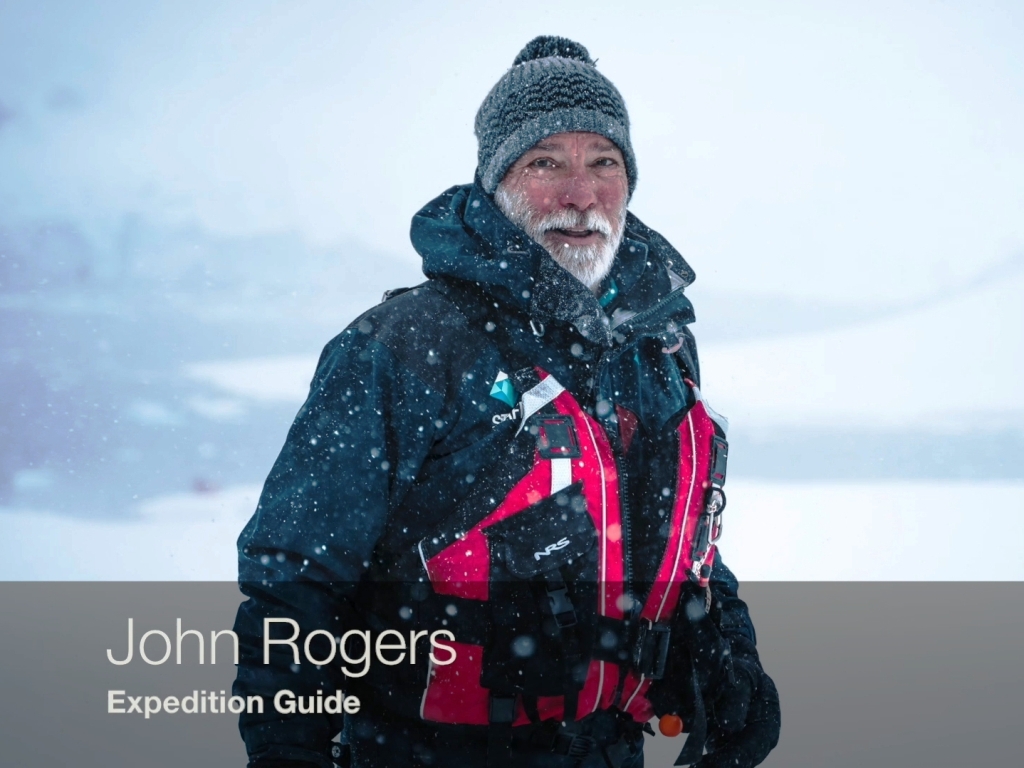 This was a season of firsts for me. First time south in the early season - November-December; first time with Oceanwide and on Hondius; first time driving a zodiac with passengers; first visits to a number of sites including St. Andrews Bay, Elsehul, Orne Harbour, Orne Islands, Useful Island, Hydrurga Rocks, Vernadsky station, and Great Wall station; first time meeting and working with a great set of expert, interesting, friendly, helpful, playful, cheeky and good looking (you know who you are!) people.
As ever, the best part of the job was being part of the Expedition Team - Here is the team from the first voyage: