Travels in Morocco – September 13 – 27, 2007
Salaam alaykum (Greetings – peace upon you)
I ended up with work assignments in Seville, Spain for September 8-12 and San Jose, California for September 29-October 2. It seemed crazy to return home in between, so I was forced to take a holiday. I chose to spend 2 weeks in Morocco. This is a brief account of that time, mostly as captions for the photos, with a few travellers' tales thrown in (sorry, the photos, like life, are sometimes a bit out of focus and not always straight up-and-down).
Click on any photo for a larger view.
Let me first say that I think Moroccans get a bad rap. I found them invariably warm, welcoming and good spirited among themselves and with visitors. Even in the depths of the souks of Fez, I was treated with openness and respect. I found none of the aggression and mistrust that you (like me) might have expected from the reputation (which isn't to say that they didn't try to sell me stuff).
I did some research, found the email address of a recommended guide, contacted him, worked out an itinerary, made some flight and accommodation bookings, sent a few deposits, and, voila, all ready to go (isn't the internet wonderful).
I happened to land in Marrakech at sunset. This was significant as the holy month of Ramadan had begun a few days earlier. During Ramadan all followers of Islam fast from the first call to prayer (about 4:30am) until sunset. Fasting means no food or drink; even water is forbidden.
Djemaa el-Fna (the square at the heart of the Marrakech Medina (old city)) is a busy place at sunset. There are food stalls at the center and shops and restaurants all around.
My riad (private house turned into a B&B) was very comfortable with many excellent sitting areas around the central courtyards, and breakfast on the rooftop terrace.
Marrakech has a number of palaces; all have the most beautiful zellij (tiled mosaics), plaster and cedar woodwork.
There is also the Medersa (theological college) founded in the 14th century and restored in 1564 (and no doubt once or twice since then).
Then there is the ruined royal palace complete with storks' nests.
And of course the souks (markets).
On the third morning I was met at the riad by the guide, Rachid Ouargaga, with whom I had arranged a 9 day tour through the Atlas Mountains, into the desert, and on to the imperial cities of the north. He, and the driver Hassan, both spoke excellent English, the car was a new and comfortable Land Cruiser, and the services they provided were exemplary throughout. (Rachid's email address is rachid.ouargaga@gmail.com

)
We spent the next 3 days travelling mostly west across and along the High Atlas mountains. We went "offroading" to visit Berber villages in the river valleys, saw various Kasbahs (Moroccan castle or fortified palace), and enjoyed nice evenings and breakfasts on the hotel terraces. The landscape is harsh except when it abruptly changes in the spring fed river valleys which are lush.
In the Todra gorges I decided to take the recommended dayhike to stretch my legs and explore a bit. The walk climbed slowly along a dry creekbed through rough canyon country. I heard the calls from the kid goats and spotted them on the hillside. There were a few circling birds of prey and the occasional watchful squirrel. Then a dog started barking. I took little notice, only hoping that it wasn't going to come out and savage me. Far from it, it just watched me pass from its shady spot. But I should have known that dogs don't bark in the desert for no reason, and I was soon joined by 2 young Berber girls. They asked me to come to their maison. I said no, but walked with them up the path, and we soon came to their house – actually their tent. There are nomadic people in many parts of Morocco. I had stumbled onto one family (or they had decided that setting up house on a popular day-hike track was a good idea). In any case, when their mother saw me she immediately called me over and we started a stuttering conversation. She asked me if I wanted to take some photos, which of course I did. I tried out all my Arabic on them (it is a nice buzz to you use words just learned in another language and see them be understood!) and with hand waving and various languages, we had a good chat.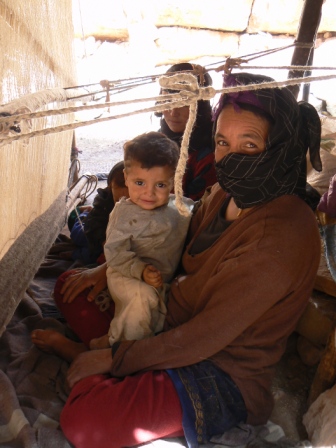 The three day ride ended at Erg Chebbi (erg is Arabic for sanddune). I took a camel ride to camp out in the dunes for sunset and sunrise (the weather wasn't great – cloudy haze with some rain both days), which was a hoot.
We went "offroading" in a complete loop around the dunes into the flat stony desert, and a seasonal lake that attracted a nice variety of water birds.
The trip north to Fez took 2 days, going across the High and Mid Atlas ranges. We started with a visit to the local market in Rissani, a desert town, where the date market was especially busy.
It was apple season in the mountains.
We ended up at the Hotel Batha, another nice courtyard, and a base for the exploration of Fez. Old Fez is 80 hectares (200 acres) of Medina founded when the Arabs brought Islam and conquered the Berbers in about 700 AD. The 6000 streets are twisty alleyways draped across a hillside. It is quite beyond words. The main crafts are ceramics, leatherwork and (of course) carpets, but there are weavers, and carpenters, and antique shops, and blacksmiths, and you name it. The streets are thronged, mostly with locals. It is busy with carts and mules and donkeys pushing their way through. I found it fascinating, and was able to visit many shops and many shopkeepers while "just looking". The things for sale truly are beautiful, and I was tempted, but I resisted. It occurred to me that those of you who like to shop as holiday recreation should visit Fez. I think that you will have met your match.
My day tour with a local guide included the workshops and showrooms – first ceramics and mosaics.
Then the tanneries, around which are clustered the leather shops. You ascend through 4 floors of showrooms to reach the viewing terraces at the top.
Fez does have ancient monuments too.
The next stop was the Roman ruins of Volubilis, with minor detours along the way for the ruins of the royal stables in Meknes and the hillside town of Moulay Idriss.
Volubilis was thriving from the time of Christ until about 300 AD. It has been unearthed and restored (mostly by the French) since the early 1900s. It has some remarkably well preserved mosaic floors. I was the only guest at the (supposedly) 4 star Volubilis Inn, so I had the terrace, the swimming pool, and the restaurant to myself.
And now, here I am in the Rif mountain town of Chefchaoen, where Rachid and Hassan dropped me yesterday. Chefchaoen is quite remarkable. Sometime in the 1930s Jewish immigrants decided that painting the town blue was a good idea, and the locals took it to heart. Now, all the buildings, and some of the streets, are painted with every possible shade of blue. The effect is quite astounding (and impossible to capture on pixels - I have learned a lot about white balance). The colors are washed together to blend and fade. The whole effect is quite sublime.
Now, here I sit in the courtyard of the Casa Hassan and wave hello as I put this document together.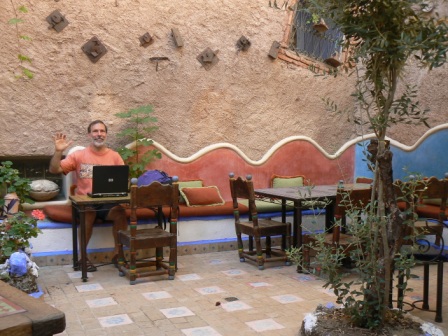 Here follow a few thoughts and transcribed notes

Morocco is one of the most alive places I have ever been. Where ever there were people, they were busy, and they mostly looked to be having fun. Everyone seems to know everyone, and they all seem to be enjoying themselves. They are engaging, and many times I was stopped as I passed and invited to sit down for a chat. A morning or evening stroll is a nice way to get out with the locals, and great entertainment. There is always lots going on. Because their lifestyles, customs, fashions, and architecture are so different from mine, there is a lot of pleasure and interest in people watching.

And, of course they don't drink alcohol. It does make you wonder.

But, the people of Morocco are, as a rule, not fond of having their photo taken. Normally, when asked, they say no. Children are the exception and will occasionally jump in front of the lens and then ask for money. Possibly this stems from the stricture of Islam that says that no images of people or animals are allowed. Or maybe they just get tired getting snapped and ending up on other peoples web pages (and fair enough too). As a traveller and photographer this is both a curse and a blessing. A curse because the people are photogenic with character-filled faces, and a blessing because you can feel free to look and learn and have more ammunition against the constant urge to grab the camera, which can be the enemy of experience.

Ramadan is more strict than I had remembered. No food or water all day. This makes the pleasant nature of the people, and the stamina of my guide and driver, all the more amazing.

In the souks I was often called to as "Ali Baba" because of the grey beard. Nicknames are common. So, when I took the camel ride I couldn't stop myself singing over and over in my head the old Bonzo Dog ditty "Ali Baba's Camel". Those of you who know it sing along with me now ("

It's horrible to walk for miles with sand between your toes")

While touring the bedrooms for wives and concubines in the Kasbahs, Rachid explained that a Muslim man is allowed to have up to 4 wives. According to the law he must get permission of the first wife (unless she is barren), and they must be treated equally. But, he explained further, the man has the power so permission is taken for granted. Rachid's father has 2 wives. When I asked if they were treated equally, he said, no – he favors the younger one.

So, do you think this custom will ever take off in the west? The first wife gives permission for the successful businessman to marry the trophy wife, and they all just get along?

The camel drivers referred to the young women on the trip as "la gazelle", and Rachid confirmed that this is the slang term for young women in Morocco, because gazelles epitomise grace. You western girls should get on to this; it seems better than birds or chicks to me.

The tour with Rachid and Hassan covered about 1850km.

After dinner in Ouarzazate, I was so full that I couldn't even eat the melon that was offered for dessert. I walked out for a stroll in the neighbourhood of the hotel, and was almost immediately accosted by a young man in a turban.

"Je ne parle pas Francis" say I.

"Englise?" says he.

"A little"

"Come wit me, see my friend"

"I don't want to see your friend, Yo no deseo veer su amigo"

"Come see mon ami, he 'as the dessairt of Morocco"

"I don't want dessert. I just had dinner. Je ne compre pas."

I swear that it took at least 2 minutes of garbled conversation before I figured out that his friend was a desert guide (duh), who wanted to show the desert in Morocco.
I couldn't stop laughing.

At the hotel at the dunes I was able to connect to the internet through a pretty fast "wiffey" (wireless connection, WiFi) link. This was the only internet connection available in any hotel I stayed in, and it was literally at the end road at the edge of theSahara . Here is a view from the terrace in a sandstorm.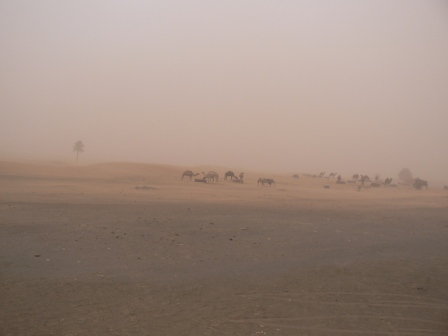 Obviously I was pretty taken with the terraces and courtyards of the hotels. I spent almost no time in my room except for life maintenance and sleep.
If you have questions or want details, just ask. Mashi mushkil (no problem).
M'a salama